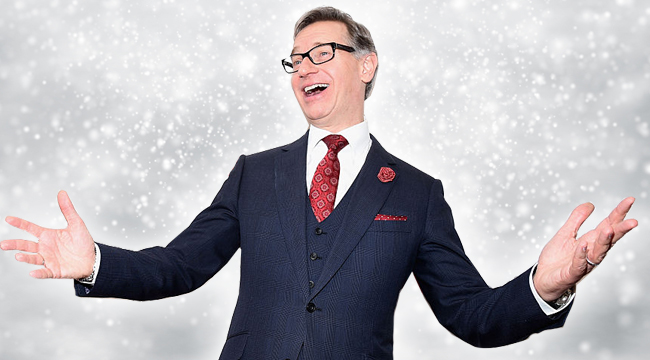 Ghostbusters director Paul Feig is trading in the supernatural for some supermodels, with the director set to produce a project based on a true story involving a dangerous blizzard, a thwarted high-end photo shoot in the Andes, and lots of cocaine. Supermodel Snowpocalypse is based on an Elle article by Mickey Rapkin that tells the tale of a 1977 Neiman Marcus fur catalog campaign gone wrong, as a group of models, photographers, and ad execs are stranded at a Chilean resort by a severe snowstorm. Feig will produce the flick through his Feigco banner, though The Hollywood Reporter notes that he won't direct this time around.
There's no word yet on who may take that gig, but whoever does may want to be comfortable with lots and lots of snow: The blizzard that stranded the group at the heart of Supermodel Snowpocalypse lasted for eight days, and conditions got so bad that an SUV carrying several models — including Jerry Hall — nearly backed off of a cliff because the driver couldn't see where they were going. The phones died at their fancy ski resort, and guests were eventually forced to climb out of second-story windows when snowdrifts buried most of the building.
It wasn't all bad, though: The resort's in-house discotheque was turned into a makeshift runway where the models performed impromptu fashion shows in the expensive clothes meant to be worn during the photo shoot; there was also lots of hooking up between the guests, and the cocaine flowed freely. The film will be told from the perspective of two sisters who ran the advertising agency responsible for organizing the shoot, as well as the older sister's photographer boyfriend (whose idea it was to travel to the Andes for the campaign), ad execs, and the models who braved the ridiculous conditions to show off those luxurious furs.
The title Supermodel Snowpocalypse indicates that the movie version won't take the subject matter too seriously, though this based-on-a-true-story tale is a bit of a departure for Feig, whose flicks have always had more of an inherently comedic bent. We imagine there's plenty of humor to mine from the image of supermodels sliding down snowbanks draped in expensive fur coats, and catching a bus to escape the hotel while other, non-model guests pound on the windows pleading to go with them. If anyone can inject some silliness into such a strange confluence of events, it's Feig.
(Via The Hollywood Reporter)