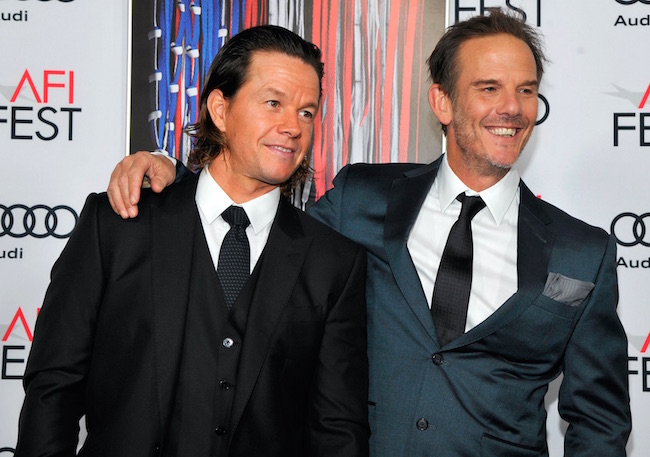 On Monday afternoon, after a banquet thrown by publicist Peggy Siegal for the film Patriots Day at Manhattan's Lotos Club, I had the chance to speak briefly with director Peter Berg about his new film.
Before the event, Patriots Day, starring Mark Wahlberg and Kevin Bacon – which recreates the events of the Boston Marathon bombing and the subsequent manhunt for the perpetrators – was screened and we will have much more on this later. What Patriots Day does well is show the human spririt of a city coming together in an extremely difficult time.
During a Q&A about the film, an at times emotional Wahlberg stressed repeatedly how accuracy was very important to both he and Berg – and that Wahlberg considers himself a proud ambassador of Boston and wanted to the film to portray how the people of Boston stood strong. (As a side note, I actually saw Mark Wahlberg on the day of the Boston Marathon bombing. He was in New York introducing a screening for his new film at the time, Pain & Gain, and looked absolutely devastated – admitting it just wasn't a good night to see a movie. He was right.)
At the end of Patriots Day, Wahlberg's character, Tommy Saunders (who is a composite of two Boston police officers), gives a moving speech about how important love is in a time like this. Saying no matter how many times something like the Boston Marathon bombing happens, as long as we all love one another, we can't be beaten. It's a nice message. But with the recent uptick in hate crimes being reported since the election of Donald Trump, it doesn't really feel like we are loving one another. If this is the litmus test for if we're winning or not, are we winning? I asked Berg.
"I believe we are," replied Berg. "If you go up to Boston and you meet people like Patrick and Jessica Downes, and you meet the FBI agents who are still working, you meet those hospital workers. And you see the takeaway at the end of all of it, now that things have calmed down and the pain has lessoned – you know what, we lost four people – but the unintended divided that these bombers never intended was how cohesive the experience becomes for the people who survive. I've experienced it. I believe the line is holding and it's never going to go away and that love is the only way of combating that."
When I followed up that it's harder to feel that way lately, Berg then grabs my shoulder and says, "Buddy, I love you. I got your back." So, yes, at least there's that.
Patriots Day opens on December 21.