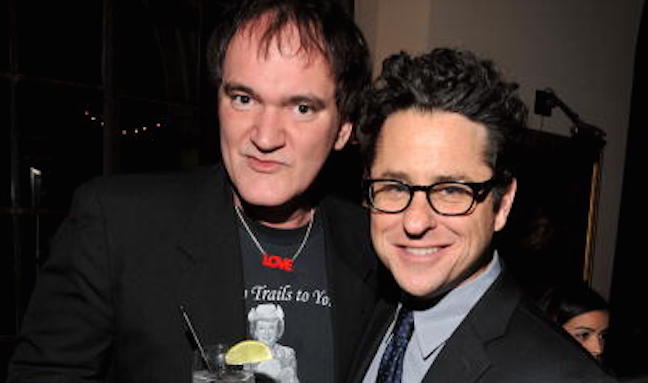 Quentin Tarantino made his way onto the Nerdist podcast a couple of weeks ago to promote the arrival of The Hateful Eight, which made an impressive $4.5 million over the weekend in only 100 theaters. Among the topics that Tarantino covered on the podcast was revitalizing 70 mm film, his film series at the New Beverly Cinema, and some of the projects he's considered and passed on over the course of his career.
He said, for instance, that he's considered not only a Kill Bill Vol. 3, but an anime Kill Bill prequel covering the origin story of Bill; if the Grindhouse films were successful, he once wanted to do a new one every three years; he thought about a prequel to Inglourious Basterds and even a sequel where Aldo Raine (Brad Pitt) and some of the Basterds were fighting the Ku Klux Klan; and he even liked the idea of doing a series of paperbacks based on his Django character.
Tarantino also said that there was a time where he really did want to do a comic book movie, like one based on Luke Cage. Another property he's been a fan of since he was six years old was Speed Racer, and he waited 40 years to finally see that property come to the big screen. Unfortunately, he didn't really "dig" on the Wachowskis' version of the film.
There was a version of Speed Racer that he did "dig," however. Back in the 1990s, after he had finished Pulp Fiction, Richard Donner was trying to get a Speed Racer film off the ground. Tarantino read the script and he "really, really liked it. The script was better than the movie they ended up doing. It really did capture the comic book. He cracked it."
At the time, the screenwriter of that unproduced screenplay was not particularly well-regarded. He had written the Harrison Ford film, Regarding Henry, a very bad Mel Gibson film called Forever Young, and Gone Fishin', one of Joe Pesci's last films before he semi-retired from acting.
His name? J.J. Abrams.
Though Tarantino ultimately didn't bite on the script, it almost got made. Julien Temple (Earth Girls Are Easy) was attached to direct and Johnny Depp was attached to play the lead. It was scrapped due to budget concerns, although Alfonso Cuaron (Gravity, Children of Men) was brought in to direct it with a smaller budget. That version, of course, never made it to the screen, either. Abrams, however, managed to pick himself up and keep going. He's doing okay these days, having directed a movie that just crossed $1 billion at the box office faster than any other movie, ever.
In an alternate reality, however, there's an awesome Speed Racer movie written by Abrams, directed by Tarantino, starring Johnny Depp and Peter Weller (as Racer X) that probably still bombed at the box office and derailed the careers of both Abrams and Tarantino, if only briefly.
If you're curious, the Abrams' Speed Racer script can be found here.
(Via The Nerdist)