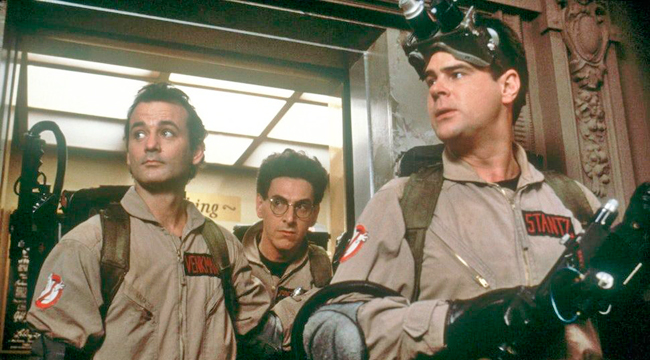 Three years ago, a new Ghostbusters came out featuring an all-girl cast. Some men on the internet were furious. They bombed the YouTube page for its trailer with thumbs-downs. They drove star Leslie Jones off of Twitter (with some help by that Milo guy who was subsequently deplatformed.) The actual movie was well-received but it underperformed, and sequel plans were nixed. The online trolls, so to speak, won.
Now those men appear to be winning some more: As per Variety, Ghostbusters is being rebooted again, this time without Jones, Kristen Wiig, Melissa McCarthy, and Kate McKinnon, which is what the men's right's activists wanted. A new, presumably more "traditional" Ghostbusters has been secretly in the works, and it will be helmed by the son of the man who directed the original two classics.
That would be Jason Reitman, son of Ivan Reitman, who also made Stripes, Legal Eagles, and My Super Ex-Girlfriend. For those unfamiliar with his resume, Jason is an acclaimed (Oscar-nominated) filmmaker, thanks to the quirky trifecta of indie hits that was Thank You for Smoking, Juno, and Up In the Air. His latest was the Gary Hart biopic The Front Runner, which was released last year.
There's no word on details, including if the original cast (sans the late Harold Ramis) will return; likely not, if history is any indicator, though all three surviving players filed cameos in the one that was so disliked. Variety reports that Reitman has been quietly testing teenagers for various roles, though it's unclear if this will be a young adult reboot or what. The screenplay has been written by Reitman and Gil Kenan, who made the Poltergeist reboot from a few years back, and it will film this summer.
(Via Variety)