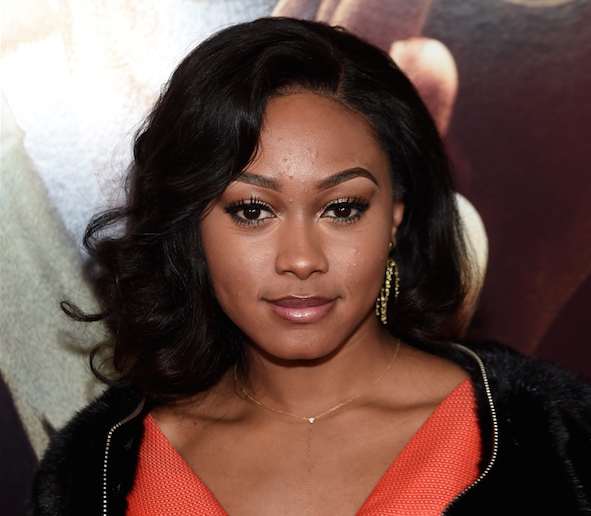 Shanice Banton is an actress probably best known for portraying Marisol Lewis on Degrassi: The Next Generation. Currently, she's one of the stars of Race, which opens in theaters nationwide today.
Shanice was nice enough to take a few minutes out of her busy schedule recently to answer a few questions from us.
1. You walk into a bar. What do you order from the bartender?
Gin and tonic. And if I'm not feeling for the bubbles, red wine.
2. Who's your favorite person to follow on Twitter and/or Instagram?
Jhene Aiko. She is one of the artists that I connect with the most. She's super real, and super positive.
3. What's currently waiting for you on your DVR?
"Jane the Virgin!"
4. It's your last meal — what are you going out with?
A Jamaican dish — ackee and saltfish, breadfruit, fried plantain and pear aka avocados.
5. What websites do you visit on a regular basis?
YouTube, Twitter, IMDb, 8tracks
6. What's the most frequently played song on your mobile device?
"Work" – Rihanna featuring Drake.
7. The first face that comes to mind when you think "punchable?"
Uncle Ruckus from "The Boondocks"
8. What's the last thing you googled?
Smoothie recipes. I love smoothies; I try to have one every day.
9. Dogs or cats?
Both?
10. Best concert of your life was…?
Beyoncé at the ACC in Toronto. Her shows are incredible and they are just breathtaking live.
11. What book are you most likely to give as a gift?
The Alchemist, by Paulo Coelho.
12. What's the nicest thing anyone has ever done for you?
Returned my wallet with everything in it, money and all. Everyone knows how annoying and frustrating it is to lose stuff like that.
13. South Park or Family Guy?
Family Guy.
14. You have an entire day to do whatever you want. What would you do?
Swim in the ocean, drink coconut water straight from the coconut, ride an elephant, feed a giraffe, and go to a party and dance alllllll night.
15. What movie can you not resist watching if it's on?
Edward Scissorhands – it's the weirdest film, but I love it.
16. The sports team or teams you're most passionate about?
Toronto Raptors!
17. Where did you eat the best meal of your life?
In Africa when I went a couple years ago. I don't even remember the name of the dish, but it was so so good.
18. The last movie you saw in a theater?
Creed.
19. Who was your first celebrity crush?
Usher.
20. What would you cook if Nic Cage was coming to your house for dinner?
Salmon. One of my favorite dishes.
PREVIOUSLY: Maria Thayer