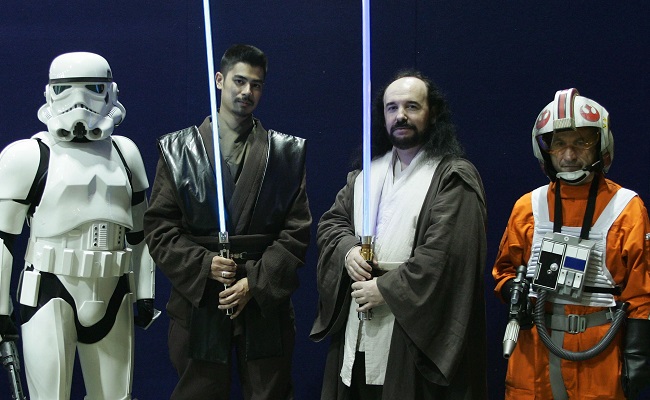 In a bit of news that should come as a surprise to no one, Variety reports that older males were mostly to blame for all the technical difficulties suffered by Fandango, AMC Theatres and just about everyone else who started selling tickets for Star Wars: The Force Awakens on Monday. So despite the fact that everyone and their mother has already purchased tickets, "everyone" actually means "dudes" and no mothers were directly involved.
Movio Media, a theater marketing data firm, revealed that 70 percent of ticket buyers were males ages 18 to 49, though the average age was actually 34. So it's not too difficult to assume that most theatergoers attending midnight showings of J.J. Abrams' Star Wars flick will consist of older, balding, lifelong admirers of George Lucas. You know, the kind of Star Wars fan who'd cosplay as "Slave Leia," despite his being an overweight man.
Then again, when you consider the fact that these ticket buyers see at least one movie per month in a group, that particular geeky stereotype falls to the wayside. Per Movio's numbers, the same 34-year-old males who bought tickets for The Force Awakens also fall into this category, as they purchase 2.3 tickets per transaction on average.
So you have nothing to fear when you finally make it to the theaters (and avoid all the spoilers) this December. And if you still can't find any for opening night, there's always Ebay.
(Via Variety)