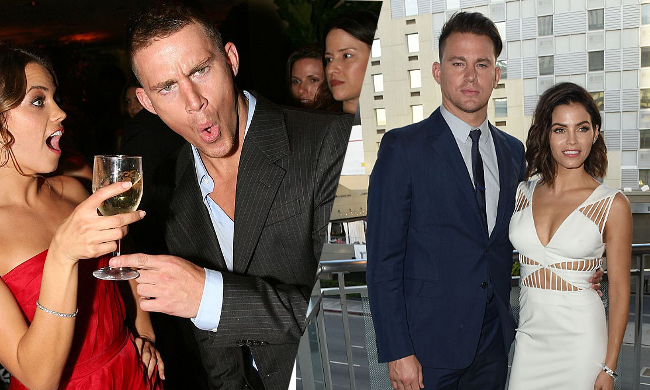 On Thursday, Jenna Dewan-Tatum, one-half of one of Hollywood's happiest couples, shared a video that reminded us where it all began. Ten years ago this week, a little-known Abercrombie model turned actor named Channing Tatum danced his way into the hearts of teens everywhere as Tyler Gage, a young punk who finds purpose through his dope dance moves. Sure, Tatum gained some attention starring opposite Amanda Bynes in 2006's Twelfth Night remake She's the Man, but it was Step Up that announced to the world: This is Channing Tatum. A star is born.
Ten years later, Tatum is a certified A-list star – How the hell did this happen? We've seen Hollywood spin nobodies into leading men almost overnight (the Sam Worthington Effect, if you will), but it never lasts. They're nothing more than flavors of the week and afterthoughts on IMDb trivia pages. But the man that we once mocked and now celebrate by affectionately referring to him as C-Tates has been an anomaly, or the rare diamond in the rough who ends up on top… and stays there.
In fact, here is an image that reflects Tatum's current status in Hollywood: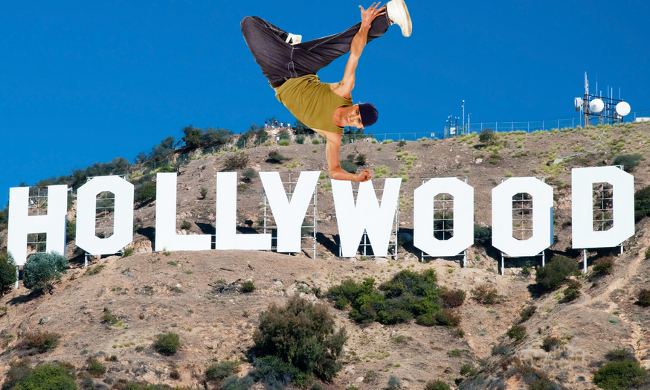 This isn't a joke. The guy has done everything from Nicholas Sparks romance novel cheese to action comedy, and even when it has felt like he was failing in front of our eyes, he comes out bigger and better than before. Tatum shouldn't be the star that he is today, at least based on acting talents, but he has used his good guy, family man charm and electric smile (not to mention what I'm told are exceptional good looks) to continue to win hearts. And he's done it so quickly and in such unprecedented fashion that I will give the floor to my beloved Liz Lemon to accurately portray the surprise for Tatum's career success:
To honor the success of our beloved C-Tates, let's examine the highs and lows of his acting career over the last 10 years, and try to pinpoint where he blew up and where he should have failed spectacularly, but instead persevered and somehow still came out on top.
Stop-Loss (2008)
Public Enemies (2009)
I'm lumping these films together because Tatum wasn't the star, but they allowed him to learn from star-studded casts. In fact, in regard to Stop-Loss, I think putting Tatum in a film with Ryan Phillippe was a great strategy, because it forced him to look at a popular one-dimensional actor and ask himself: Is this what you want to be? The actor who gives the same bland performance in every film, only to end up in forgotten VOD titles and starring in the TV adaptation of a Mark Wahlberg movie? Public Enemies was also great in that regard, because Tatum learned the same lesson from Stephen Dorff, as if a fairy god-casting agent was intentionally putting Tatum in situations to learn from flash-in-the-pan actors who end up as vape spokesmen.
But Enemies also introduced Tatum to Johnny Depp and Christian Bale, forcing him to look at who he should be. Did Tatum learn important lessons from his celebrated A-list cast mates? I have no evidence to suggest otherwise.
G.I. Joe: The Rise of Cobra (2009)
This could have very well been The Year of Tatum, as he found mild success in the paint-by-numbers Gladiator (not that one, this one) knock-off Fighting before emerging on the big screen as Duke in the long-awaited live action movie about toys we played with in the 1980s. But The Rise of Cobra was an absolute mess, hated by critics, the audience, and even Tatum himself, with a box office performance that should have left Paramount trying to sell old action figures on eBay for extra profit. Everyone involved with this movie should have been shamed in the public square, but Tatum (and Joseph Gordon-Levitt) somehow came out unscathed.
Dear John (2010)
Nicholas Sparks movies are marketed to one specific audience, so things like talent and range don't matter so long as a theater full of Kathey Geisses is shouting "Kiss! Kiss! Kiss!" This was the perfect rebound film for Tatum, as it broke the $100 million mark at the box office worldwide and reinforced his status as a leading man in the making.
The Dilemma (2011)
In most cases a box office bomb won't help an actor's cause. But while Vince Vaughn and Kevin James settled into paycheck mode for this forgettable, Ron Howard-directed rom-com, Tatum stole his scenes with a comedic knack that we were seeing for the first time. The problem is not many people actually saw this movie, so it would still be another year before Tatum the comedy star would be unleashed on most viewers.
Haywire (2011)
Tatum wasn't a star who could carry films in 2011, as evidenced by the very bad The Eagle, but he certainly performed above expectations in supporting roles. The Son of No One was a bad movie as well, but Tatum provided a bright spot, if only because you could tell that working with Al Pacino forced him to bust his ass, as if he was Joey Tribbiani spitting in Gary Oldman's face for approval. He was technically the star of 10 Years, but there was no pressure for that movie to succeed, because it was basically made by a group of actor friends who wanted to have some fun (and it's a nice movie that you should watch).
And then there was Haywire. I still don't know how this movie was so… blah. It wasn't bad. It just exists, which is worse than being bad because it was directed by Steven Soderbergh, written by Lem Dobbs (The Limey, Dark City), and it starred Michael Douglas, Antonio Banderas, Ewan McGregor, and Michael Fassbender. It should have been phenomenal, and instead it was like a glorified audition reel for Gina Carano, as if she was Monique Powell and this all-star cast was Save Ferris. Still, watching that movie, all I could think was that one guy showed up to work and gave his best effort for the few moments he had on-screen: Channing Tatum, scene stealer.
The Vow (2012)
21 Jump Street (2012)
Magic Mike (2012)
Finally, the Year of C-Tates. I still remember Vince Mancini and I openly, happily admitting we were wrong about this guy, as he starred in three films that dominated the box office. First up was The Vow, which was a bad, bad movie and a Sparks knock-off, too. But I loved its cheesy, hilarity movie. Tatum's vending machine emotional meltdown scene certainly wasn't supposed to make me laugh, but it was just so corny. Everything about this hunk playing an artist from the wrong side of the tracks, courting the pretty rich girl with the dad who doesn't approve, was so bad it would have sunk most actors. It didn't have time to sink our man Tatum, though.
21 Jump Street sounded like a terrible idea. Sure, we could buy Jonah Hill in a parody movie, but only a month earlier I was laughing too hard at Tatum for the wrong reasons, and now, holy sh*t, I was legitimately laughing at this man as a comedic actor. And a lot of people laughed with him, because 21 Jump Street, the film that many people thought was a too little, too late idea, was a box office smash. It was also just the tip of the 2012 iceberg.
Magic Mike seemed like it was Step Up for your aunt's friends. Instead, it was a great movie that appealed to everyone, with the exception of bros who think it's gay to watch Kevin Nash use a penis pump. I felt bad for people who skipped this movie because they thought it was just about a group of dudes shaking their bulges (that was Magic Mike XXL). One of the best things about this movie has been people telling me one, two, and even four years later that they now love this film, because they realized it's a great movie. Even if you're just now watching this movie in 2016, you should be able to realize that Magic Mike was Tatum's coming out party. A $7 million budget earned $167 million worldwide, and the A-list opened its doors to one of the smartest, most strategic young men in Hollywood.
This is the End (2013)
How is Tatum strategic when he seems like such an innocent, loving, generous man? By starring alongside Hill in 21 Jump Street and the even more successful 22 Jump Street (2014), he carved his initials on the Apatow comedy tree, as evidenced by his brief but insanely hilarious and filthy cameo in This is the End.
In 21 Jump Street, he proved that he could make fun of his type. In This is the End, he proved that he could make fun of himself. He essentially got out in front of his haters and said, "I've humped Danny McBride's leg and felt up his crotch. I am above your jokes."
White House Down (2013)
In March of 2013, Tatum reprised his role as Duke in G.I. Joe: Retaliation, but was killed off in the beginning to make way for "Franchise Viagra" Dwayne Johnson and "Paycheck Collector" Bruce Willis to lead a new cast of heroes to a mildly better box office return. Duke's sort-of-death was hilarious for two reasons: 1) Killing a suddenly huge movie star's character was a considerable debacle that probably hurt the film, which, again, Tatum must have enjoyed; and 2) It did him a favor. He was no longer attached to the franchise, so he could wipe his hands and move on to bigger, better action films.
Many people will tell you that White House Down is a bad movie. They are wrong. It didn't do well at the box office, partly because Olympus has Fallen beat it to theaters by three months, and that's a shame because it's a really fun action movie. Yes, it's stupid as hell and the acting is bad across the board, from Jimmi Simpson's hilarious hacker to Jamie Foxx shouting, "Get your hands off my Jordans!" But that's what makes an action movie fun. It was Die Hard in the White House, and I don't care about trying to change minds.
Foxcatcher (2014)
I'm still very mad that Tatum didn't get a strong awards push for his performance as Mark Schultz, but this was the movie that proved he had grown as an actor and could deliver a serious performance and not have it come off like, again, the vending machine scene in The Vow. I think what hurt Tatum's chances for awards recognition with Foxcatcher is that people thought he was playing himself, a stupid meathead or mindless jock, but the role helped him make his next strategic moves… well, at least after the one big problem.
Jupiter Ascending (2015)
This movie should have hurt Tatum and Eddie Redmayne, and it definitely didn't help Mila Kunis' career. We knew it was going to be bad when it was bumped from a summer release date to the February movie graveyard, but when I finally saw it in an empty theater one week after its release, I was stunned by how bad it was. It was so unintentionally funny that I felt bad for Tatum and Sean Bean as they tried to remain serious in such a disastrous setting. This one brief reaction from Redmayne's villain sums up my feelings about this movie…
And yet somehow, despite the fact that it bombed (even though it did surprisingly well in China and foreign box offices), Tatum remained unharmed. Five months later, he returned to the screen in Magic Mike XXL, and despite a boring story that was simply used to introduce random characters in a classic road trip setting, the film earned $122 million on a $14 million budget. That was followed by his two greatest strategic moves to date.
The Hateful Eight (2015)
Hail, Caesar! (2016)
Ten years later, the bad actor from the wrong-side-of-the-tracks dancing movie is stealing scenes in star-studded critical hits from Tarantino and the Coen brothers. He's bringing Soderbergh out of big screen retirement for next year's Logan Lucky, which has another killer cast, and now he's the big star being brought in to help bolster a franchise in Kingsman: The Golden Circle. And one of these days he's going to finally show off his Cajun heritage as the star of his own X-Men franchise, Gambit.
Did anyone ever see this coming? He has hitched his wagon to some of the biggest and best directors, actors, and now franchises in the business, and yet he has still busted his ass to become one of the most beloved and deserving stars. I tried to find a comparison from the last 40 years and all I can come up with is Tom Hanks. Ironic considering we once thought this guy was no more than another Chet Haze.