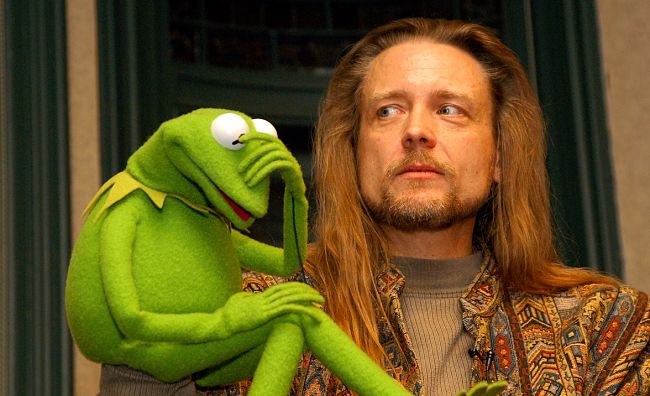 Steve Whitmire, the long-time puppeteer and voice of Kermit the Frog, Rizzo the Rat, Statler, and Beaker, is reportedly no longer involved with the Muppets. The fan site Tough Pigs reached out to Muppets Studio at Disney over his decreasing presence in recent months, including his characters no longer being featured in "Muppet Thought of the Week" videos, and they were told, "Steve Whitmire is no longer working with the Muppets. Matt Vogel will be the new performer for Kermit the Frog. We will be seeing Matt's first footage as Kermit in a 'Muppets Thought of the Week' video next week."
For people who love the Muppets — which is to say, anyone with a heart — this is a big deal. Whitmire, who's been part of the Muppet family since The Muppet Show in the late 1970s, took over as the voice of Kermit and Ernie on Sesame Street, among others, following Jim Henson's death in 1990. So that's Whitmire you hear as everyone's favorite "tea lizard" in The Muppet Christmas Carol, Muppet Treasure Island, Muppets from Space, Jason Segel's The Muppets, Muppets Most Wanted, and ABC's short-lived The Muppets.
He also originated Rizzo the Rat, one of the all-time great Muppets.
Kermit's new performer will be Vogel, who's been with the company since 1996 and, as noted by Tough Pigs, he's "proven to be a talented and professional torch bearer for other classic characters, such as Floyd, Lew Zealand, and The Count." (He took over Jerry Nelson's characters when his mentor retired.) As for Whitmire, it's unknown what he's doing next, or why he left the Muppets, but thanks for the hundreds of happy memories.
(Via Tough Pigs)