In the '80s and '90s, Steven Seagal was a svelte, ass-kicking machine who got very angry when you killed his wife or partner. These days, he's more upset if you eat the last slice of all-meat pizza. This isn't meant to "fat shame" Mr. Seagal (well, maybe a little), but for all intents and purposes, it's been made clear by several incidents and parties that the action star is not a very nice guy. Happy birthday, Mr. Seagal!
Above the Law (1988)
Seagal is at his fittest in his debut film as an ass-kicker who rides around with a pair of legs in his convertible. It's not really about that, but I wish it was.
Out for Justice (1991)
He still looks good three years after coming onto the scene, although it looks like he might have put on about five to 10 pounds. No worries, though. You can't keep a nice v-neck off this guy, no matter his weight.
On Deadly Ground (1994)
Whatchu covering up there, man? That's a mighty big hoodie. Well, you do have a knife, so I'll keep further comments to myself.
The Glimmer Man (1996)
The only thing glimmering is Seagal's eyes when he spots a KFC Double Down, amirite?
Exit Wounds (2001)
After taking a short hiatus from cinema, Seagal comes back three years later looking a bit more full, let's say.
Half Past Dead (2002)
Okay, we're now in pudgy territory with Seagal looking noticeably bloated, yet still angry. Also, notice the do-rag meant to hide his loving locks that were leaving at the time. You know he has a wig these days, right?
Flight of Fury (2007)
I can't tell if he's massaging this guy or chopping him ferociously. Either way, you don't want to be on the receiving end.
Machete (2010)
Here's Seagal doing his best Tony Soprano imitation.
Now… 2015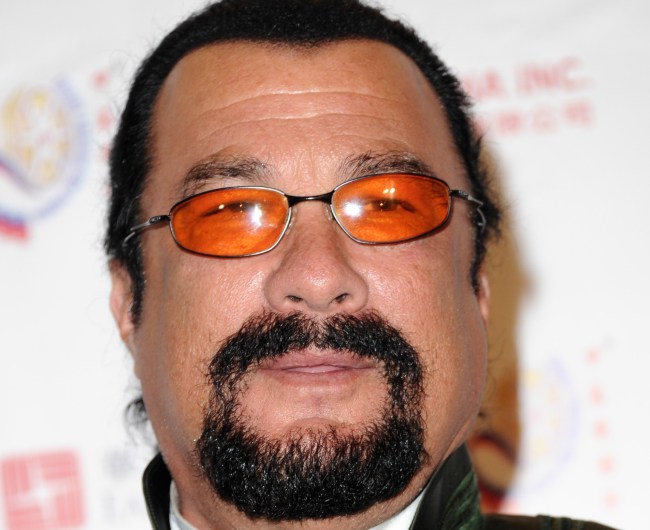 Anyone think that goatee might smell like three-day-old sushi and vomit? Listen, Seagal gave us some of the greatest bad films of all-time, so let's give him some credit. But damn, man, you let yourself go too fast. We should have had at least five more years of skinny Seagal.