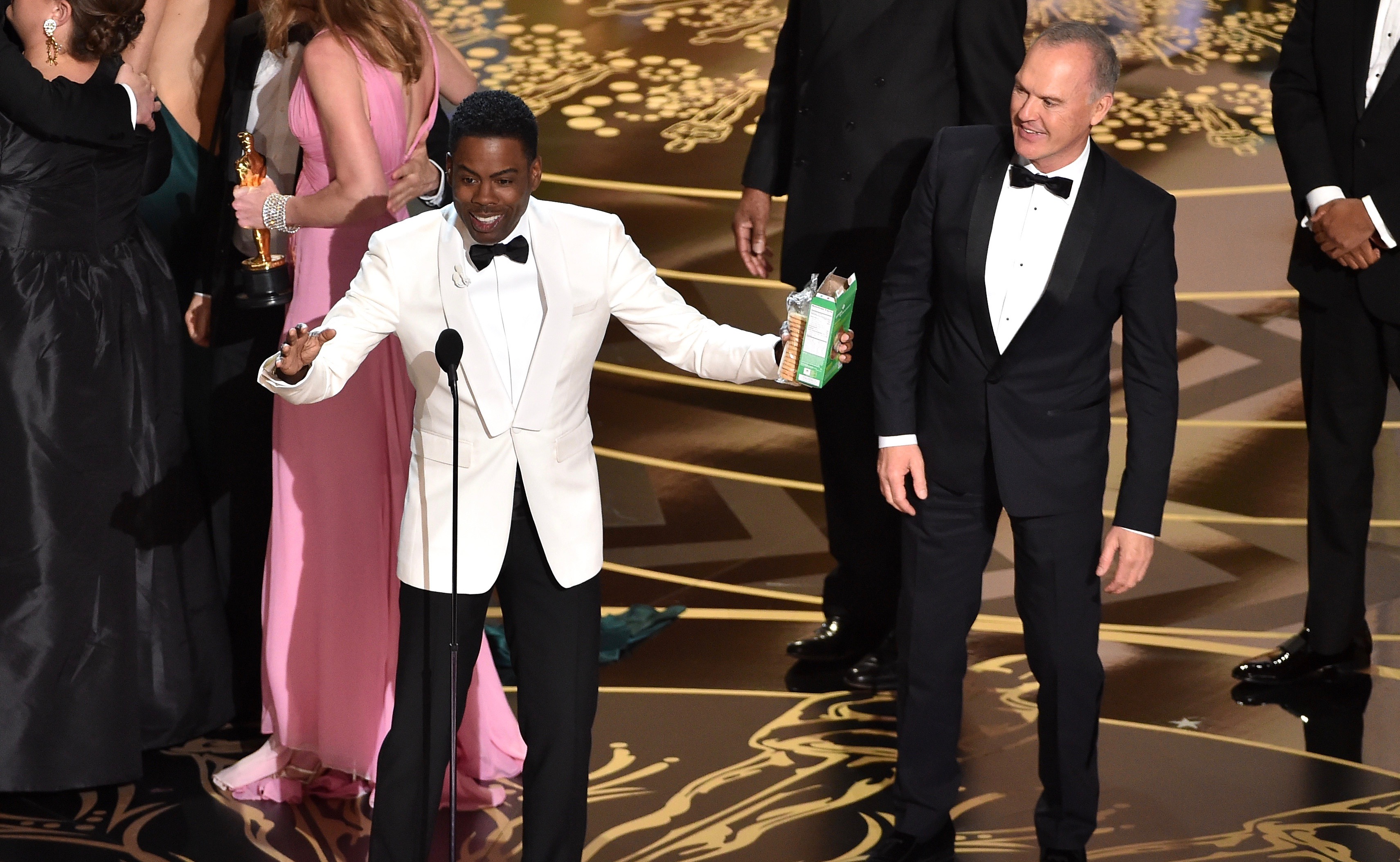 After weeks of getting beaten up on social media and in the news media for being #SoWhite, the organizers of this year's Academy Awards had a choice: forge ahead with the traditional ceremony as they always have, or frankly acknowledge the fact that the Oscars, and Hollywood, has an inclusion problem. Ultimately, the 88th Academy Awards opted to do both. It gave America what it's long become accustomed to: a ceremony that runs way too long, contains some comedy bits that don't quite work and distributes trophies to actors whom everyone expected to seize shiny gold statuettes. But it also acknowledged its own biases with a frankness that's unprecedented for this famously self-congratulatory ceremony.
There's no way that any reasonable human could give the Academy Awards anything other than a failing grade for diversity this year. But in terms of its willingness to own up to its own failings and its ability to honor a range of different film genres, I honestly have to give the Oscars a solid B+ . Was the show always wildly entertaining? Not at all; it's entirely possible that I'm actually typing this column in a dream that began sometime after Sam Smith's performance of "Writing's on the Wall" lulled me to sleep. (That song is literally the musical equivalent of warm milk.) Did the ceremony drag on to a ludicrously maddening degree? Of course, because that's what Oscar ceremonies do. Were all of Chris Rock's remarks 100 percent on-point? No. The joke that poked fun at the effort to encourage better red carpet questions for women seemed tone deaf in light of all the arrows Rock flung at antiquated attitudes toward blacks. The same goes for the bit where the PricewaterhouseCoopers accountants were replaced by young Asian children who, as Rock quipped, also made the phones that everyone would use to angrily tweet about the gag. As Jessica Contreras of The Washington Post noted, "there was a lack of diversity in the diversity" commentary.

But the fact that the commentary was so pointed and so omnipresent signifies a tonal shift for the Oscars. Twenty years ago, when racial issues cast a pall over the 1996 Oscars, the subject was mostly glossed over during the broadcast, something I wrote about in this column last month. When Rock hosted the first time, 11 years ago — another Oscars I revisited in this space — he was criticized for being disrespectful, not only because he briefly mentioned race but because he dared to question why hell Jude Law was in so many damn movies.
This year Rock came onstage during the Oscars broadcast and called Hollywood racist, to Hollywood's face. To be more specific, he said: "Is Hollywood racist? You're damn right Hollywood's racist. But not the racist you've grown accustomed to. Hollywood is sorority racist. It's like, 'We like you Rhonda. But you're not a Kappa.'" And people laughed — a little hesitantly, maybe, especially if they were sitting in the front row. But they laughed.
Rock also resurrected another routine from his first hosting gig: a video bit in which he interviewed real African-American moviegoers at a local multiplex — this time he opted to go straight out to Compton — and quizzed them about the Oscar-nominated films. The results were the same: the normals were totally unfamiliar with the work everyone had gathered at the Dolby Theatre to celebrate. (One woman accused Rock of making up movies after he asked if she'd seen Bridge of Spies.) But whereas a decade ago, the response to that segment was muted — as one L.A. Times piece put it, "You could feel the self-congratulatory air back at the Kodak Theatre being sucked out of the room" — this year, there was applause at one point and afterward, when the camera flashed on stars like Leonardo DiCaprio, Rachel McAdams and Mark Ruffalo, all of them seemed to be genuinely enjoying it. Laughing at Chris Rock's jokes doesn't make anyone the second coming of MLK, but it's indicative of some small measure of progress. You can't fix a problem until you can admit it exists. Admitting it exists means you can also have a sense of humor about it. A decade ago, the people in the Academy Awards audience had a hard time even doing that much.
Rock wasn't the only person who brought up the #OscarsSoWhite issue. Cheryl Boone Isaacs, the president of the Academy, also addressed the audience, as is customary, but leaned right into the elephant in the room and spoke about the need for everyone to do more to ensure that a broader range of voices are involved in making movies. My God, this was such a pro-diversity Oscars that even the commercials got in on the act, showing us a world, via Android, where rock, paper and scissors can co-exist in harmony and, via Kohl's lip-dubbed Oscar acceptance speech ads, where an Asian-American mom can show gratitude to her daughter using the voice of Penelope Cruz.

As for the awards themselves, with the nominees shaking out the way they did, the Oscars couldn't avoid looking like a white man's parade every time a new winner was announced. But there were some small victories for variety. Sara Bennett, one of the supervisors on the visual effects team that won for Ex Machina, became the first woman to ever win in that category. Margaret Sixel wasn't the first female editor to ever win an Oscar for her work on Mad Max: Fury Road, but she is the first one to claim victory in nine years. The Best Animated Short Oscar for Bear Story was the first Academy Award to go to filmmakers from Chile, while the documentary short for A Girl in the River gave a Pakistani woman, Sharmeen Obaid-Chinoy, her second Academy Award. For the third year in a row, Mexican filmmakers won both Best Director and Best Cinematography.
And in terms of the diversity of the types of films honored, Mad Max: Fury Road, a visceral summer action movie, won the most awards of the night (six), while the big prizes got divvied up between modestly budgeted smaller endeavors, like Spotlight, Room and The Danish Girl, and lucrative studio releases top-lined by big stars (The Revenant, Bridge of Spies and, in the Adapted Screenplay category, The Big Short.) That seems like a more judicious mix than what we saw last year, when the winners, while quality films, skewed even more toward the arthouse and farther away from what mainstream moviegoers might have seen.
The issues that Hollywood faces related to racial, ethnic, gender and sexual orientation bias were never going to be solved Sunday night and, as USA Today has already implied, probably won't be solved by next year's Oscars either. But it felt like there was at least a willingness to face them. The Oscars is still, as Rock called it, the White People's Choice Awards and this year's event didn't change that. But the 88th Academy Awards felt like something that few Academy Awards have felt like before; it felt like — maybe, perhaps — a start.