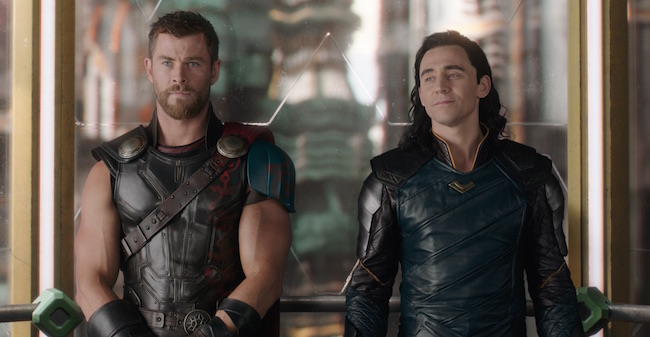 We received a copy of the Thor: Ragnarok 4K disc this week — it's in stores next week along with the Blu-ray and DVD editions — and of course the first thing we did was head over to the director's commentary track because there was no way Taika Waititi wasn't going to at least provide something unique. And, no, he does not disappoint.
Honestly, it's like watching an episode of Mystery Science Theater 3000, only with the director making jokes about his own blockbuster movie. And three separate times Waititi's two-year-old daughter wanders into the studio and joins in. (At one point Waititi points out Korg and tells his daughter, "That's your dad." To which she replies, "Cool.")
There's not a lot in the way of spoilers. Even in the mid-credits scene that kind of sets up Avengers: Infinity War, Waititi is just telling his daughter, "This is what we call a tag-a-roonie." Instead, it's just hilarious. And I will express my pleasure with this commentary track by making a bullet point list of my favorite moments below.
• When the film opens in Muspelheim, Waititi tells us that it's opening, "inside the lung of the Marlboro Man."
• Waititi did the motion capture for Surtur, and explains to us in his deadpan voice that he was actually on fire while filming the scene.
• Waititi also reveals that he did all the motion capture work for every scene with Thor, too.
• We learn that, in real life, Chris Hemsworth's Mjolnir prop weighs "five million tons," yet Hemsworth is so strong he can just flip it around.