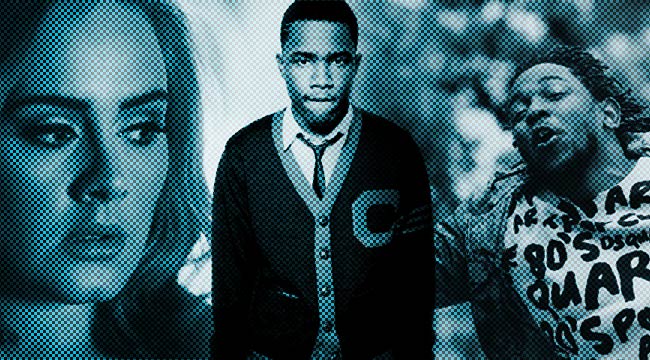 Fifty years ago this week, two of the greatest albums of all time were released. On the same day, no less. Bob Dylan's Blonde on Blonde and the Beach Boys' Pet Sounds both came out on May 16, 1966, and both had an immediate, lasting impact on pop music. The former's "wild, mercury sound" is rock's first great double album, while the kaleidoscopic latter inspired the Beatles to record Sgt. Pepper's Lonely Hearts Club Band. Blonde on Blonde and Pet Sounds sound as revolutionary and complex as they did 50 years ago, and they'll continue to be marveled over for another 50 years and beyond.
But what about more recent albums? Will we still be listening to Tame Impala or Sufjan Stevens or Drake a half-century from now? Possibly, but probably not, but the five albums below, all released after 2010, will stand the test of time. They'll be passed down from generation to generation, the way your parents played Pet Sounds for you as a child. (An important distinction: these aren't necessarily the best albums from the 2010s, just the ones that potentially sound the most timeless.) I, for one, can't wait to blast Kendrick Lamar from my flying car, driven by my robot butler.
My Beautiful Dark Twisted Fantasy by Kanye West
(2010)
2010 will go down as the best year for new music this decade. The list of classic albums is staggering: The Suburbs by Arcade Fire, The Monitor by Titus Andronicus, Teen Dream by Beach House, Plastic Beach by Gorillaz, This Is Happening by LCD Soundsystem, Body Talk by Robyn, Sir Lucious Left Foot: The Son of Chico Dusty by Big Boi, the Inception soundtrack, obviously. It goes on and on, but the best of the bunch is Kanye West's clear masterpiece, My Beautiful Dark Twisted Fantasy. It's the kind of seamlessly sequenced, stunningly lyrical, breathtakingly ambitious album that you remember where you were the first time you heard it (hell, I even remember where I was when I read Pitchfork's rare 10.0 review). No one is happier than Kanye West that Kanye West will be remembered in 50 years.