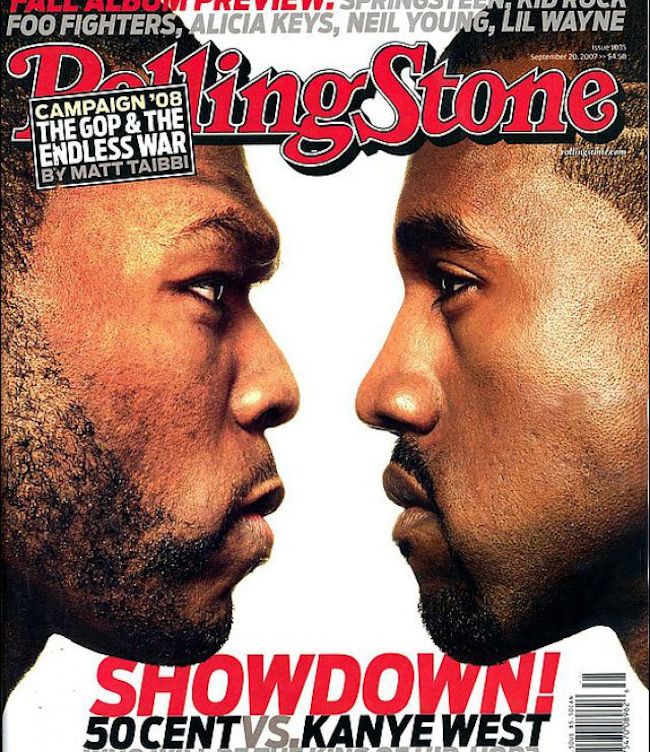 Eight years ago this week, Rolling Stone released an infamous issue with Kanye and 50 Cent on the cover. When that magazine hit shelves, it changed the course of both artists' careers, more than they ever could have imagined.
Issue 1034 dropped on Sept. 6, 2007, with a hybrid, double interview pitting upcoming releases from Kanye and 50 against one another – Graduation and Curtis, respectively. Amidst a shifting music industry, the theory was to leverage the competitive nature of hip-hop – the only musical genre where artists literally challenge one another for the top spot – and help generate needed buzz about a business being overrun by iPods.
The two artists spoke on their "feud," prepping for the piece.
50: "It's the competitive nature of hip-hop, we gotta compete on some levels."

Kanye: "Hip-hop is just dropping albums, like there ain't no competition. When Biggie/Wu Tang, Jay Z and Nas coming out the same time, people were like I want that Raekwon. I wanna have the best joint."

50: "The competitive nature of this art form doesn't exist in R&B or in classical music or jazz, they make great music, but it's not as competitive as hip-hop music. It's why you get the friction. They say it's beef, that's the new terminology for battling."

Kanye: "I look at it as a sport… This the only sport that people really going for that number one spot… going for that moment to be the most important, most talked about…."
David Vs. Goliath
To the general public, the pairing seemed like David vs. Goliath, with the G-Unit leader towering over his production-centric counterpart from Roc-A-Fella in both stature and pop status. Real rap fans, on the other hand, could see the coy set-up Rolling Stone was playing a mile away, pitting a next-generation super-talent against a machine-made anti-hero in a dying sub-genre.
The article was put together by Evan Serpick, a current editor at the Baltimore City Paper and longstanding writer for rock rags like Rolling Stone and SPIN. It's relatively short and has an undeniable favor toward Kanye, even if driven from facts. It was funded by maybe the only publication that could arrange two superstars like Kanye and 50 to cross-promote with one another.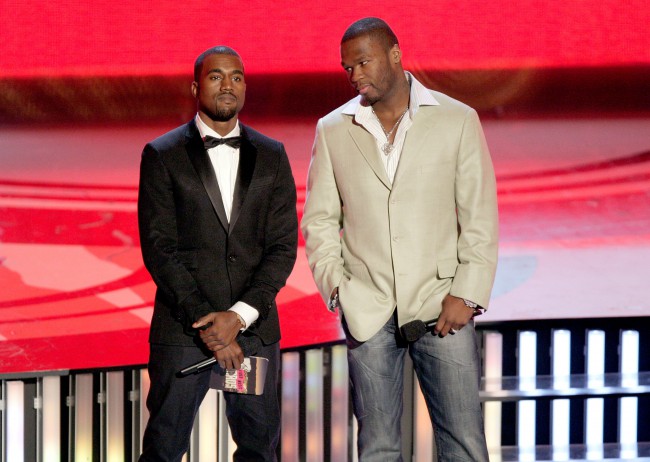 In the weeks leading up to the event, Rolling Stone was hyping the piece with promo pictures, pitting them against one another like main-event boxers. First, Yeezy pushed up his release date to match 50's. Then, all parties somehow agreed to have both wide-grinned rap stars co-present an award together at the VMAs, visually pitting them against one another for millions of viewers, two days before the biggest new music Tuesday of the year.

The Knockout Blow
After the albums dropped on Sept. 11 and the final numbers hit, Graduation earned the No. 1 spot with 957,000 units sold in its first week, while Curtis came in second, with 691,000. Kanye came out on top, simultaneously taking mainstream hip-hop's championship belt and delivering a knockout blow to his main competition.
50 Cent let it happen, though. By allowing Rolling Stone to pit him against a musical freight train like Kanye West, during a pivotal moment in his shaky career – Curtis had multiple failed singles, and "Ayo Technology" was the only one to truly chart. Fif allowed his momentum to be taken into someone else's hands and didn't see the potential negative outcome.
To casual listeners, their crossover thug obsession was no longer bulletproof, getting beat by a then lesser-known artist with fewer huge hits and less street credibility. That hit weakened 50 with his fringe audience and would ultimately dent his perceived musical status for good.
Kanye, on the other hand, flourished. David had foresight and toppled Goliath, justifying his chest-thumping single "Can't Tell Me Nothing" and inflating his ego to new heights. With the crown on his head and the No. 1 album in the world, Mr. West would go on to push his music further than ever and take his cultural status to levels unforeseen by even someone as powerful as Curtis Jackson.
Eight years ago this week, Rolling Stone made a direct and long-term impact on the career of two of hip-hop's biggest stars of all-time. Whether it was the magazine or artists who started the story, it was a traditional print publication that led the charge and ultimately moved the dial. For a dying medium, this is a story of encouragement, if nothing else.
(Via Rolling Stone)