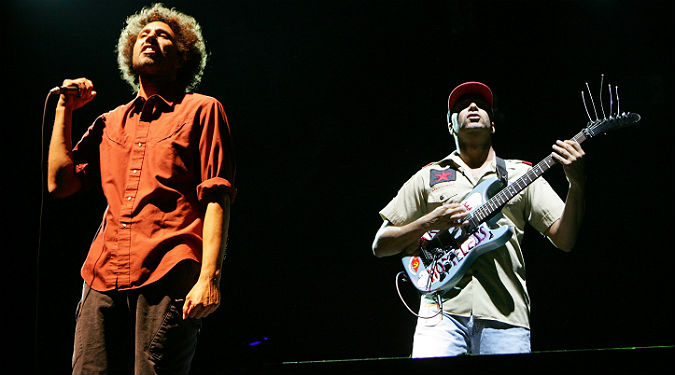 On Tuesday, Blur dropped The Magic Whip, their first album in 12 years, making them the latest darlings of the '90s to appease fan demand and reunite. We're in kind of a sweet spot for that lately; in recent years, the likes of Outkast, Soundgarden, Wu-Tang Clan, Pavement, My Bloody Valentine, Neutral Milk Hotel, Aphex Twin (one person can't reunite, but we got new music! A lot of new music) and others have revived to either tour or give us new music. And that's not even including Faith No More and Refused (I'm still air-punching in excitement over Monday's announcement), who have both been playing shows lately and have new albums coming this summer.
So, who's next? Here are 10 seminal 90s acts* we want back together, now.
(Note: We excluded acts who disbanded due to member deaths. Sorry, Nirvana, Alice in Chains and Sublime. We're also considering bands who "reunited," but without key members, fair game for inclusion. After all, who really acknowledges the Chester Bennington-led Stone Temple Pilots as legit? Also, Spotify subscription required to listen.)
Belly
Tanya Donelly achieved more success with Throwing Muses and the Breeders, both of which are very good bands, but I'll always prefer her work in Belly. There's something so enjoyably simple about Star and King, something that hasn't quite been replicated since. Take "Gepetto," for instance. It's the rare dreamy jangle-pop song without a hint of sickly sweet preciousness. That's a hard enough trick to pull off for one song; Belly did it for two full albums. — JK
Fugazi
Ian MacKaye can do whatever he wants. He's Ian MacKaye, after all; he was in Fugazi and Minor Threat, and you weren't. But I really wish he'd end Fugazi's "hiatus" by either announcing a reunion tour, or breaking the band up. I hate living in limbo between "maybe getting to hear Steady Diet of Nothing all the way through live…" and "…or maybe not." I'm hoping for the former, if only for the happy update on this Tumblr. — JK
Fugees
Okay, so they've kind of reunited once already, in 2004, but that was a couple of shows and a lame single that sounded little like the group we loved. So, we'll include a caveat here: We only want Fugees back if it's the same Fugees who gave us The Score, and that seems unlikely. Lauryn Hill's solo career has been nothing but controversies over exiles, live shows and taxes since releasing her legit masterpiece The Miseducation of Lauryn Hill. Wyclef Jean has been providing diminishing returns on his own and Pras is, well, we're not really sure where Pras is. So, none are exactly on top of their game. According to Wyclef, Fugees' breakup was born out of Hill's lying about him being the father of her first child, and according to Pras, it's Hill who's holding up a full-fledged reunion: "Me and Clef, we on the same page, but Lauryn [Hill] is in her zone, and I'm fed up with that sh*t. Here she is, blessed with a gift, with the opportunity to rock and give and she's running on some bullsh*t? I'm a fan of Lauryn's but I can't respect that."— TM
Jawbreaker
Wanna see a grown man with tattoos cry? Wait until Jawbreaker reunites. Blake Schwarzenbach & Co. did it right. Four albums, five years, one pristine legacy. BUT I WANT MORE. They appealed to punks, emo kids, indie rock dweebs, and people who enjoy the movie Jawbreaker alike. Their legacy can still be heard in bands like the Wonder Years and Fall Out Boy, not to mention Jawbreaker Reunion, an actual group inspired by a joke tweet. Jawbreaker is covered at every DIY punk show in America — I'm ready for the real thing. — JK
Oasis
All of Britain is looking at you now, Gallaghers. Blur's reunion puts Oasis on the spot as the other '90s Britpop behemoths to have disbanded, but don't hold your breath. Decades of sibling hatred boiled over after a 2009 show, with Liam Gallagher reportedly smashing Noel's guitar and a fistfight ensuing, and the brothers haven't talked since then. Still, Oasis' impact as a more '60s-leaning, um, oasis at a time when bands were chasing heavier sounds and more distortion is undeniable. Yes, it's probably because of them that we had to deal with watered-down followers like Travis and Keane, but we don't discredit Pearl Jam because of Creed, do we? — TM
Rage Against the Machine
I know I'm not the only one who got a rush hearing Zack de la Rocha spit on Run the Jewels' "Close Your Eyes (And Count To F*ck)" last year. Though they've revived their legendary live show at times, de la Rocha seems to be the one member unwilling to put out new music together. Which is a terrible shame; Rage Against the Machine were the best (read: only good) rap-rock act of the '90s at the time, and they're the only one whose music still sounds good today. But maybe this one's for the best; things that burn as brightly as Rage did aren't meant to have a long shelf life, and trying to replicate that chemistry could lead to something that sounds more parody than authentic. — TM
Smashing Pumpkins (original lineup)
It's a testament to how great the Smashing Pumpkins were that I can still name every member of the original lineup. That's how much the first four albums meant to me (and all fans of emotionally-charged LOUD music), and why there's been such a drop in quality post-Adore. James, Jimmy, and D'arcy helped keep Billy Corgan's ego in check; without them, Teargarden by Kaleidyscope happens. A reunion is unlikely, but maybe if they all smile politely? — JK
Spice Girls
It seems like a mirage now, but Spice Girls were a phenomenon. They sold a lot of music, merchandise, a movie and even a message ("Girl Power!"). They've set records that have puts them in the rarefied air of The Beatles. They sparked the incredibly successful pop revival that gave way to Britney Spears, Backstreet Boys, etc. Most importantly, they defined a generation of women, although what they were doing seemed much more trivial back then. Their legacy is undeniable. Given a popular music landscape littered with women doing extraordinary things across all genres, it only makes sense for the Girl Power pioneers to come back and bask in what they helped inspire. — TM
Stone Temple Pilots
It's hard to keep up with all the twists and he-said, he-said bickering surrounding STP's breakup, but it all really boils down to this understatement: Scott Weiland doesn't seem like a very easy person to like, or work with. It was Weiland's drug abuse and contentious attitude that led to their first breakup in 2002, and his subsequent firing after a reunion in 2011. Though Weiland's personal situation has seemed very bleak at times, greater redemption tales have been written. And while STP is considered by many to be a bastard child of "real" grunge, the band has a litany of hits who persevere on rock radio to this day, and their first three albums are all legit. — TM
Uncle Tupelo
Jeff Tweedy and Jay Farrar, the two halves of a circle that made up alt-country icons Uncle Tupelo, do not get along. Take it from the dot in the middle of said circle, drummer Mike Heidorn, who recently said, "I can honestly say I don't feel in my heart of hearts [a reunion] would ever happen." Too many hurt feelings, too much success for Tweedy in Wilco. It's a shame, because there was a time that Uncle Tupelo defined a scene, and that time wasn't too long ago. — JK
*These are acts who may have put out music in the 80s and 00s, but the bulk of their production and/or influence came in the 90s.