A Tribe Called Quest will always be propped up as one of rap's greatest groups of all time with no exaggeration. Their catalog includes albums like Low End Theory and Midnight Marauders, both of which are widely considered to be classics, along with a number of memorable tracks fans know and love. As fresh-faced teens when they entered the business, their style an aesthetic — from the jazz samples and socially conscious rhymes to their Afrocentric style of dress that influenced the '90s — helped hip-hop grow into a vibrant force in American culture.
So pervasive was their influence, Nas went so far as to call them hip-hop's version of The Beatles. But, just like that great band and many more before them, the members eventually decided to go their separate ways. Creative differences and strife between the members, particularly Phife and Q-Tip, were a huge factor in the group's break up following the release of The Love Movement in 1998. For the next 18 years, they each went on their own travels on the paths of rhythm and beyond.
Ali Shaheed Muhammad
The quietest one of the group actually ended up in a spot that requires him to do quite a lot of talking. Since 2012, Muhammad is the co-host of NPR's rap Microphone Check with Fran Kelley where they've cultivated one of the best music podcasts around with their series of in-depth interviews with artists.
Before that, the producer teamed up former En Vogue singer Dawn Robinson and Tony! Toni! Tone! frontman Raphael Saadiq to form R&B outfit Lucy Pearl and the group released their self-titled album back in 2000. The group was always in a state flux though. D'Angelo was supposed to be down but ultimately backed out. The released two singles — "Dance Tonight" and "Don't Mess With My Man" — to moderate success before Robinson backed out and was replaced by unheralded Southern songbird Joi. But, it also helped create a small reunion between Ali Shaheed and Q-Tip when they linked together for the song "You," featuring Snoop Dogg, for the Save the Last Dance soundtrack of all places.
Still, Muhammad's built a very solid track record for production and songwriting in the days since Tribe. He co-wrote D'Angelo's breakthrough single "Brown Sugar," worked with John Legend on 2013's Love in the Future ("Wanna Be Loved"), and even popped up on Kendrick Lamar's untitled project for the song "06.30.2014" with Cee Lo Green. Down the line, he also provided additional vocals on the posthumous Phife track "Nutshell."
Most recently, he worked with Adrian Younge to score the hip-hop infused soundtrack for the Netflix hit Luke Cage and ended up being instrumental to the show's success. It's something Muhammad takes great pride in. "Knowing how important Luke Cage is to the African-American community and knowing how severe tensions are racially for the young black male at this time, as a teen I didn't ever think we would get to this point," Ali said in a September interview. "A Tribe Called Quest really tried to make music to inspire all races."
He continued, "In this day and age where we have an African-American president and to see that things have progressed, I thought Luke Cage coming out at this point in time was again serendipitous. Anybody could have gotten that call. There are so many dope musicians out there."
Jarobi White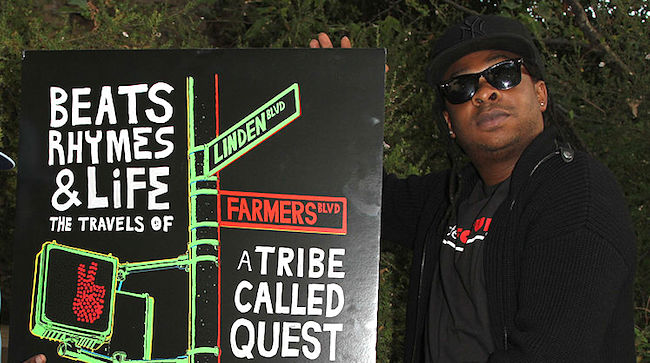 The "sometimes Y" of the group kept a low profile in the days after the group's split. As a founding member of the group, he only appeared on People's Instinctive Travels and the Paths of Rhythm but was considered to be more of the "ideas and creativity guy" for his peers. But, things almost worked out differently because Jarobi and Phife were initially working on doing their own thing. "The plan on People's was simple. Me and [Jarobi] were supposed to do our own group," Phife said in a 2015 interview. "A Tribe Called Quest was really [members] Q-Tip and Ali Shaheed Muhammad, and they were going to put us out there. I was really a support thing for Tip and Ali."
Out of all four members, he ended up choosing the least musical hustle he could find when the group ended: Cooking. Having worked in restaurants since age 14, White wound up becoming a chef and worked in several New York City restaurants, including a lengthy stint under well-known chef Josh "Shorty" Eden, before he created an events company, Eats, Rhymes and Life, which allowed him to combine his passion for cooking with his love for music. It also allowed him to exist in the spotlight again but not directly in people's line of sight, a trait he seems to have mastered very well.
"One of the reasons cooking appeals to me is because I'm sitting in the kitchen and nobody's bothering me! Having to share of myself is crazy to me," he said in a recent interview. "I understand that they're not just here to eat the food — they're actually here to see me. With the group, it's always been they want to see us. I'm a part of what they want to see, and the focus has never been on me." Throughout the years, he still managed to participate in the few reunion shows with his Tribe brothers and stayed in close contact with Phife and Tip.
Phife Dawg and Q-Tip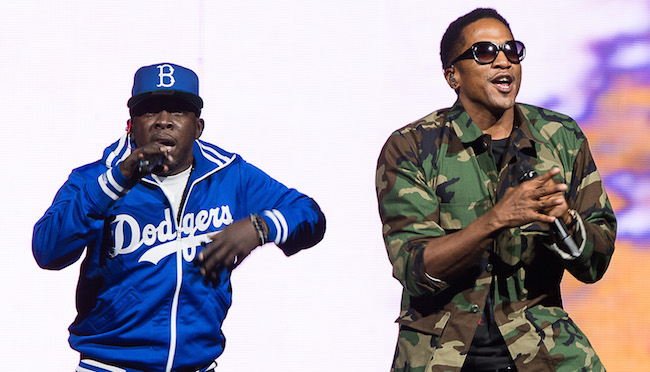 These two deserve to have their story told together since they were friends dating all the way back to age two. They shared a brotherhood so close that it often caused friction between them but it's also what ultimately brought them back together before Phife's untimely death. The story was chronicled in Michael Rappaport's documentary on the group, Beats, Rhymes and Life: The Travels of A Tribe Called Quest, released in 2015, which really put into perspective The Five Foot Assassin's long-running battle with diabetes that traced back to 1993, occurring during part of the group's prime. In 2008, he received a kidney transplant from his wife that improved his condition for a while before his health began to take a turn for the worse in 2012.
But where the dissension began was around the time another late hip-hop great entered the picture. J Dilla, then known as Jay Dee, an unknown producer from Detroit, was brought in to work on 1996's Beats, Rhymes and Life and 1998's The Love Movement and later helped form the production outfit The Ummah with Ali Shaheed and Tip. Dilla arrived at just around the time Consequence, Q-Tip's cousin, was entering the picture, meaning rhyme time would be further split between now three MCs in the group. Tip was often considered the leading voice, which left Phife, who had recently left New York for Atlanta, and the new kid vying for second place. At the time, Phife felt like he was being pushed out of the group he helped to create.
"I thought about it and I could be wrong but I felt like that was his way of etching me out," he said in a 2005 interview. "We had a conversation about it and he [Q-Tip] said it wasn't so but I don't think you can blame me for seeing that way. Maybe I was wrong, but that's how I felt."
After the group dissolved, Phife spent the majority of the next few years battling his illness by taking dialysis treatments regularly and pursuing one of his other passions — sports, something he became known for littering throughout his lyrics. An avid fan of hometown teams the Knicks, Mets and Yankees, he made frequent appearances various radio shows and sports programming on ESPN. He later ended up as a a playable character in the video games NBA 2K7 and NBA 2K9.
Musically, Phife released one solo album, 2000's Ventilation: Da LP, and was reportedly working on a both a new EP, Give Thanks, and an LP, Muttymorphosis, at the time of his death early this year.
Out of the foursome, Q-Tip had the most success as a solo artist as well as a producer, too. While his career didn't reach Tribe heights, he did release the Grammy-Award nominated album Renaissance in 2008. He also has two other solo projects under his belt, Amplified (1999) and Kamaal/The Abstract (2009). The Amplified project birthed two of his biggest solo singles, "Vivrant Thing" and "Breathe and Stop." Tip's production skills allowed him to help shape a multitude of songs a who's who of artists: Nas, Mobb Deep, Mary J. Blige, Janet Jackson, Kanye West, Mariah Carey, John Legend, Busta Rhymes and so many more.
He also found a bit of footing in film, too, and appeared in over 15 movies between 1993 to 2010. But it was his lack of involvement — and sometimes public lashing out — regarding the group's documentary that typifies the enigmatic relationship he shared with Phife and ATCQ as a whole. At one point, he was completely on board with the film before making a complete 180 and denouncing it around the time of the movie's release.
The doc depicts a few of the arguments that took place between Phife and Tip during the 2008 reunion tour. During that time, Phife was undergoing dialysis three times per week while trying to keep up with the group's grueling schedule. At one particular show, Phife grew exhausted during a performance which led to Q-Tip ad-libbing "Look alive, look at Phife Dawg" during "Find a Way." That lead to a verbal confrontation and coincided with another awkward moment that followed, as noted by The Awl.
"I see Spin magazine with Q-Tip on the cover, lemme check out," Phife said in the film. He then reads from the interview, "'I never had a problem with Phife.'"

"He kicked me under the rug," Phife said. "Stop throwing me under the bus in interviews."
That moment is one example of the bitter whole in terms of their relationship over the years, and part of the constant back and forth over who was really responsible for the group's breakup decades later. The in-fighting continued all the way up until recently, when the group finally decided to record a new album.
To make that happen, Tip and Phife first had to make amends, which they did because Phife found the strength to make numerous trips from his new home in Oakland to Q-Tip's Jersey home, where all group members bunkered down to record in the residence's multi-million dollar studio. Before the sessions started, the two friends first had to make amends with one another. "He came here, and we was bonding," Q-Tip told The New York Times in a recent interview about the process behind the new record. "We went through all of the stuff and apologized, and it was just so good, man."
Through all their ups and downs, all four group members had to be of one accord, they had get back to the same oneness that helped shape them when they were 18, 19 and finding their way in the music business. It took them 18 years, but they finally found each other, perhaps just in time, to record their final album as a group, We Got It From Here…Thank You 4 Your Service, which can be streamed below in its entirety. The group will perform songs off the album on SNL tomorrow night.