After the departure of comedians Desus and Mero, the most popular franchise on "Viceland" became Action Bronson's series of shows, including his popular food tourism show, F*ck, That's Delicious. But after the network's official Twitter compared the rapper/chef to another social media celebrity, it looks like Bronsolino might be ready to burn the same bridges as his Bronx counterparts.
Eater caught the original tweet in a screenshot before it was deleted, but the long and short of it is, Viceland's social media manager tried to make a play on a well-worn meme format, but the "joke" exploded in their face when Bronson took exception to being compared to Nusret Gökçe, the Turkish butcher who rose to fame as "Salt Bae" after his meat preparation techniques caused an internet sensation a few years back.
"Remember Salt Bae?" asked the tweet. "This is him now. Feel old yet?" However, instead of a photo of the infamous chef, the tweet attached a gif of Action Bronson using a salt grinder to prepare a dish, taken from F*ck, That's Delicious. Bronson did not find it funny.
"YOU WEIRDO MOTHERF*CKERS ARE LUCKY TO HAVE EVER BEEN IN MY PRESENCE," he responded in all caps. "F*CK YOU AND ALL YOUR BULLSH*T. ILL TAKE MY TALENTS ELSEWHERE BECAUSE YOU SURE DON'T APPRECIATE WHAT I'VE DONE FOR YOU." He further went on to clarify that he owns the rights to his show and that he is no longer signed to Vice's label. "WHITE MOTHERF*CKING BRONCO NOVEMBER 1st EVERYWHERE. F*CK A LABEL," he wrote, savvy enough to use the viral moment to promote his upcoming album White Bronco while the spotlight was on.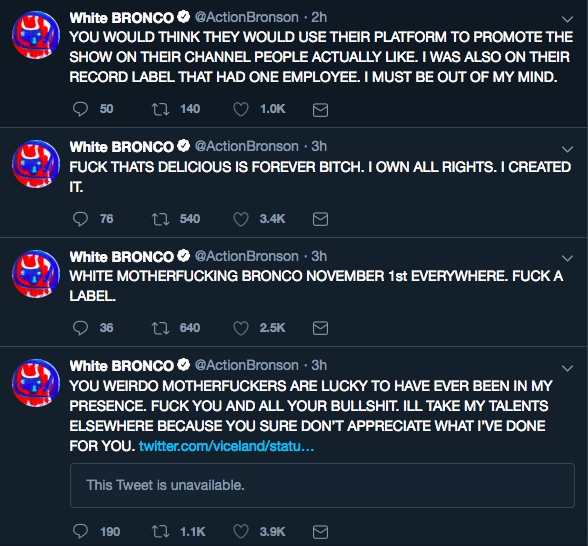 He parted on a revelatory tweet that pulled back the curtain on part of why he was so angry at the tweet. "YOU WOULD THINK THEY WOULD USE THEIR PLATFORM TO PROMOTE THE SHOW ON THEIR CHANNEL PEOPLE ACTUALLY LIKE. I WAS ALSO ON THEIR RECORD LABEL THAT HAD ONE EMPLOYEE. I MUST BE OUT OF MY MIND."
White Bronco is due November 1.