At or near the top of any list of leadership tips is one key piece of advice: Lead by example. People have an easier and more willing time modeling their behavior after a desired ideal if their authority figure is exhibiting those attributes at a superlative level.
That's what makes an Anderson .Paak concert so fun, for both himself and those fortunate enough to watch him.
On May 25, .Paak performed a riveting Boston Calling set that included a guest appearance from viral superstar Lil Nas X. The next day, he headed up to Westbrook, Maine (a close neighbor to Portland) for the fifth show of his "Best Teef In The Game" tour, and proved that he's having more fun than just about anybody.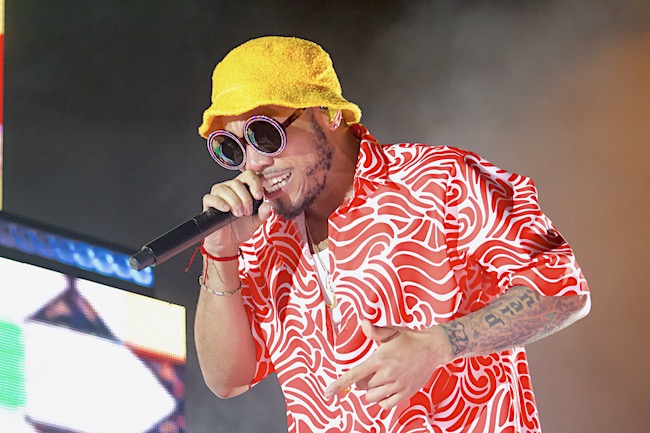 From the moment .Paak and his drum set elevated out of a raised platform in the center of the stage at the start of the show, he was on. "Best Teef In The Game" might not be a quantifiable title, but he's certainly prone to flashing them widely, frequently, and with genuine joy. Alternating between playing drums and using the rest of the stage as a space to explore his boundless charisma, .Paak was a nonstop force for every second of his 25-song set.
.Paak is a master at building an immediate and indelible connection with his audience. His smile and multi-faceted arsenal of top-rate talents (as well as those of backing band The Free Nationals) make fans want to have as much fun as he's having, and the atmosphere he creates makes that an effortlessly achievable goal. All shows have a performer and an audience (unless you're Threatin), but .Paak's are a different beast. They truly feel like a collaboration between him and his fans. And for a couple hours, it doesn't feel weird to think of .Paak as your friend.
During Ventura highlight "Reachin' 2 Much," for example, .Paak hopped down from the stage and into the GA pit. From there, he made his way almost around the entire audience area, cutting through the middle of the crowd to dance, sing, and smile with his admirers as they followed along for his jaunty lap. This bit has become a staple of the tour early on, and it's a distillation of the fact that there are no boundaries that can be placed on .Paak's pursuit of joy. He and his audience share the same goal: To have a hell of a time, and he'll do whatever it takes to make that happen.
Of course, all this would be for naught if .Paak didn't have the goods musically. His set was about half songs from his two most recent albums, this year's Ventura and 2018's Oxnard, and both of those are widely considered to be among the best records of their respective years. There are few better sensations than feeling the grooves from .Paak's discography in your chest when the man is performing them in front of you, and watching him do it, you can tell the vibe on the other side of the equation is the same.
Even before .Paak took the stage, there was reason to celebrate, as the "Best Teef In The Game Tour" features an eye-widening roster of openers: Noname, Mac DeMarco, Jessie Reyez, Thundercat, and Earl Sweatshirt. The latter two made the trip to Westbrook, and although they're not analogous to .Paak, the alternative hip-hop of Sweatshirt and the soulful and jazzy rhythms of Thundercat wonderfully teased those elements that can be found in .Paak's music.
Speaking of Westbrook, here's something of local interest: This show was the inaugural performance at the new Maine Savings Pavilion. The concert space is part of Rock Row, a brand new 110-acre mixed-use development that is also set to feature retail stores, hotels, workplaces, housing, restaurants, grocery stores, a recreational quarry, a movie theater, a medical office, and other bells and whistles. Although the development is still… in development (the parking lot wasn't fully paved yet, for example), this performance was a cracking start, and proof that the 8,200-person-capacity venue is a worthy destination for world-class entertainment.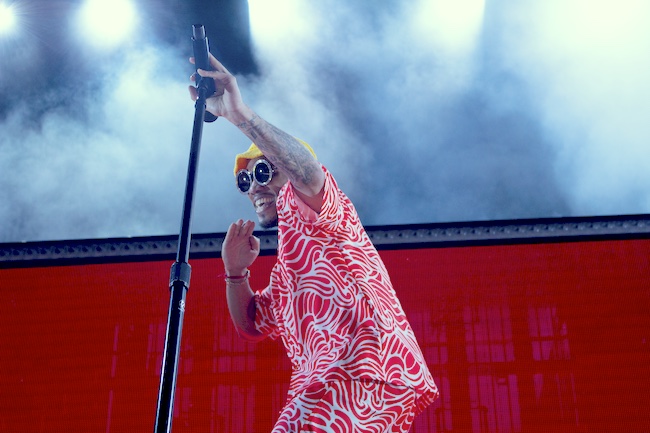 And that's exactly what .Paak delivered. .Paak has long been beloved by the R&B and hip-hop community, but over the past couple years, he's made the jump to mainstream stardom, and it's easy to see why. There are many factors involved, but ultimately, that leap is all thanks to .Paak's leadership: When he's feeling himself, sharing jovial glee, and showing off his teef, he makes it impossible not to do the same.