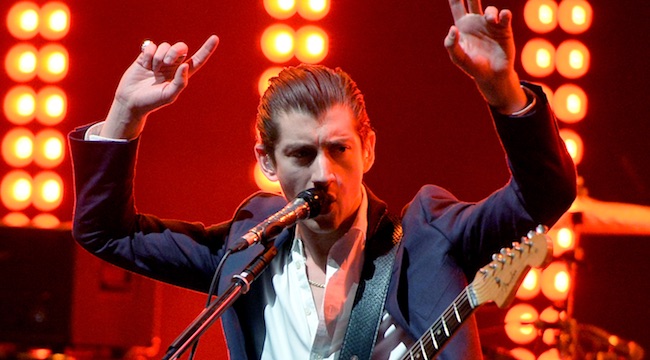 Alex Turner is looking directly into the camera, which is following him so closely the angle is more akin to a kitschy documentary than a shot fit for one of the two enormous screens that flank the Hollywood Bowl stage in Los Angeles, where Arctic Monkeys are playing their second of two nights at the historic outdoor venue.
Strumming his guitar with extra emphasis and exaggerating up his facial expressions and gestures, the band's frontman looks completely at home in this state of faux-serious rockstar glamour, not even the hint of a grin gives away his deadpan eye contact with the lens, and subsequently, the audience, who are pleased and delighted with the band's antics. Plenty of musicians have stood on the Hollywood Bowl stage and given a special shoutout to the crowd in attendance, marking a show at the venue as a feather in their cap, and a momentous occasion to be venerated. Arctic Monkeys, however, are not most bands.
Of course, it's not that the British stars aren't gracious or thankful to be playing enormous stages — and it's worth noting they're one of the few rock bands of this current era who can anchor a headlining slot at a festival — it's just that part of their whole appeal is the tongue-in-cheek, smirking absurdity that makes a Monkeys show so enjoyable, and such a refreshing contrast to so many of their peers.
While rock as a whole has veered into camps of overtly self-serious (see bands like Interpol), easygoing and approachable (see artists like Kurt Vile), or some sort of pastiche of rock gods past (see bands like Greta Van Fleet), Arctic Monkeys have remained aloof but absurd, original even in their familiarity, and gloriously committed to the sanctity of old world rock and roll theatrics. But none of this stagecraft would work if the music wasn't there, gleaming and meticulous, the framework that makes all the performance elements so necessary, and so welcome.
https://www.instagram.com/p/BpD6p8hlTa8/?hl=en&taken-by=harmonicait
In the five years since AM, the band's so-called breakthrough record (in the States, at least), the relative silence from Turner and co. has only allowed their mythical status to grow. When they returned earlier this year with the excellent Tranquility Base Hotel & Casino, a record at turns slinky, glitzy, ferocious, and loungey, it felt like a true moment for a genre that has been all but cast aside in favor of pop's shimmering replay power and hip-hop's overpowering, culture-defining significance.
None of this seemed to matter to the Sheffield band, who did not bow to current trends or feature many prominent guest stars (appearances on AM by the likes of Josh Homme took care of that, anyway), but simply released an album that built upon the Monkeys sound, without any regard of what else was going on around them. Being able to operate in this kind of focused, deliberate mode is a faltering quality in 2018, where the buzz from social media and endless access to every cultural conversation going on in the world at large has not helped but actually hindered plenty of creatives. Perhaps the five years off was an essential element in this process — the Monkeys staying true to the Monkeys — that the band (and their diehard fans) owe a debt to for much of Tranquility's singularity.
Either way, witnessing that singularity — and the diehard fans — firsthand at the Hollywood Bowl last night was a testament to the power of honoring the traditions of rock without being derivative, distracted, or demure. Whether Turner was throwing high kicks from behind a keyboard, carelessly tossing a glistening white electric guitar to the ground, or fervently waving the microphone stand over his head, none of this ever distracted from his unwavering, velvety tenor, which is truly a huge part of what carries the band into legendary territory, or his scrupulous playing of both keyboard and aforementioned guitar. And he isn't alone in keeping the audience glued to the stage, either, all the Monkeys are active members of the theatrics taking place, maneuvering around and with Turner and the camera, allowing their presence to be just as much of a physical contribution as their actual playing might be.
When it came time to close out their set before an encore, Turner and the Monkeys turned it on, just like they should, to reach far back in their now extensive catalog (Tranquility Base Hotel & Casion is their sixth album in twelve years) and play their initial, resilient hit "I Bet You Look Good On The Dancefloor." It was a nice callback moment in a setlist heavy with new songs, and undoubtedly the cherry on top for fans who had been waiting all night to hear this extremely recognizable jam. Because that's what world-class rock bands do, they never get too big or mighty to not play the hits, the one song that has glued the audience to them for years, even decades sometimes.
Still, I wouldn't be surprised if, in the next twelve years, it's a song off Tranquility that supersedes that old 2006 hit. And no matter how it pans out, Turner will be there, giving the audience just what they want to see: A rockstar, wholly aware of his status, unafraid to embrace the spectacle, and happy to let it be a little absurd, too.
Tranquility Base Hotel &Casino is out on May 11 via Domino. Buy it here.