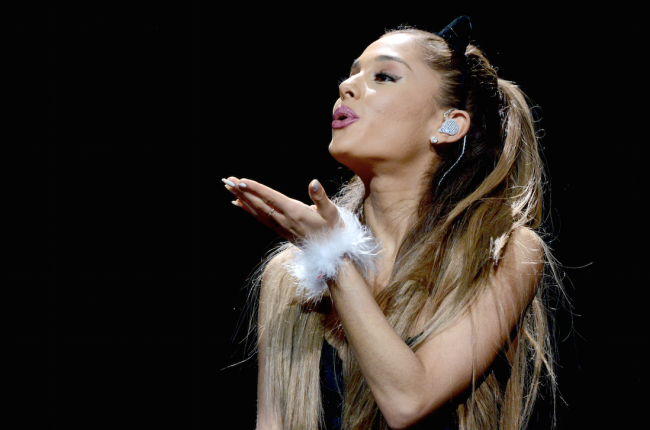 If a diva is a female version of a hustler, then Ariana Grande is my favorite hustler. When did being a "diva" become such a negative thing? I blame VH1, as I do for most things in life.
Say what you will about Grande's music, but she's a refreshing change of pop-star pace from Taylor Swift's earnestness and Flaming Lips collaborator Miley Cyrus, who's been acting like an Amish teen on Rumspringa since being freed from the Disney vault. In short, she's great.
Don't knock Ariana for being a "diva." Be happy we have a mini-Mariah in the making. Here are her worst (or best, depending on your perspective) moments.
1. Grande blamed the cancellation of her first Nick show, Victorious, on star Victoria Justice wanting to go on a solo tour. She said, "If we had done a cast tour, Nickelodeon would have ordered another season of Victorious while Sam & Cat filmed simultaneously but she chose otherwise," before adding, "I'm tired of this BS." Justice responded:
2. When she said people need Jesus instead of thinking she took a photo with her black dildo.
"I was like, 'Are you kidding me? That's a microphone for my looping machine because I'm a singer.' People have too much damn time on their hands and just need Jesus, if you ask me. I hope they find something better to do with their time." (Via)
3. I'm guessing the guys in pop-rock band the Cabs aren't big fans of her.
4. How the seeds of "Ariana Grande might be a serial killer" were planted.
"For my fifth birthday party, we had a Jaws theme and all my friends left crying. I mean, I still am that way. But when I was little, it was more concerning. There was a stage, when I was 3 or 4, where my mom thought I might grow up to be a serial killer." (Via)
WHERE ARE THE BODIES, ARIANA?
5. Grande's management team informed photographers in Australia: "DON'T use natural light," but "DO shoot only from the left side of her face." One picture was taken before Grande "left the hotel suite, complaining to her reps that she was unhappy with how her top looked in the poses." Naturally, we found some right-side photos in the Getty archive. THE HORROR.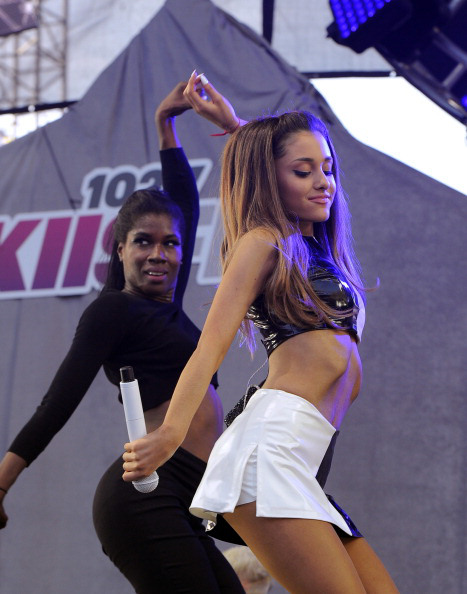 6. "I hope they all f*cking die."
"She did autographs and pics and was all smiles until she got into the elevator [of a Manhattan radio station earlier this summer]," a stunned industry insider tells us. "And as soon as the doors shut she said, 'I hope they all f*cking die.'" (Via)
7. My single favorite rumor about anyone. Ever.
"Her new rule is that she has to be carried — literally carried like a baby — when she doesn't feel like walking. She says that she doesn't want her precious feet to hit the floor," says a source, who witnessed the 21-year-old get a lift from her staff while filming her latest music video and again at rehearsals for the Victoria's Secret Fashion Show. (Via)
8. Let's hear from E!'s Giuliana Rancic, who deals with celebrities all the time.
"I remember, I think it was at the AMAs, she came up on the platform, and, normally, I stand on this side to the camera," says Rancic, pointing to the left side of her face. "Little Ariana comes over, I feel like 'bing,' elbow in my side. I'm like, 'What's going on?' And they push me to the other side… So I had to be on my ugly side. But I felt like a little bit of a, you know, it was like, 'You either get on the other side or we don't do an interview.'"

The E! News presenter says being a diva is OK if you are a well-established artist, but Grande is a bit too new to have this kind of attitude.

"I just felt like it's one thing if it's Mariah, you know, I'll get on any side, I'll bend down, I'll climb a ladder, whatever it takes to get Mariah to do an interview," says Rancic. "But when you're new on the block… you just gotta do what you gotta do, try to get a great reputation, try to go overboard to please people." (Via SMH)
9. She refused to do the ALS Ice Bucket Challenge, FOR REASONS.
"Celebrities all over the world are doing it for a good cause, but she doesn't care. Her skin is a big problem for her and, she absolutely does not want to be seen barefaced." (Via Star Magazine)
10. It's probably not a good thing when your life coach quits.
We're told that the 21-year-old rising pop star's life coach, who was in charge of keeping her centered and healthy, walked off the job months ago because he just couldn't handle her attitude. "He just couldn't take it anymore," says the insider. "Everything people are saying about her is true." (Via Page Six)
11. If you're on her lighting crew, do NOT mess up.
Grande allegedly berated a lighting crew and made sure she was only shot from certain angles. "She was a total nightmare," a source [said]. "She demanded to be shot only on her left side and told the lighting crew that if they used red light, she would 'kill herself.' " (Via She Knows)
12. A father documented the time his daughter won a contest to meet Ariana. It did not go well.
Jen and the other MTV winner (a young man of 16 who traveled across the entire country for this meeting) were interviewed on camera by MTV to be broadcast at a later date. Before the camera rolled, they were told they would be asked what it was like meeting Ariana, and they had to PRETEND that they had already had said meeting, even though the interview was taped BEFORE Ariana ever appeared. They were told what to say, almost word for word. I know Jen feared that if she refused to do this, she would not meet Ariana (though she was not told that). (Via Primal Screaming)
The actual meet-up wasn't much better.
Ms. Grande glanced at the photo on Jen's phone and said, "Let's redo that picture." She said nothing else, so Jen retook the photo. No peace sign from Ari this time. Then, Jen took out one of the drawings that won the contest for her. Kelly snapped a photo of her smiling little sister giving Ariana the drawing.

"Delete those pictures, please," was all Ariana said.

"Can I just keep the one of my sister showing you the drawing?" asked Kel.

Ariana turned to her security and ordered, "Make sure she deleted those."

Then, Ariana Grande walked away from her prize-winning fans without even saying goodbye. (Via)
13. Big Sean, big problems.
Sources say the downfall of [Ariana and Big Sean's] relationship started in February, when he made the most important appearance of his career at the House of Blues in West Hollywood. Everyone showed — Kanye, Bieber, JLo, Chris Brown, Jay Z, A$AP Rocky, Tyga, Kylie and Kendall — everyone EXCEPT ARIANA. We're told she needed to get ready for the Grammy's the next day, which he found extremely selfish. (Via TMZ)
Big Sean also claimed Ariana made him take a private jet to see her, and "when [Justin] Bieber jumped onstage in L.A. and grabbed Ariana from behind" at a show, he saw it as a calculated move to get a rise out of him.
14. And, of course, #Donutgate.
What a time to be alive. <3 you, Ariana.