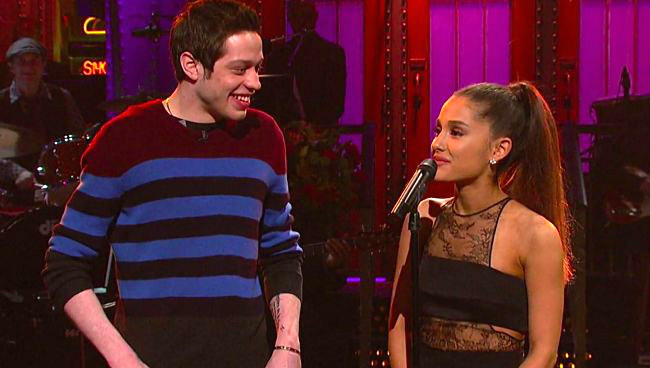 It would seem that so far, the relationship between Ariana Grande and Saturday Night Live's Pete Davidson has gone super well. Heck, they've only been dating for a couple months or so and they're already engaged. That said, it hasn't been completely without issue: Davidson is facing some criticism for a controversial joke he made last year, about the Manchester bombing that took place at Grande's concert.
During a stand-up set at a benefit to support Puerto Rico last fall, Davidson commented about how famous Grande was at that point, comparing her fame to that of Britney Spears by saying, "Britney Spears didn't have a terrorist attack at her concert." A mother of one of the bombing victims told The Mirror a few days ago, "For anyone to joke about this situation is disgusting and I think he should publicly apologize for it. The families will find it equally as disgusting. We don't need jokes about it, there have been plenty around, and it's heartbreaking to hear every day. But for someone so famous to be doing it and now to be with Ariana, it's outrageous. I think she would be horrified too."
Now, Grande has responded to a fan on Twitter who questioned her relationship with Davidson in light of the joke, writing, "This has been [very] tough and conflicting on my heart. He uses comedy to help [people] feel better [about] how f-ed up things in this world are. We all deal [with] trauma differently. I, of course, didn't find it funny. It was months ago and his intention wasn't/is never malicious but it was unfortunate. I hear and respect you all always."
Davidson has yet to respond to the controversy. He does, however, have a history of making these kinds of jokes: Davidson's father was a firefighter who died during the 9/11 terrorist attacks, a topic the comedian often talks about during his stand-up sets.