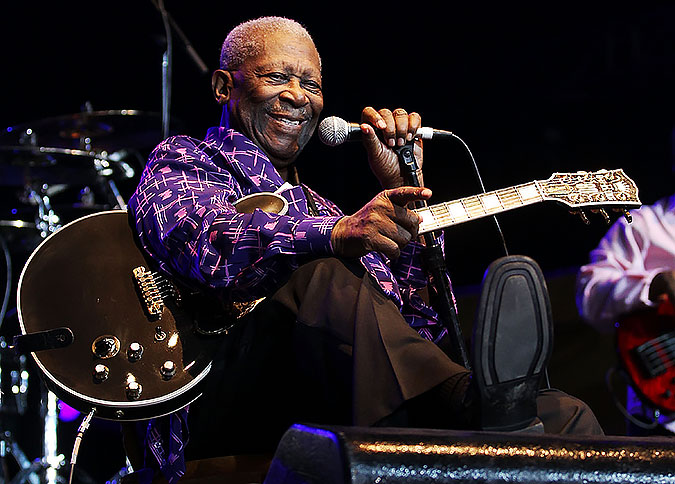 Blues legend B.B. King passed away Thursday night, leaving behind a huge void in the music world. King was a historically great musician whose impact has been felt across nearly 70 years of performing music, and his legacy will live well beyond the next 70 years. But while King's name is instantly recognizable, there may be some fascinating elements of his life and career that many people don't know. When you are as iconic for as long as B.B. King was, you become epic, your life story seemingly more legend than reality. But B.B. King was a person, one of our best ever, and he lived a life befitting his legacy. These 10 facts only represent a fraction of how fascinating King's life and music was:
'B.B.' was not his real name.
Born Riley B. King, "B.B." was a moniker given to King by his peers in the 1940s. It stands for "Blues Boy." King was a disc jockey for a Memphis radio station, where he earned the nickname "Beale Street Blues Boy," which was shortened to "Blues Boy" and then to just "B.B." It was common for many in the blues world to adopt names befitting the lives they led (see: Howlin' Wolf), but B.B. didn't need to change his natural last name; he was born a King of the blues. (By the way, his natural middle initial doesn't actually stand for anything.)
King grew up a sharecropper, and on his own.
King was the son of Albert and Nora Ella King, two sharecroppers in the segregated South. They split when he was four, and his mom died when he was 10. After that, King went it alone for four years, picking cotton and working the farm to support himself. It wasn't until his mid-teens that his father re-entered his life, but B.B. didn't spend much time with his father before me moved out on his own again.
He called his guitars "Lucille" all because of a fight.
It's pretty well-known that King referred to all his guitars — those beautiful, big-bodied Gibsons — as Lucille. What's lesser known is the genesis of that nickname. During an Arkansas gig in the '50s, two men got into a fight and knocked over a kerosene stove, setting the club on fire. King fled, but ran back into the burning building to rescue his guitar. The fight that caused the fire? It was over a woman named Lucille. King's 1968 album was named Lucille as well.
He worked. A lot.
King played more than 15,000 shows by the time of his death. When you consider that he started performing in 1947, that comes to about 221 shows a year. Almost 70 years. In 1956, he played an astounding 342 shows. Even in his later years, he reduced his workload to *only* around 100 shows a year. "I'm slower. As you get older, your fingers sometimes swell. But I've missed 18 days in 65 years. Sometimes guys will just take off; I've never done that. If I'm booked to play, I go and play," he told Rolling Stone in 2013.
He once played with Homer Simpson…
See?
… and President Obama.
As good as he was on guitar, he had one major weakness.
King's guitar work is a thing of wailing beauty, his singing voice a beacon of pain and regret. But he could never combine the two. That's right, King never learned to sing and play guitar at the same time. That seems impossible, but alas, you can see in this live performance of his biggest hit, "The Thrill Is Gone," how he trades off between singing and playing.
One moment let King know he made it.
A few years before his 1968 performance at the Fillmore, King was offended when he was introduced at a Chicago club by the M.C., saying, "Okay, folks, time to pull out your chitlins and your collard greens, your pigs' feet and your watermelons because here is B. B. King."
So, when he showed up to the Fillmore and saw a line of "long-haired white people," he thought he was at the wrong club. Until he was introduced on stage to a standing ovation. "Everybody stood up, and I cried. That was the beginning of it," he later said.
King was quite a ladies man, apparently.
The guitarist fathered 15 children with 15 women. When you play 300+ shows a year, it doesn't leave a lot of time for parenting. "I have not been a good father, but no father has loved his children more," he said in his autobiography, Blues All Around Me. "Like my father, I decided the best thing I could do for my kids was work and provide. Fortunately, I've been able to do that. Unfortunately, my work was on the road, and that's meant a life of one-nighters. I never stopped moving. But I never stopped loving them or caring for them."
If you just want to go by accolades, King has quite a list.
To go with his 15 Grammy awards (plus a Lifetime Achievement Award), King has been inducted into the Rock 'N Roll and Blues Halls of Fame and has received a Kennedy Center Honor, a Presidential Medal of the Arts, a President Medal of Freedom, and the international Polar Music Prize. He has honorary doctorates from Yale and Brown, and B.B. King Day was established in Mississippi in 2005. Oh, and there's a stretch of the infamous Blues Highway in Tennessee named after him.
R.I.P., B.B. We won't forget you.