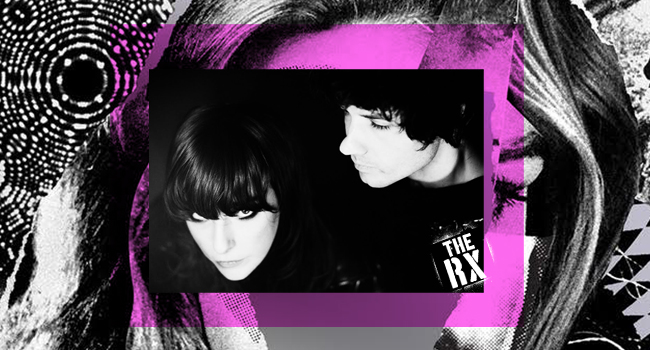 The RX is Uproxx Music's stamp of approval for the best albums, songs, and music stories throughout the year. Inclusion in this category is the highest distinction we can bestow, and signals the most important music being released throughout the year. The RX is the music you need, right now.
Over now seven albums, Beach House have owned one of the greatest misnomers in rock. There's never been anything sunny about their music, and the common associations with their band name — vacation, suntans, summer, brightness — don't fit anywhere within their aesthetic. If the band were to literally encapsulate their name, it would be a rarely used mansion on the rocky Atlantic in the Northeast. When visited, the furniture would be draped in dusty white sheets, while outside a cold ocean breeze would push mist into squinting eyes. Their beach house would not be a place of relaxation, but a refuge from the untamed elements outside, a temporary home that feels safe and warm in a chaotic, unforgiving world.
But since their debut, the Baltimore duo of Victoria Legrand and Alex Scally have, over time, owned up to their band name. Like an image slowly coming into focus, they've made the concept of Beach House not seem like a bait-and-switch. By association, Beach House now means music for the cover of night, songs you know not to interrupt when you hear them coming from a neighboring room, albums meant to live in and guard against rising tides. It's the kind of achievement that happens so slow, only those carefully watching can even notice it. You'd need time-lapse to capture these glacial changes.
Evolution is, in fact, this band's M.O. It's a counterpoint to everyone who has ever argued that every Beach House album sounds the same, a litmus test to how carefully people actually listen. The "sameness" critique is a pretty common knock of the band, and one that slips through your fingers as you revisit their catalog. Where the self-titled debut, now a dozen years old, is an intimate and spare introduction of their definitively dream pop stylings, by 2010's Teen Dream, the band had adapted for bigger stages, adding elements like live drums and full arrangements to give their sound the big budget treatment it deserved. 2015's Depression Cherry was a bit of a retreat to moodiness and psychedelia following some of their most immediate work on 2012's Bloom, while their most recent effort, their other 2015 release Thank Your Lucky Stars, saw their maturing songcraft revisit some of their earliest recording techniques.

Still, no album has felt as much as a departure as 7. In advance of the album, the band has gone on record as saying the Beach House rulebook went out the window for this one. Previously followed guidelines like only writing parts they could play live were abandoned. It's the kind of narrative bands often use, and typically once you push play, you find that it doesn't really sound that special or is just a ploy to cover up marginal songwriting. But for Beach House, getting outside their comfort zone has resulted in a stunning effort in a career full of them. Being consistently special might be an oxymoron, but it doesn't apply better to anyone but Beach House.
Of course, anyone who's been following the band's advance singles for this album knew that a change was coming. "Lemon Glow" is all tracers and euphoria, tripping further into black light radiance than ever before. Its mid-tempo rhythm is a bit more amped up than usual, but that's nothing compared to the showstopping centerpiece of "Dive," which turns a gentle, comforting swoon into a technicolor leap that's a sprint to the finish line by Beach House's standards. Album opener "Dark Spring" could even be described as upbeat, though the chaos at its center tends to be a more defining element. For a band that's always had a little bit of slowcore in their DNA, 7 is more keyed-up than they've ever been.
These moments are all captivating and exciting in a way that's new for Beach House, allowing their more solitary moments the space they need to breathe. Sandwiched between "Dark Spring" and "Lemon Glow" on the album is another song that sounds like no other Beach House song, "Pay No Mind." It's the most straightforward a ballad has ever sounded in their hands, fit for lighters in the sky, almost a full-circle representation of the bands that Beach House has influenced. In the last couple months, when Cigarettes After Sex started getting some play on alternative radio, I couldn't help thinking how a band riffing on Beach House, with cleaner production and more streamlined presentation, had reached a commercial plateau that their influence never had. "Pay No Mind" shows that Beach House could play that game if they wanted, and still do it better than anyone else.
"I am loving losing life," Legrand sings on "Drunk In LA," a song that sounds regal as she always does when namechecking horses (see 2010's "Zebra"), even as its lyrics paint a foreboding picture of flowing cocktails and isolation. The band puts on their brave face throughout as they ponder the state of the world, the waves crashing closer and closer to the fortress they have built. They evoke beauty first and foremost, as if it might have the power to save. And as the world around erodes, Beach House's sheer determination is inspirational. It's a wonder that they stay intact, as confident in their craft as ever, providing temporary shelter from the storm. 7 is ultimately a place you'd love to live forever, and that Beach House can both provide a reprieve from the outside world while reflecting on it is a minor miracle. Their foundation has never been more firm.
7 is out now on Sub Pop. Buy it here.