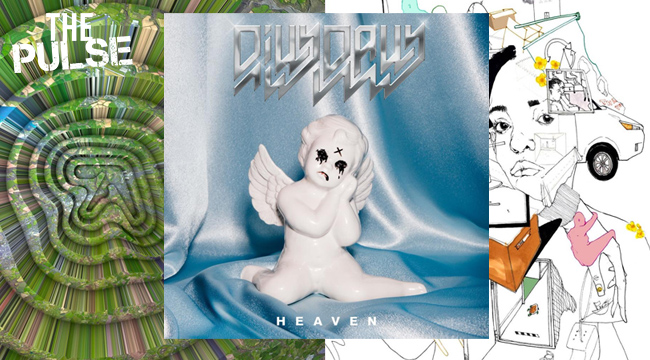 The Pulse is the Uproxx Music guide to the best new albums, mixtapes, and other music releases that matter this week. Find our complete list of the records coming out in September here.
You know that feeling when there's an emerging talent that you dig in a big way, and you want to see them really thrive? Well, good news: That's happening a few times this week! Rap up-and-comer Noname dropped her long-awaited sophomore record, Dilly Dally is asserting their alternative rock dominance, and The Dirty Nil is bringing their aggressive rock music down to the states from Canada.
Meanwhile, Aphex Twin is back with more electronic goodness, Willie Nelson is the Energizer bunny of the music world, and Carrie Underwood begins her big comeback following a traumatic injury.
Noname — Room 25
Two years is forever in the music world, and that's how long it's been since Noname's well-received 2016 breakout Telefone. The record was only just announced a few days ago, so this is one you'll be able to experience completely fresh, which is something that Noname's excellent, poetic rapping deserves.
Dilly Dally — Heaven
Nobody around today has a more intense '90s alternative rock edge than this Toronto group. They've proven it with their new record, particularly tracks like the atmospheric and brooding "Doom," the rocking "I Feel Free," and the sludgy "Sober Motel."
Read our interview with Dilly Dally here.
Aphex Twin — Collapse
One of the most celebrated electronic innovators is back with a new EP, his first release as Aphex Twin since the 2016 EP Houston, TX 12.17.16. Songs like "T69 Collapse" prove that Richard D. James remains a master of combining glitchy electronics with warm, atmospheric qualities that keep the song (and the listener alike) from falling off the edge.
6lack — East Atlanta Love Letter
6lack is a versatile talent, capable of singing and rapping over some deep, bassy beats, as evidenced by "Nonchalant," from his new album that represents big for his home. The follow-up to 2016's Free 6lack was highly anticipated, and now that it's here, it's not a hip-hop release to be missed.
The Dirty Nil — Master Volume
If you want rock and roll, you got it. The Ontario group won the Juno Award for Breakthrough Group Of The Year in 2017, and now it's the USA's turn to rock out along with them. "Listen up, motherf–ker," the band's Luke Bentham sings at the start of "I Don't Want That Phone Call," and you really should. Check out our interview with the band here.
Willie Nelson — My Way
It's seems that nobody has told Willie Nelson that most people slow down a bit as they get older. The 85-year-old released Last Man Standing earlier this year, and now he's already back with another record, a covers album that brings his distinct country flair to Frank Sinatra classics.
Wale — Free Lunch
Wale is in an EP kind of mood: He's dropped It's Complicated and Self-Promotion this year, and now he's back with another. The five-track effort will help you satisfy your J. Cole fix too, as it features "My Boy," a freestyle featuring the rapper.
Carrie Underwood — Cry Pretty
This is a big comeback for Underwood: Since Storyteller in 2015, the country star had a pretty serious accident that apparently did some damage to her face (although she seems to have recovered nicely). It was a traumatic experience for her, though, which she addresses on emotional songs like the ballad title track.
Low — Double Negative
The Minnesota slowcore group has been among the best in their field for nearly three decades now, and they continue to prove that even this far into their lifespan, they can still innovate and impress, such as on "Quorum," which begins as a wash of static-y noise before it gets incorporated with more ethereal instrumentation to hypnotic effect.
Jungle — For Ever
There's something about a funky bass line that never goes out of style. I suppose that's part of what makes Jungle, a group with a sound that's vintage and timeless, so great. "Beat 54 (All Good Now)" is pure classic funky disco, but they're not all throwback, as "Cherry" adopts some modern R&B influences.
Sandro Perri — In Another Life
Perri is a hard guy to peg down in terms of genre, which is a very good thing in this case. Take "In Another Life": The 24-minute song kind of ambient, sometimes feels like it could erupt into a house banger at any second (but doesn't), and also has the spirit of a serene folk track. The Toronto musician might be hard to figure out (especially since his style can change from song to song), but it's fun to try.