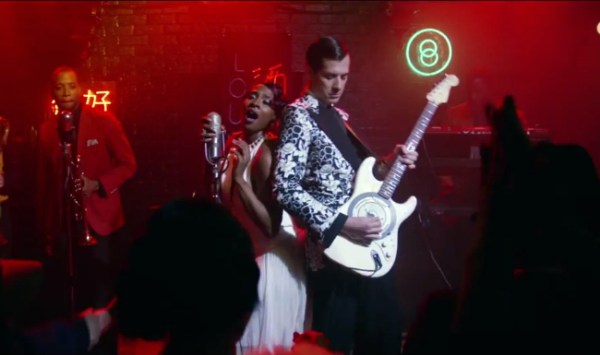 This week was overflowing with new music, including the return of Janet Jackson with her first new music in seven years. We also got the strange, yet effective pairing of St. Vincent and The Chemical Brothers and two clips a piece from from Big Sean and Carly Rae Jepsen.
But that's not all there was this week. Here's the music and videos you may have missed.
Mark Ronson – "I Can't Lose" Feat. Keyone Star
[protected-iframe id="241f358786fe53e6af1dac5738ffb8f7-60970621-23283947″ info="https://cache.vevo.com/assets/html/embed.html?video=GB1101500635&autoplay=0″ width="640″ height="360″ frameborder="0″ allowfullscreen=""]
For his third official video from the wildly successful Uptown Special, Mark Ronson combines throwback and modern to a prohibition-era club set in neo-Tokyo. "I Can't Lose" features the smooth and soulful Brit doing his best "Smooth Criminal" impression. For what it's worth, this album has produced enough great music to properly elicit the MJ comparison without it seeming derivative.
Lianne La Havas – "What You Don't Do"
Speaking of soulful Brits, we've given props to singer/songwriter Lianne La Havas before, but mainly as a featured artist. Now that she's making her big push for worldwide dominance in anticipation of her sophomore album, Blood, that's what brings us her powerhouse performance on "What You Don't Do." Almost a doo-wop nod, the infectious beat is merely a stage for Lianne to show off her incredible vocals. This sounds like the spark for something really big.
Jean Michel Jarre & M83 – "Glory"
[protected-iframe id="deb8288edc8393a79f4d9b3e85c38413-60970621-23283947″ info="https://cache.vevo.com/assets/html/embed.html?video=UK9LA1401703&autoplay=0″ width="640″ height="360″ frameborder="0″ allowfullscreen=""]
While he may be unknown Stateside, French musician Jean Michel Jarre is a pioneer on electronic music whose footprint can't be understated. Artists like the incredibly popular and celebrated M83 could never exist without him. So it's only fitting these two Frenchmen join forces for their collaborative video, "Glory." Of course, they do so by making a futuristic Olympics-style video with the most ridiculous rounds of archery, power lifting, track and field, and pole dancing. That's probably a new event to be added to our Olympics soon.
Duran Duran – "Pressure Off" Feat. Janelle Monae and Nile Rodgers
A band like Duran Duran has to work very hard to make modern-day music that works for them. They can't manufacture their same old sound, but similarly can't make something too modern that doesn't seem natural. Thankfully, this funky little tune is a perfect balance of who they are and where they could conceivably go. With some help from Nile Rodgers and Janelle Monae, "Pressure Off" fits right into to the dance-pop renaissance that's been ushered in with the likes of Daft Punk. Things always come right back around.
Ryan Adams – "Burn In The Night"
The prolific Ryan Adams is never one to rest on his laurels. This week he dropped a 3-song EP of songs he claimed didn't really fit anywhere else. The title track from that release, "Burn In The Night," is a fantastic piece of Americana Rock which should be properly listened to by blaring out the speakers of a old convertible with sunglasses on the dashboard. For someone who cranks out new material at the pace Ryan does, it's astonishing how good it always ends up being.
Girlpool – "Magnifying Glass"
Finally, a strange and short, but ultimately sweet visual from the L.A. punks in Girlpool. Their debut album, Before The World Was Big brings to mind lo-fi royalty like The Beat Happening and The Moldy Peaches, but much more aggro. Their clip for interlude "Magnifying Glass" is a bite-size stop-motion masterpiece with humans growing out of people gardens and, as you may guess, fun with magnifying glasses. This weird little video shows you really only need a minute to express exactly what you're trying to say.