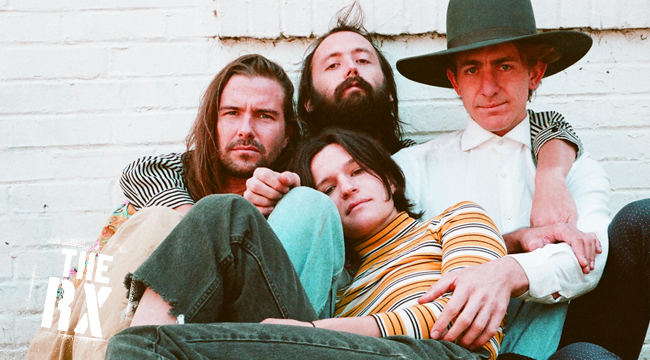 The RX is Uproxx Music's stamp of approval for the best albums, songs, and music stories throughout the year. Inclusion in this category is the highest distinction we can bestow, and signals the most important music being released throughout the year. The RX is the music you need, right now.
The "ambitious third album" is a rite of passage for aspiring legacy artists. It's the point in the career trajectory when all cards are laid on the table, and every last chip pushed to the middle of pile. It's Radiohead laboring over OK Computer, it's Fiona Apple risking her livelihood to make Extraordinary Machine, it's Kendrick Lamar unveiling To Pimp A Butterfly — you're supposed to produce a self-conscious "masterpiece" that doesn't just reach for greatness, but demands recognition as a mind-blowing, paradigm-shifting, era-defining masterpiece.
The indie band Big Thief might not appear at first to have that sort of hyperbolic artistic determination, even if they did name their 2016 debut, Masterpiece. The scale of Big Thief's music has actually gone in the opposite direction over three albums, toward austerity and even near-silence.
But on Big Thief's unnerving and often thrilling third record, U.F.O.F., one of the finest young bands in contemporary indie displays a confidence that's unique for musicians who are eager to prove their mettle. Instead of piling on flashy guest stars, elaborate overdubs, and think-y conceptual ideas in pursuit of a capital-C classic, Big Thief has pulled back dramatically. On U.F.O.F., singer-songwriter Adrianne Lenker rarely raises her voice above a stage whisper over music composed of delicately interlocking acoustic guitars and a subliminal rhythm section. It's a risk that pays off — when Big Thief quietly seethes, it only pulls the listener in closer.
When I first heard and swiftly fell for Masterpiece, I pegged Big Thief as a vaguely alt-country-ish outfit with a penchant for Crazy Horse-style guitar squalling, leavened by the easy, laid-back camaraderie between the musicians. Lenker was a beguiling vocalist, whose surprisingly deft and elastic alto could turn on a dime from tenderness to violent aggression. But otherwise, Big Thief was a fairly straightforward rock band — a delivery device for big choruses and crunchy guitar riffs suitable for any backyard barbecue.
That album's smoldering, over-amped sound captured how Big Thief still sounds like live, where they've distinguished themselves as a legitimate band-band, as opposed to a coterie of hired guns tasked with bringing Lenker's songs to life. The interplay of Lenker and Buck Meek's guitars, and how they tangle over the steady hum of James Krivchenia's drums and Max Oleartchik's bass, definitively sets Big Thief apart from the legions of indie acts that have come to prominence via Bandcamp, in lieu of developing a following on the road. (Oleartchik recently estimated that Big Thief has played around 700 shows in the past three years, making them a true throwback to what was once standard operating procedure for up-and-coming rock bands.)
Starting with 2017's Capacity, however, Big Thief cultivated a studio sound that's become increasingly directed inward, toward the same insular, anxious place from which Lenker's musically beautiful and lyrically disturbing songs derive. Now the guitar crunch was reduced to a tool utilized solely for the sake of dynamics pitted against Lenker's stark, murmured vocals — a trick akin to Alfred Hitchcock pipping in some shocking Bernard Herrmann music to rattle the audience at the apex of a suspenseful climax.
On U.F.O.F., Big Thief has elaborated upon the formula of Capacity, pushing each extreme even closer to the edge. On the striking "Betsy," Lenker sings as though she's softly talking herself out of a panic attack — her voice is gentle and precise but also anguished and haunted, so as not to alert the demons that are apparently lurking right outside the closet door.
When I say "demons," I mean actual supernatural figures. These creatures lurk throughout U.F.O.F.: the ghosts, the aliens, the "billions of worms" who "were boiled to make the bed" in the deceptively jaunty "Strange." On the first two Big Thief albums, Lenker wrote vignettes about the horrors of her own life — the childhood accident depicted in "Mythological Beauty," the high-school car accident that unfolds with dreamlike intensity in "Shark Smile." But on U.F.O.F., Lenker's songs are less linear and laced with allusions to monsters that may or may not be allegorical.
As is often the case in dreams, however, these songs feel suspended somewhere between fear and wonder. "And the clusters fell / like an empty bell / meteor shower at the motel / where the empty space / is a saving grace," Lenker sings on the standout track "Cattails," over an old-timey, feel-good strum that sounds like a back-porch ballad captured by Alan Lomax. On the similarly luminous "Orange," Lenker sings in her best dustbowl croon about "hound dogs crowing at the stars above" as she seems to describe a woman holding the body of a loved one who has just expired. "Flies flies flies / flies from her eyes," Lenker trills, with a dead-eyed affection that's thoroughly chilling.
You would think that hushed folk songs about insects crawling out of corpses would be comically out of step with what the pop-addled masses would want right now. Perhaps the people who liked the first two records will be gobsmacked by U.F.O.F — that may even by design, given Lenker's admiration for the "weird phases" of people like Joni Mitchell and Neil Young, "when people were like, 'I don't know what they're doing.'" Then again, U.F.O.F. is also receiving glowing press attention, and the band's audience is growing, even as their songs keep getting stranger and creepier and less immediate. Perhaps there's something calming about experiencing art in 2019 that isn't trying to bash you over the head constantly with how amazing and dazzling and "relevant" it is.
As for me, I haven't decided yet where U.F.O.F sits in relation to the other Big Thief albums — Capacity at the moment feels slightly superior, and I must admit missing some of that glorious guitar noise from Masterpiece. (The loudest song on U.F.O.F, the album-opening "Contact," is also the best, building to a stomach-turning guitar solo punctuated by Lenker's screams.) But all three records are top-notch, and put Big Thief in the pole position of contemporary folk-inflected indie bands. They might have chosen the road less traveled, but Big Thief nonetheless is on the way to greatness.
U.F.O.F is out now via Dead Oceans. Get it here.