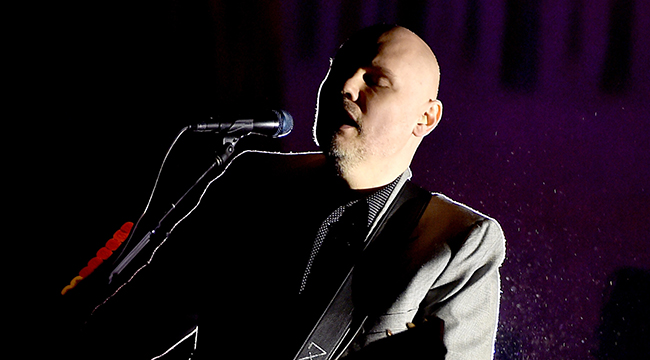 Billy Corgan is much taller in person than I expected. Striding through the darkness onto the stage at the Athenaeum Theatre in Chicago in a black, floor-length duster, with a Union soldier's kepi-style hat on his head, the singer's presence fills the room. He doesn't say a word as he seats himself in front of the baby grand piano positioned at the middle of the stage. The crowd is already on their feet, frantically applauding, as he plunks into the opening chords of the first track from his newest record.
This isn't your traditional Billy Corgan concert. There is no bassist, no drummer, no keyboards, no electric guitars. There is just one guy, a piano, and a rotating collection of acoustic guitars, brought out to him between songs by a helpful roadie. The room itself is intimate enough that the trio of microphones set up around him seem superfluous.
At this moment in his career, the unplugged style of performance makes perfect sense. His latest project Ogilala, created in close collaboration with that legendary "reducer" Rick Rubin, is a sparse document, filled out mostly with pianos, guitars, a little bit of string arrangements here and there, lifted all the way through by Corgan's legendary voice. For this tour, rather than trying to make his Ogilala songs fit into the aesthetic framework of his entire canon, he flipped the script and made his canon fit the aesthetic, vibe, and feel of his latest record. This manner of presentation has the dual effect of giving the new material the best opportunity to shine, while also lending an air of freshness to classics and deep cuts cherished by his most ardent fans.
The first part of the show is dedicated entirely to Ogilala, which Corgan performs in full. He hardly speaks a word, beyond a "thank you" tossed in here and there as he moves from piano, to guitar, and back to piano again, crooning away with that signature warble on cuts like "Aeronaut," "The Long Goodbye" and "Shiloh." The whole thing has the vibe of a friend confidently demonstrating his latest creations just for you. Most impressive of all is the power of his voice, which sounds just the same as it did going back to his Siamese Dream days and beyond.
As the final notes of "Archer" bounced off the back walls, Corgan doffs his cap, while announcing he would take a 20-minute intermission, before returning to play a set of "Golden… whatever." Before going, however, he treated us all to a tender, and affecting cover of Tim Hardin's immortal "If I Were A Carpenter." I'm not sure if the break was altogether necessary to be completely honest. In fact, it kind of broke the spell that Corgan had spent the last hour or so weaving together, as inebriated folks chattered loudly in the aisles about which songs they all hoped he'd play next.
It's always invigorating to catch an artist playing in their hometown. While Corgan is not someone who exudes familiarity, there was a definite sense of kinship between performer and audience, merely by din of the fact that we could all call ourselves residents of Chicago. In a telling moment, just after playing the Smashing Pumpkins song "Thirty-Three," he noted that the line in the song, "Steeple guide me to my heart and home," was actually referring to the massive church spire located literally next door to the venue we all occupied. Then, naturally, he played a cover of Frank Sinatra's "Chicago (That Toddlin' Town)."
Before this evening, I had never seen either Corgan or his seminal group The Smashing Pumpkins live before. As a result, for me at least, there was an incredible amount of catharsis in hearing so many early FM staples like "1979" and "Today" brought to life by their creator. Maybe it was the way he slyly tucked it into the middle of the set, surrounded by more obscure selections, but there was a definite lump in my throat as he chucked out the first, sweeping chords of "Disarm." I know for a fact that I wasn't the only one joining along with him as he hollered, "The killer in me, is the killer in you!"
While Corgan is onstage, the audience was largely, and impressively reverential outside of a few random "We f*cking love you Billy!" declarations thrown out here and there during quieter moments in the evening. At one point however, people started shouting for this song or that song while he just sat there, guitar in hand, growing increasingly annoyed. Someone eventually yelled out "Everyone shut the f*ck up!" and the room drew silent. Billy pointed up at the admonisher and cracked a rare smile.
For the encore, he decides to dig into his buzzed about cover of Miley Cyrus's hit "Wrecking Ball." It a curious selection to say the least, and while he's made the case enough for its merit, it really feels more like a novelty. After that, he segued into "Today," which got maybe the loudest reception of the night. As Corgan hits the chorus, the audience gamely fills in with a conjoined vocal approximation of James Iha's missing, signature guitar wail.
I couldn't say what expectations I had heading into this show. I certainly wasn't anticipating some kind of Springsteen On Broadway-esque, confessional traipse through the life of William Patrick Corgan. When all was said and done, what I, and many others in the room received, was a heightened sense of this singular rock star, unshackled from convention and free to delve into the music that means something in the here and the now. An iconoclast, an enigma, a singer and a songwriter free, on this evening at least, to let the songs do the talking for him.