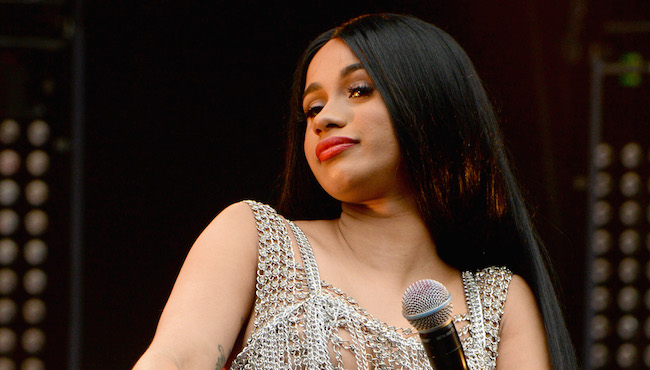 Cardi B has owned the summer, and with a few weeks left before the season officially changes to fall, Cardi is still busy killing it, this time taking her act to the Made In America festival and shutting it down. Cardi was a late addition to the festival lineup, but that didn't deter her as she rocked the stage, and when it was time to perform her hit "Bodak Yellow" she barely had to make a peep as the raucous crowd was more than willing to do all the work for her.
The performance was so amazing, she even got a little hug of encouragement from Beyonce's mother Tina Lawson.
"Bodak Yellow" is flying up the charts, reaching a new high of No. 3 this week, and while the return of Taylor Swift may have scuttled her plans for No. 1 for the moment, the song's momentum doesn't look to be slowing down any time soon. Cardi just performed the track at the VMAs, where she basically won the night with her endearing personality. She danced around the rumors that she is engaged to Offset from Migos, and stole the show when she shouted out Colin Kaepernick during her time on the mic during the show.
Oh yeah, and Cardi's summer looks to be bleeding into the fall as she announced at the VMAs that she has an album on the way in October, and doubled down on the announcement during her Made In America set. So get used to seeing Cardi B, because it looks like she's going to be around for a long time.
Update: Beyonce also came to say hey to Cardi.