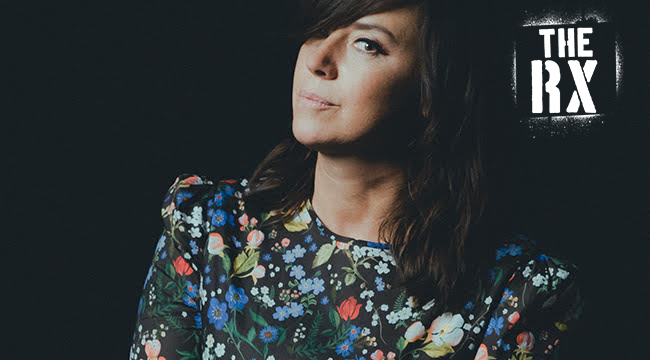 The RX is Uproxx Music's stamp of approval for the best albums, songs, and music stories throughout the year. Inclusion in this category is the highest distinction we can bestow, and signals the most important music being released throughout the year. The RX is the music you need, right now.
Many years ago, around the time that Chan Marshall put out her best album, 2003's You Are Free, she was the described as "the queen of sadcore." It was funny and pithy, as well as condescending and wholly unnecessary, given that Marshall — who has recorded under the name Cat Power since the mid-'90s — is better suited for an older, more distinguished designation: Blues singer.
I don't mean that in the formal sense — while Marshall's music occasionally evokes the no-frills, hardscrabble desolation of early 20th century Delta blues, she doesn't work specifically in that idiom. What I mean is that Marshall is spiritually a blues singer, in that the power and intensity of her songs increases when the volume is turned down, and you have to strain a bit to make out exactly what she's saying. Once you peer in closely, what you hear is mystery, darkness, sex, psychic struggle, and finally transcendence.
Depressives and cynics have long sought out this music not because they're seeking an inventory of their grievances. What brings lost souls to the blues is that it sounds like forever. When you're terrified that life is ephemeral and ultimately meaningless, listening to dusty, ancient songs that were around before you were born and will continue on after you're gone might very well be the only thing that proves the existence of God, or at least some kind of elusive meaning that's bigger than all of us.
I've never spoken with Chan Marshall, but I suspect she might feel that way. I would also guess that's she been reminded, over and over, that many people don't have that same sort of deep connection with music — which is how you end up with silliness like "sadcore" to describe vulnerable, resonant art.
Throughout her career, Cat Power albums have been framed by critics as expressions of Marshall's supposed emotional fragility amid the turmoil of her personal life, which has been occasionally marred by mental breakdowns and substance abuse. (She's hardly unique in that regard.) But a truer, deeper thread is Marshall's reverence for the continuum of American music. On 2000's The Covers Record and 2008's Jukebox, she adventurously delves into standards associated with a wide spectrum of icons, from Johnny Mathis to Billie Holiday to The Velvet Underground, as a means of self-discovery, even self-preservation.
In her own original material, she has remained committed to the part of solitary troubadour, dutifully following forays into pop music like 2006's The Greatest and 2012's Sun by retreating back to a lonelier yet more honorable path on the outskirts. Cat Power's latest, Wanderer, represents another such retrenchment, though this time with an added sense of purpose.
In numerous interviews, Marshall has recounted how Wanderer — her strongest release since You Are Free, and a stirring return to that record's subdued, stripped-back squall — was initially rejected by her long-time label, Matador, who pushed her to emulate the more pop-friendly sonics of Adele. Marshall's claim (which Matador has not disputed) initially seemed bizarre: Why in the world would anyone expect her to sound like the world's most centrist mainstream pop star? But it was also soundly credible, given that Marshall's best-known album, The Greatest, now sounds like a dry run for the ballad-heavy, retro-soul aesthetic that Adele took straight to the bank.
Even back in 2006, Marshall expressed ambivalence about how The Greatest turned out, insisting that it sounded stiff to her ears. She had originally made the album by herself in Atlanta and Barcelona, but was persuaded to set aside those recordings to work with a band by her label. As a joke, she requested Al Green's band. To her surprise, Matador booked studio time in Memphis for one month later.
For Wanderer, Marshall couldn't be persuaded to expand or elaborate her latest songs. Instead, she hired a manager, Andy Slater, who she says instilled in her a new sense of confidence, reminding her that she's part of a continuum, downplaying diminutive tags like "sadcore" and linking her to fellow travelers in the shadowy wilderness of roots music. "He's taught me that I have a lot to be proud of," she told The New York Times Magazine. "It's not corny to sing songs that maybe other people think are depressing. It's not embarrassing."
It makes me profoundly sad that Marshall ever thought that her songs were corny or embarrassing. More than 20 years into an oft-brilliant career, she is the rare contemporary indie singer-songwriter who always seems genuine and never affected — her gravitas by now ought to be unimpeachable.
One of my favorite tunes on Wanderer is "Black," a stark, broken-down waltz in which Marshall describes wrestling with the devil himself. Her voice is wry, playful even, underplaying the pervasive sense of doom and, in the process, making it unbearable. In blues music, these sorts of songs are always predicated on matter-of-fact aloofness, as if the narrator is aware that her fate is already sealed. "First I was amused, close to death ever been," Marshall sings. "But when the white light went away I knew Death was setting in." If that makes her the queen of sadcore, then Robert Johnson is her king.
Throughout the self-produced Wanderer, Marshall plays guitar or piano, with only occasional backing from what sounds like an extremely limited drum kit. The musical flourishes are pared back but not imperceptible — you can hear the post-midnight blur of John Lee Hooker in the rhythm guitar underpinning the snaky "You Get," as well as the delicate, film-noir sensibility imbued in the piano that tinkles on the margins of "In Your Face" and "Me Voy," evoking Carter Burwell's score from Blood Simple. Ultimately, Marshall is generous but not overly indulgent with her own songs — or Rihanna and Mikky Ekko's "Stay," which gets relatively lush treatment.
The closest to a potential hit is probably "Woman," a full-throated, anthemic duet with Lana Del Rey, one of countless contemporary indie artists who have used Marshall's career as a blueprint. "Woman" seems to me like a sequel of sorts to "Good Woman," the centerpiece of You Are Free. But whereas "Good Woman" is tender and conciliatory — it's a break-up lament couched as an act of personal sacrifice — "Woman" unquestionably is a declaration of independence: From a man, from a record label, from your own baggage, you name it. She sings: "The doctor said I was better than ever, man you shoulda seen me / The doctor said I was not my past, he said I was finally free." She's earned it.
On the cover of Wanderer, Marshall poses with a guitar and her 3-year-old son — a symbol of the road next to a signifier of family, though for Marshall they exist in harmony at the nexus of her own higher purpose. She's no longer adrift, but rather on an epic journey.
Wanderer is out on October 5 via Domino. Buy it here.