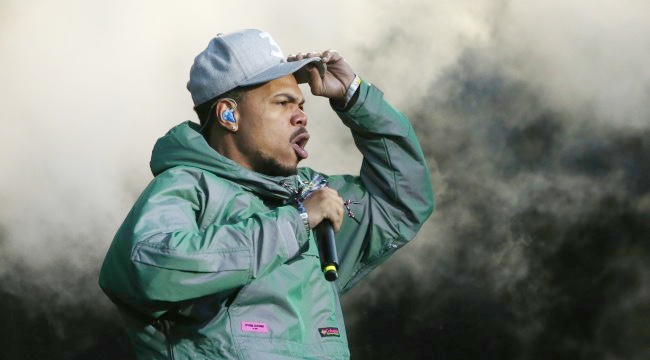 Chance the Rapper has finally waded into the choppy wake of Kanye's recent — and ongoing — tweet tsunami. Earlier today, while most 'Ye stans were already busy scratching their heads and wondering if the newest Yeezy season was going to include his own line of MAGA, themed merch. Chance, always the diplomat, decided to throw his infamous "3" cap into the ring with his opinion on contemporary American politics and race relations.
Yes. Chance the Rapper, we've all heard "Black Republican." But, obviously, this is a reference to his mentor — Kanye West — who earlier tweeted his love and support for the American president and former reality show host, Donald Trump. Immediately prior to this Tweet, Chance also felt the need to point out that Kanye is doing totally normal these days. Which is a normal thing you can be expected to say when things are fine, actually.
With sly references to the "telethon" and the "VMA" incidents that haunt Kanye's past, it seems like Chance is trying to imply this is a publicity stunt or perhaps just Kanye being so impassioned about something that he has to speak out. However, speaking truth to power like he did on the telethon, or insisting the VMA's were not recognizing established black talent and instead catering to new white artists is a little bit different than stanning for literally the most powerful man on Earth and the party that stands by him.