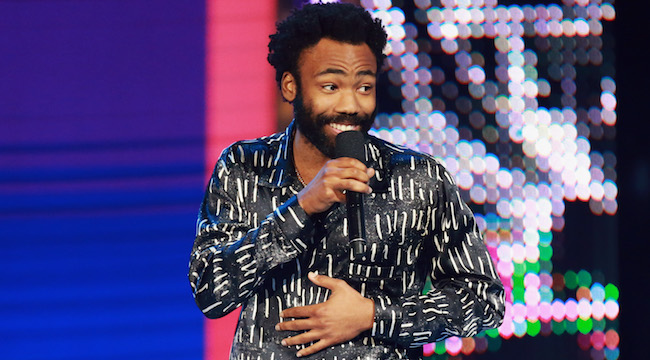 Over the weekend, rumors surfaced that Childish Gambino's world-shaking hit record, "This Is America," had been duplicated from another artist without permission or acknowledgment, which was enough to prompt a contemptuous response from Gambino's manager, Fam Udeorji, in the hopes of putting the speculation to rest.
The song in question appears to be a 2016 release from underground rapper Jase Harley titled "American Pharaoh." The basic structure of the song — thundering bass kicks over an energetic verse section, tribal chants over a much softer chorus, and the leading line from Harley's song lending an air of similar subject matter — does appear familiar, so much so that claims arose that Gambino, aka Donald Glover, had either sampled without permission or outright copied it.
However, Udeorji took to Twitter this morning to emphatically deny any claims, specifically stating that the idea and files for "This Is America" are three years old, preceding Harley's "American Pharaoh" (ironically also the name of a well-known race horse) by a year. "The Internet is a place of no consequences," he wrote. "Hate that Toronto Akademiks/every white blogger can say something as gospel and ya'll take it. This song is 3 yrs old, and we have pro tools files to prove it. But f*ck you and your moms, and your future fetuses. stay blessed."
"Toronto Akademiks" seems to be Udeorji's pejorative term for popular Twitter user @big_business_, who regularly tweets about rap and hip-hop and has a following of 27K followers. As far as the actual providence of "This Is America," Harley himself seems pretty chill about the whole situation:
After all, with the continued success of "This Is America" being linked to his name, his own profile can only rise with it, which is a sort of compensation in itself — although if it does turn out that a copyright was infringed, that royalty check couldn't hurt.