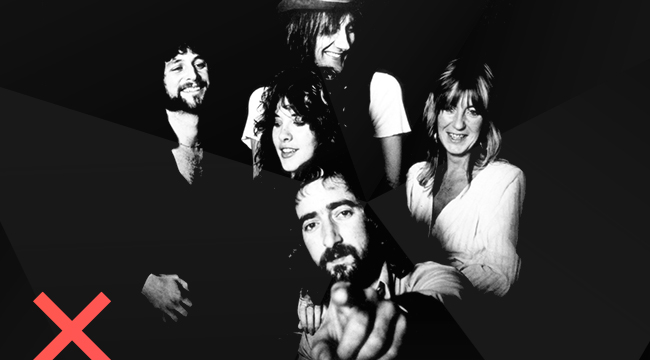 Next month, my new book, Twilight Of The Gods: A Journey To The End Of Classic Rock, will be released. (I am contractually obligated by my publisher to mention that you can pre-order it now.) I spent more than two years thinking and writing about classic rock history, and the present state of rock's most successful and popular (and, yes, elderly) artists. Because I know the history, I feel like I can predict the future. And here's one proclamation I am pretty confident about.
In the future, classic rock bands will melt into one another.
Actually, this is already happening. It's like when people talk about global warming as a future threat to civilization when the polar ice caps have already largely disappeared. Classic rock bands have similarly lost members to retirement, personal differences, or, well, you know, permanent retirement. But because the brands are still strong, these bands have gone to extraordinary, sometimes deeply weird lengths to install new parts and keep on trucking.
Remember when the surviving members of the Grateful Dead hired John Mayer to replace Jerry Garcia and became Dead And Company? Or when AC/DC tapped Axl Rose to take over for Brian Johnson? This week, Lindsey Buckingham either quit or was fired from Fleetwood Mac on the eve of an upcoming tour. Taking his place will be Mike Campbell, formerly Tom Petty's right-hand man in the Heartbreakers, and Neil Finn of the Australian pop-rock group Crowded House.
Does any of this make sense? Sure, I guess? You only live once, right?
In my book, I refer to this phenomenon as "shrunkgroups," a play on the term "supergroup," which is applied to all-star bands that represent the cream of a particular era's talent. With shrunkgroups, however, it's not about thriving but rather surviving. These collectives represent the best of whatever's left at a time when the demand for aging bands to tour far extends the supply of actual classic rock musicians. It's like the difference between The A-Team and The Dirty Dozen.
Fleetwood Mac, of course, has a long history of losing and replacing band members. Buckingham joined the band in 1974 with girlfriend and musical partner Stevie Nicks, taking the place of departed guitarist Bob Welch, who had replaced founding guitarist Peter Green three years prior. Buckingham previously exited Fleetwood Mac in 1987, at which time he was replaced by Billy Burnette and Rick Vito, who were subsequently shown the door a decade later when Buckingham decided to come back to Mac.
When Buckingham and Nicks joined Fleetwood Mac, they weren't famous yet. But it's not exactly new for an established band to sub a superstar into the lineup during a time of need. The Eagles absorbed Joe Walsh — already a well-known commodity from The James Gang — right when they made the transition from LA country-rock cowboys to slicked-up arena rock studs with Hotel California. Black Sabbath hired Ronnie James Dio to replace Ozzy Osbourne soon after Dio exited another excellent '70s hard rock band, Rainbow. When Van Halen lost David Lee Roth in 1985, they didn't miss a beat after hiring reliable journeyman singer Sammy Hagar. (Van Halen failed to pull off this trick a second time when they installed Extreme's Gary Cherone in Hagar's place in 1998.)
What's different now is that these classic rock bands are no longer in their primes. It doesn't feel like Fleetwood Mac is recharging with new members before making another Rumours, just like nobody expects AC/DC to make another Back In Black with Axl Rose or John Mayer to become a new shaman for hippies everywhere from his perch in the Dead. These are marriages of convenience, ensuring that everyone can continue to live comfortably well into their senior years by catering to an insatiable market for nostalgia tours and $50 tour T-shirts.
Being a fan of classic rock requires a certain pragmatism when it comes to this sort of thing. In punk rock, there's nobility in recognizing the moment when your band no longer seems exciting or fresh, and bowing out gracefully. Just this week, beloved indie rockers The Thermals announced that they were breaking up after 15 years and seven albums. "We feel our band has reached far beyond our initial expectations and goals, and are stepping away from it while we still cherish it," the band tweeted.
Very few classic rock bands have ever subscribed to the "let's step away while we still cherish it" model. They instead adhere to the oldest showbiz maxim there is: "The show must go on." If that means you replace an icon like Freddie Mercury with an American Idol contestant (or, briefly, Paul Rodgers of Bad Company), so be it. Like the song says, you never break the chain.
Because I've been a classic rock nerd since the age of 12, I don't have a problem with this. Besides, what's the alternative? I still haven't seen the Dead or Fleetwood Mac play live, so at least now I have the opportunity to see a version of those bands at the local basketball arena. Sooner than we all realize, it will be impossible to see any members of these bands in the flesh. We might as well enjoy these people, and the music they created, while we still can.
What's most fascinating to me about shrunkgroups is that nobody in these bands is pretending that nothing has changed. This isn't like Stone Temple Pilots recording a new album with a singer who does a frankly remarkable Scott Weiland impression. With Dead And Company, you are seeing Bob Weir and the Grateful Dead's rhythm section plus the "Your Body Is A Wonderland" guy. With AC/DC, you are seeing Angus Young duckwalking next to Axl doing his little snake dance. These Frankenstein monsters make no attempt to cover up their hastily stitched-on limbs.
Yes, it's strange. But it's also … kinda interesting. Classic rock now is like the NBA during the "super team" era, or fantasy baseball with extremely weathered-looking players in improbably tight leather pants.
When I heard about Mike Campbell and Neil Finn joining Fleetwood Mac, a myriad of different questions popped into my brain: Will the guitar solo in "The Chain" now sound like the guitar solo in "American Girl"? Will Stevie Nicks sing harmony on "Don't Dream It's Over"? Is Fleetwood Mac now required to perform "Stop Draggin' My Heart Around"? If Christine McVie ever quits, will she be replaced by Benmont Tench?
(If I'm being honest, I'm more intrigued by an entirely fictional scenario in which Lindsey Buckingham replaces Campbell in the Heartbreakers. Imagine if this happened when Buckingham originally left Fleetwood Mac in '87. Let's say that Buckingham becomes Petty's most important collaborator, which means that he produces Full Moon Fever instead of Jeff Lynne. In this scenario, Petty and Buckingham probably invent the sound of '10s retro-leaning indie music about 25 years early. Haim definitely becomes redundant in this world. Also, Petty's signature song of this period probably becomes "Walls," with "Free Fallin'" reduced to a beloved deep cut on Lynne's 1990 solo LP Armchair Theatre.)
As we look ahead, which shrunkgroups will appear on the horizon? If the Grim Reaper somehow catches up to Keith Richards — don't bet on that ever happening — could Jimmy Page possibly join the Rolling Stones? If Steven Van Zandt retires from the E Street Band, would Bruce Springsteen ask Jason Isbell to play guitar and sing backup on "Two Hearts"? Assuming Graham Nash and Neil Young never make up with David Crosby, could we possibly see Lorde, Stills, Nash, and Young? I don't rule anything out. All I know is that classic rock bands will have to be dragged kicking and screaming up the stairway to heaven.