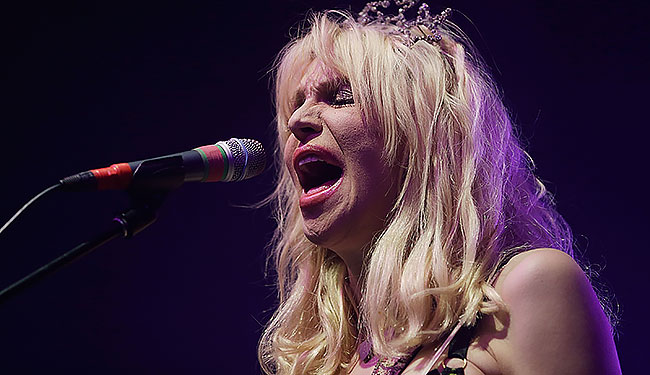 There's been lots of Kurt Cobain-related news recently, especially with the recent release of Montage of Heck. Around the same time as that documentary, another Cobain-based film, Soaked in Bleach, was set for release. This film — a "docudrama" — is focused more on the conspiracy surrounding the Nirvana singer's death, and whether it was a suicide or murder.
Of course, anything that questions the death of Kurt Cobain and addresses those conspiracy theories will focus quite a bit on Courtney Love. In fact, Love has sent a cease and desist to any theater playing Soaked in Bleach, claiming that the film is defamatory. The whole cease and desist letter can be read here, but here's the key excerpt:
We demand that you immediately cease and desist from infringing on Ms. Cobain's rights in any manner whatsoever, including but not limited to completely halting the Film's planned exhibition and promotion.

There is simply no credible evidence to support any of these defamatory claims, as has been publicly known for years. In 1994 the Seattle Police Department ("SPD") investigated the tragic event of Mr. Cobain's death and concluded the case a suicide. In the 20 years following Mr. Cobain's death, no one has presented any colorable case of involvement of our client.  Finally, SPD re-examined Mr. Cobain's death in 2014 and, again, concluded it was a suicide.
Soaked in Bleach's producers released this statement to Deadline regarding the cease and desist:
We were disturbed to learn that Courtney Love's lawyers sent threatening letters to movie theaters all over the country. Most arrived before Soaked In Bleach was released last week, presumably before she or her lawyers ever saw it. She obviously hoped to scare theater owners into dropping the film. Thankfully, very few were intimidated. Most saw the letter for what it is – a cowardly attack on the rights of free speech, free expression and free choice.

Courtney Love's uninformed accusations and efforts to discredit the film are totally off base. The film examines the well documented facts surrounding the death of Kurt Cobain and it questions much of what the public has been told about those events. Most of the opinions and theories presented in the film come directly from facts gathered by Tom Grant, the private investigator Courtney Love hired the week before Kurt's body was discovered. Tom quickly became suspicious and tape recorded all his conversations with Courtney and others in the days leading up to and after Kurt's death. The film uses those recordings to reenact Tom's encounters with Courtney Love and others in Kurt's inner circle. It also presents the views of Norm Stamper, Seattle's Police Chief at the time, and Dr. Cyril Wecht, a leading forensic pathologist, who both question whether Kurt could have committed suicide.

Courtney Love and her lawyers clearly don't like that the film presents a compelling case for re-opening the investigation into Kurt's death. They should respect the First Amendment and let people decide for themselves.
(Via Stereogum)