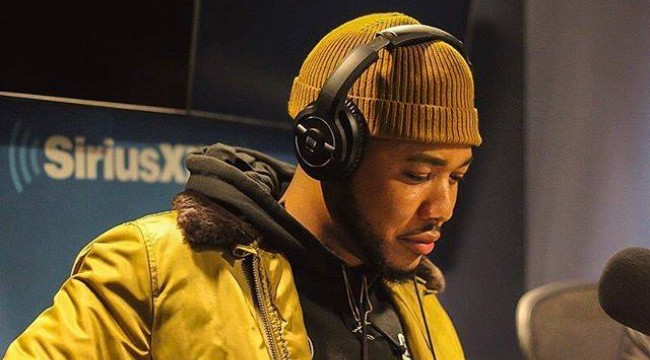 Well, it may not be their mythical, aborted collaboration album, but J. Cole and Kendrick Lamar's appearance on Cozz's upcoming album Effected might be a welcome consolation to fans thirsty for more Cole and Kendrick. While each appears separately on "Zendaya" and "Hustla's Story" respectively, the double release is an appreciated reminder that the rap dynamic duo has more than enough fuel left in the tank to spark excitement for a project — even if it's not quite the one fans wanted.
Each track is more of the mellow, post-boom-bap that Cozz's previous singles have prepared us for. "Zendaya" finds J. Cole meditating on the prevalence of Xanax rap and lamenting the various disappointments of everyday life, while "Hustla's Story" is exactly what's advertised, as Cozz describes the day-to-day activities of an illicit pharmaceuticals salesman.
Cozz has been gearing up for the release of Effected with a hard-hitting array of singles, including "Bout It," "Ignorant Confidence," "Badu," and "Questions," for which he also shot an intriguing, role-reversal video full of satirical indictments of racist policing. Effected is due to drop tomorrow, February 13th, a throwback to the days albums released on Tuesday instead of Friday. While Cozz & Effect was released in 2014 and Nothin' Personal hit in 2016, Dreamville is considering this the Los Angeles rapper's debut.
Check out "Zendaya" and "Hustla's Story" below.
[protected-iframe id="7d87df20d46146b61eb04011a350b4ed-60970621-76566046″ info="https://tools.applemusic.com/embed/v1/song/1344060976?country=au&itscg=30200&itsct=afftoolset_1″ width="100%" height="110px" frameborder="0″]
[protected-iframe id="4abd4f1b60352bad3041f1138a6a1068-60970621-76566046″ info="https://tools.applemusic.com/embed/v1/song/1344060040?country=au&itscg=30200&itsct=afftoolset_1″ width="100%" height="110px" frameborder="0″]