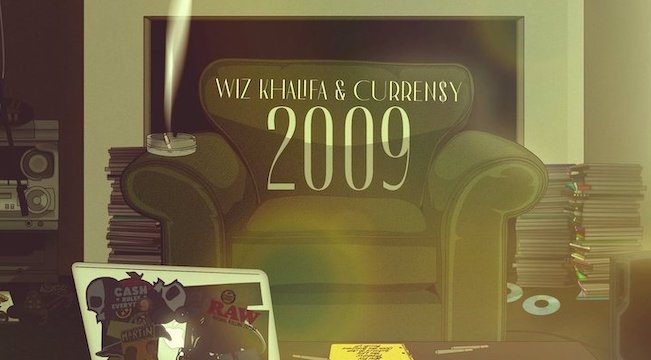 2009 was the year everything changed. It was the year XXL instituted the official title of its soon-to-be annual Freshman cover series. It was the year Twitter entered the public consciousness for the first meaningful time when Michael Jackson died and users crashed the then-burgeoning application's servers. It was Spotify's first year of business. And it was long before any of these three disparate entities had become the necessary, interconnected cultural institutions of our times — the same industries that have become instrumental when it comes to covering releases like Currensy and Wiz Khalifa's new album, 2009, the culmination of all that change and a comforting slice of nostalgia reminding rap fans of a simpler time.
You could argue that Currensy and Wiz Khalifa are the biggest beneficiaries of the new system — beneficiaries who also helped turn Spotify, Twitter, and the XXL Freshman cover into the pillars that they are today. That very first official Freshman cover featured none other than the lowest-key veteran of the independent hip-hop scene around. Currensy The Hot Spitta had drifted from label to label, from No Limit to Cash Money, for the early part of the 2000s with little notoriety or success, but rode a wave of digital mixtapes that highlighted his work ethic. Wiz would follow him onto the cover the next year, but right smack dab in the middle, they dropped their seminal joint mixtape, How Fly.
I'm not sure if it's the first of its kind, but it certainly was one of the most impactful. Preceding Watch The Throne by almost 24 months exactly, How Fly became a standard for joint albums, since ascending into something like internet myth for the past decade, mainly due to its absence from legit streaming platforms like Apple Music and Spotify. Twitter users remember it fondly, however, and scrambled for its eventual streaming debut — a feat they accomplished just weeks before 2009's own curtain call. Its premise was simple: Two guys rapping about doing getting high and doing/owning fly sh*t you couldn't do/have — unless you really worked at it.
Where Hov and Kanye once rapped about the trappings of wealth with a fervor usually reserved for the Republican Party's leading donors, Spitta and Wiz came across way more relatable. Sure, they had way more money than you, but they eschewed Picassos and boardrooms to spend it all on video games and weed. It was attainable at the same time as it was aspirational; you could almost be these guys if you just got high enough and played enough Call Of Duty to forget that they are several tax brackets away. They were the rich but affable dorm room stoner stereotype six years before Post Malone ever thought to throw on cornrows and whip a Rolls Royce through the desert.
2009 picks up right where they left off ten years ago, but with slight changes (a little like the Bill And Ted sequel that supposedly starts filming this spring). For one thing, both its principals are older, wiser, and not insignificantly, richer than they were in that titular year. Since then, the Freshman cover has become an annual event, Spotify has taken over as one of the number one ways for people to consume music (and for artists to monetize their listens, which are now counted against sales totals by Billboard, another huge change), and Twitter has gone from a lively town hall to a nonstop clash of opposing causes.
That's why it's so comforting to see that those life changes haven't affected Currensy and Wiz's content or their chemistry. Their agenda — such as it is — remains the same: Smoke pot, play video games, hang with best bud. There's not even much in the way of internal nostalgia; they let the fans have that while they simply rap the same cleverly goofy rich-guy raps (Currensy raps, "I proved my point when I parked that Rolls Royce, hopped out / Forgot my phone was in my lap, my mothaf*ckin' screen cracked" on "10 Piece" and it's hilarious) over the same sort of airy, simplistic beats (produced by Cardo, Dame Grease, DJ Fresh, Harry Fraud, MonstaBeatz, Problem, and Sledgren, among others) as they did ten years ago.
That's not to say there isn't growth. Among the usual busy slacker topics, they find time to talk about their sons ("Gotta grind 'cause my son hungry and the rent due," says Khalifa on "Find A Way"), their legacy "We changed how you smoke, changed how you dress / Your whole life was blessed by the presence of the stoned legends," as Currensy puts it), and the fact that legal weed means a lot more passive income for our heroes (there are myriad mentions of their respective interests, and a list could dominate the better part of your afternoon reading it).
The raps, honed on a dozen separate projects released since How Fly, are more polished, and the beats, which were probably the shakiest aspect of that project, are much more solid, grounded, and better mixed here. Your mileage may vary with the wobbly "Bottle Poppers," which benefits from a side-splitting hook but suffers from an off-kilter beat, but joints like the slick "Benz Boys" featuring Ty Dolla Sign and club banger "Getting Loose" with Problem are fun nods toward these stoner brothers' mainstream status. Otherwise, the rest of the songs feature foggy soul and funk samples and groovy, laid-back drums, perfect for, well, you know.
2009 is a great reminder of a simpler time without being cloying or precious about it. It simply recalls the essence of those early days of stardom for two hustlers with kindred spirits and their heads in the clouds, rapping together for the fun of it before either had much of a fan base to cross-pollinate with the other. Times may have changed, but their bond — and their musical consistency — hasn't. With as much uncertainty as there is with the world getting more interconnected, it's nice to have a reminder that some of those connections are truly good and never really go away.
2009 is out now via Jet Life/Atlantic. Get it here.
Wiz Khalifa is a Warner Music artist. Uproxx is an independent subsidiary of Warner Music.