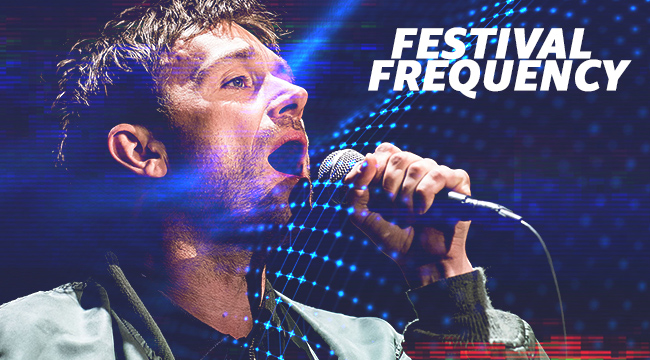 Festival Frequency is a monthly look at music festival-related topics that step beyond the shadow of the Ferris wheel, discussing everything from the performances to the inner workings that make this a global phenomenon.
Damon Albarn is about to buy a ventriloquist doll. That's the last thing he mentions as he gets off the phone, that the next time he's heard from, he might be communicating via the puppet he's about to buy. He lets out a little laugh when he reveals this, an inflection that communicates a moment of pure joy, perhaps amused at himself just for idea, or perhaps just pleased that these are the activities he embarks on purely for amusement's sake.
Albarn is one of the most prolific and restless artists in the music world, so the idea that he lives to keep himself entertained and engaged falls in line with how he presents himself professionally. It started with Blur forming in the late-'80s and becoming massive in his homeland of the United Kingdom, earning a place in his countryman's hearts as the bastion of Britpop. Despite his status as virtual royalty in England, the band's American popularity was a bit more tapered, limited to a few minor hits, one major one (the ubiquitous "Song 2"), and reunion tour that found the band headlining the likes of Coachella and the Hollywood Bowl.
In the US, he's much better known for his animated musical group, Gorillaz. Over the past 20 years, the project has managed numerous radio successes and become a music festival staple, an honor that culminates next month with the American debut of the Gorillaz music festival, Demon Dayz, in Los Angeles. Set to take place on October 20 at the Pico Rivera Sports Arena And Grounds, the fest boasts a headlining set from Gorillaz, supported by performances from Erykah Badu, The Internet, DRAM, and Kilo Kish. For someone like Albarn who is constantly pushing himself to uncharted water, the music festival makes perfect sense, taking the imaginary world of a cartoon band and turning into a real-world experience.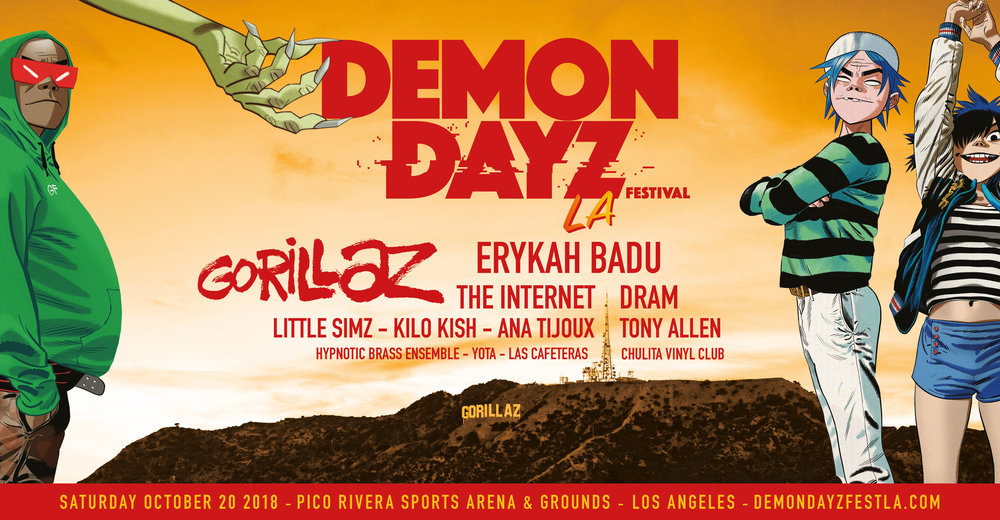 Albarn is one of many in a line of musical creators that are taking the step as music festival curators, a group that includes Dave Grohl, Justin Vernon, The National, Tyler, The Creator, and Paramore. It's enough that for someone of Albarn's status, it almost feels like having your own festival is something you're supposed to do. "It's something you do now, isn't it?" he says with the reflection of a music industry lifer, as someone who's seen trends come and go, and is happy to embrace the times as they change.
In a wide-ranging conversation, Albarn spoke about how music festivals (and his experiences at them) have changed over time, refuted a recent NME story that had him taking shots at the relationship between Paul McCartney and Kanye West, and teased some of his upcoming projects. As for how the ventriloquist doll fits into any of it, we'll just have to wait and see.
Between Gorillaz and Blur and The Good, The Bad, And The Queen and solo performances, I feel like you've been one of the key figures of music festivals, both in the US and overseas, for the past couple decades.
Yes, I've done a lot. We've done a ridiculous amount for this last tour, something like thirty festivals. It's crazy.
That almost feels like an unhealthy amount of festivals to be at.
Yeah, and they are all so absolutely different. They all really play into the national identity of locale and are really driven by the nature of the part of the world you're in.
How have you witnessed the space evolve or change over the course of the last couple decades?
Well, negatively, you take a festival like Glastonbury, and some of them have lost their anarchic edge. It's become more of a middle-class, bourgeois family thing, but what it has gained is an immensity. If you play there and you really capture a crowd, you are playing to like a quarter of a million people. In one way, that's extraordinary. But it's lost some of its quirkiness in the process.
But then again, one festival moves into its middle age and another one is still a teenager, like Boomtown. It's only about 60,000 people, but it feels like Glastonbury did in the early '90s to me. It's really quite edgy, and not for the lighthearted; this hedonistic, mad, full-on experience. I would never go there as a camper, but it was amazing to play there this year.
And then you have in the backcountry of Northern Spain, a festival [Bilbao BBK Live] up in the hills where you play until three in the morning, which is a whole new experience for me. There are a couple of festivals in Britain that are on top of mountains, they're really everywhere now. South America, even Coachella — wow. If you get a spot for Coachella where the heat for the day is shifting and you are getting those amazing desert breezes, the atmosphere is extraordinary. The best festivals play on their environment, which really adds to the experience. You can't get that in a building. The best festivals are elemental.
This year we played a big Open Air festival in Moscow and we only managed to get five or six songs in before literally there was lightning hitting the stage. It was very dramatic like I was summoning this extraordinary music.
And over the years, your role at music festivals has changed, where you've gone from being a band on the bill to being the band on the bill, with conceivably a lot of people are there specifically to see you. How has your mentality changed in that regard?
There's more responsibility. When I was younger, we'd be fourth or fifth on the bill. We'd play and then get, like, amazingly drunk and have an amazing adventure. I could actually go out there and experience what people were doing, how they were perceiving it. Now it's very different. We're on last and there's a lot more responsibility. We have to deliver. But, that can be a very joyous feeling, if we hit the right chord with the audience, and that changes every night.
When you're exclusively doing your own gig, you know everyone is there to see you. But at a big festival, that's not always true. I think it's a bigger challenge to headline a big festival.
It feels like a responsibility that you don't take lightly.
No, I don't. For example, I'd never dream of going on drunk. I mean it. I suppose I'm just not prepared to let people down anymore.
So you did your first Demon Dayz festival last year in the UK, and now you have one in Los Angeles in October. Where did the idea come from to have your own Gorillaz festival?
Oh, I don't know. It's something you do now, isn't it? Do you need to have ownership for, a festival? I don't know how I feel about that. It doesn't really matter if it's your festival or someone else's. It's how you deliver your bit of that festival that counts.
But the nice part of curating it yourself is that it's only acts and musicians that you respect and like, where the more generic festivals you find yourself going on after somebody or something that you're not really keen on. That can be a bit of a downer. When you know everyone, the backstage atmosphere is fantastic, and I think that translates when you get onstage and everyone in the audience can feel that. That would be my reason for doing it. The good vibes factor is high when you're surrounded by people you know and love.
Gorillaz itself has always kind of been this immersive experience of audio meet visual that exists in its own little world. Does this festival allow you to expand on that world?
Oh yeah, people dress up for it. This might be completely off the mark, but I feel like our audience is like a family. In that sense, we're like a modern-day Grateful Dead or something. That's probably completely wrong. They were the paradigm of alternative druggy culture in the '60s, which we're clearly not, but I think… I mean, we're not really as huge and visible commercially anymore, but we still sell out huge places. There's a tradition of that in America, bands that play big stages but aren't really mainstream. Do you know what I mean?
Oh for sure, I think Gorillaz definitely fits into that realm, although I do think that there is still a commercial aspect to the project.
Yeah yeah, but I do feel like everyone that comes to see us gets what the message is, which is not necessarily one that translates in a bigger, more commercial sphere. And it creates this great atmosphere, where the people who come create this kind of kinship. I've always felt like Gorillaz was in a way more of an American band than an English one. That's probably because of the nature of collaborations and having them been mostly with Americans over the years, but also, with me, it felt like Gorillaz was the place where I connected with my American people, so to speak. My kind of people.
Every time you do an interview, it seems like you're always talking about the five things your working on at the moment. Is that just your nature to never stop working? And, what are the five things you are working on now?
Well, first I want to address something up. There was this story that had me describe a collaboration between Kanye West and Paul McCartney as an abusive relationship, and that sadly was a French interview translated by NME and that has now been responded to by Paul McCartney, responding to something that had been inaccurately translated. What I actually said was that I thought it was a bit cheeky that Kanye West had put Paul McCartney's name on the record but there really wasn't much of anything of Paul McCartney on the record. That's all I said. I just wanted to clear that up. Sometimes when people translate something from one language to another, it really gets f*cked up.
As for what I'm working on, I have a new The Good, The Bad, And The Queen record which is coming out very soon. I'm also doing this really fascinating thing in West Africa based on the epic poem of Sundiata. That's what I'm hoping to work on next year after The Good, The Bad, And The Queen cycle. Sort of disappear from pop music a go a bit into new territory for a few years.
So it's really important that if you want to see Gorillaz, this might be one of the last times people get to see them for a long time. If they don't see these gigs coming up, they may never get the chance.
Demon Dayz Festival is scheduled for October 20 in Los Angeles. Get tickets here.
Gorillaz is a Warner Music artist. Uproxx is an independent subsidiary of Warner Music.