When Matt Berninger was a young man living in Cincinnati in the mid-'90s, he looked up to fellow Ohioan Robert Pollard, the prolific and hard-drinking frontman of Guided By Voices known for his hilarious, drunken monologues during shows. This past weekend, when The National returned to Cincinnati's scenic Smale Riverfront Park to play two headlining sets for the band's first-ever Homecoming festival, Berninger leaned on his GBV-loving roots, sloshing about the stage Saturday night amid a sea of tossed-off Solo cups and loopy one-liners.
Even for a guy known for swilling booze on stage, Berninger was in rare form, saluting nearby landmarks like Great American Ballpark by dedicating the furious National standard "Abel" to Pete Rose and punctuating it with a boisterous "fuck yeah!" During the same show, he playfully tangled with his mother in the front row, and then asked, "Will someone please get the mud off my mom's butt?"
The National's tendency to loosen the necktie and embrace shambolic rock and roll in a concert setting, contrasting with the more composed nature of its records, is what makes it such a great live band. But Homecoming offered an even less guarded view of the band, which was surrounded by family members and old friends the entire weekend. It felt like The National had permission to not be so professional for a few days.
Launched as the relatively conventional counterpoint to the Dessner's long-running MusicNow, which has hosted improvisational and experimental performances by avant-garde and esoteric musicians in Cincinnati for more than a decade, Homecoming is the latest example of what's become a burgeoning trend of artist-curated festivals. Similar to Justin Vernon's Eaux Claires, which was co-founded by Aaron Dessner and featured The National in its inaugural year in 2015 (and may again in 2018), Homecoming is an artisanal alternative to big-time corporate festivals, with their interchangeable lineups and increasingly impersonal experiences. A festival like Homecoming, meanwhile, feels smaller, more livable (especially when it comes to lines for drinks and bathrooms), and driven by the personalities of the participating artists.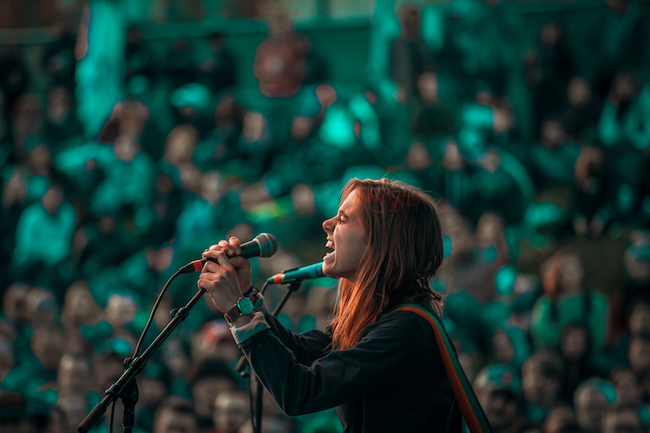 The casual vibe of The National's Saturday night set translated to many of the other acts on the bill. So many performances felt looser and more intimate than the typical festival gig. Ohio indie legends The Breeders freely interacted with the audience throughout their raucous set, with Kim Deal tossing off jokey non-sequiturs punctuated with hearty belly laughs. On the smaller east stage, Julien Baker stunned a sizable crowd into eerie silence as the sun set over the Ohio River, in spite of performing most of the show by herself with just an electric guitar.
At Coachella, an artist like Baker would get drowned out by the indifference of an audience hellbent on seeking out party jams. But at Homecoming, acts like Alvvays and Moses Sumney drew large, attentive audiences to the east stage, while Big Thief overpowered the west stage with an impressive, Crazy Horse-like muscularity, portending a bright future for the rising indie quartet.
(Funny enough, one of the most straight-forward sets of the weekend was by Father John Misty, who seemed to go out of his way to not say anything between songs during his hour-long set on Saturday. For the time being, he appears to be dedicated to delivering his music in a strictly non-controversial manner. While Josh Tillman's songs, including new numbers like "Mr. Tillman" and "Disappointing Diamonds Are The Rarest Of Them All," are good enough to stand on their own, I hope he doesn't go too far in the opposite direction from Pure Comedy's apocalyptic media cycle. Love him or not, the music world is infinitely more interesting with Tillman shooting from the hip.)
While A-list and midlevel indie acts played at Smale Riverfront Park, a slew of less structured and more idiosyncratic shows took place at downtown venues like the Cincinnati Art Museum and the National Underground Railroad Freedom Center. Many of these performances featured drop-ins from members of the National as well as some other big names, including Will Oldham, who joined Bryce Dessner for a wild and wooly jam session with the Chicago-based contemporary classical sextet Eighth Blackbird.
For The National, launching festivals appears to be a growing habit. The band hosted a two-day event last summer at Hudson Basilica in upstate New York to preview its latest album, Sleep Well Beast. In September, The National will headline another two-day event at Forest Hills Stadium in Queens called "There's No Leaving New York" that will include Jason Isbell and the 400 Unit, Cat Power, Phoebe Bridgers, and US Girls. These high-profile concerts come in addition to the dozen or so experimental festivals that Aaron and Bryce have organized, including MusicNow and the People festival in Berlin.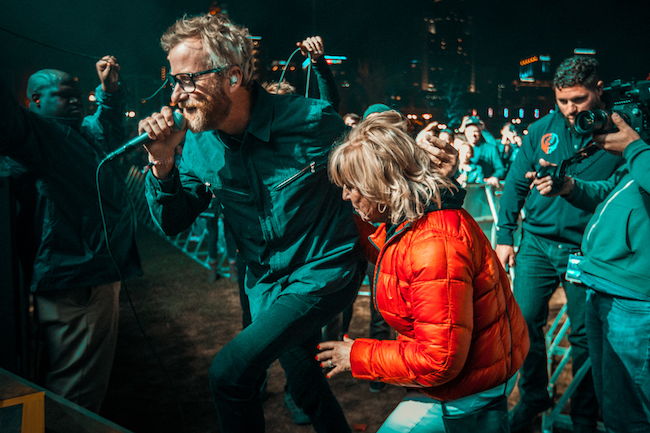 While the festivals with bills spotlighting familiar, bankable names tend to suck up most of the attention from fans and the media, it was clear when I met up with Berninger and Aaron Dessner on Saturday that the opportunity to operate outside of the traditional festival format is what most excites the band.
"We're all musicians, and there's a collective realization that traveling around and playing the same songs and playing the same venues all owned by the same giant conglomerates is not satisfying for us or for the audience," said Dessner, who enthused about the creative energy created by the freeform shows operating on the fringes of Homecoming.
"It's as much about our musical lives as the audience. But for the audience, I know when I go to these things, I want to see things that I haven't seen before," he said. "It's all the musical DNA of our community coming together, and also people we don't know. It's a way to plant seeds. It gives fuel to the band, and the music we want to create."
Dessner went on to talk about Eaux Claires, which after booking huge names like Chance The Rapper in 2017 is now proceeding with the frankly radical plan of not announcing its lineup in advance of this year's festival in July. The idea, Dessner said, is to make the festival experience less about seeing established acts perform their usual sets than watching musicians who know and like each other collaborate and create something that doesn't exist yet in real time, a utopian alternative to behemoths like Coachella and Lollapalooza, which are relying more and more on superstars and well-choreographed spectacle to sell tickets and attract buzz.
As for the National's own involvement in this year's Eaux Claires, Dessner played coy.
"Are those guys going to be Eaux Claires? Probably. Will we play some of our songs? Probably. But hopefully, everyone in the National can spread out and do [other] stuff."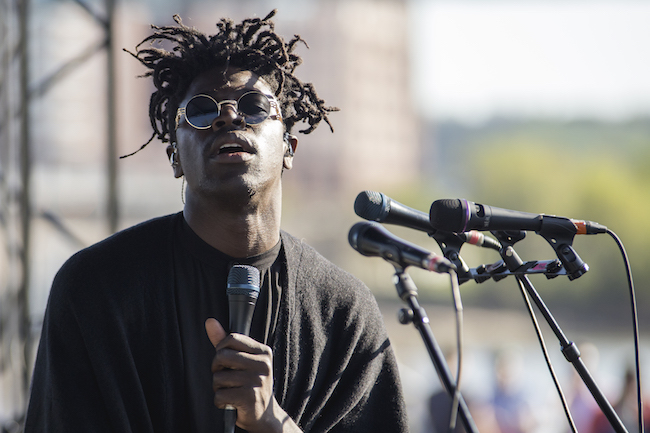 The power nexus in The National has long been defined by the push-pull dynamic between the brainy musicality of the Dessners and Berninger's gut-level rock instincts. Unsurprisingly, Berninger pushed back slightly against Aaron's inclination to deconstruct the traditional rock show. He's still a guy who likes to see a band he loves play songs that he knows, like so many music fans. But as he recently told the NME, The National "feel like we have won the game" and therefore "we don't have to play it anymore." Not playing "the game" has in turn given the band the freedom to do its own thing, knowing it can still attract an audience even if it means drifting away from the mainstream.
"There's a hierarchy to it all," Berninger said of corporate festivals. "As a band starting out, you want your font to get bigger on the poster. But after a while, it starts to feel stupid. It's this pyramid scheme of music."
The result of these conflicting philosophical impulses — as well as the detente between the want of artistic ambition and the need of financial necessity — is a festival like Homecoming, which offered both freeform artistic expression that was thrillingly alive in the moment, and many excellent indie-rock acts playing really good shows in a comfortable setting with affordable amenities.
In many ways the climax of Homecoming was the opposite of Aaron's "hear what you haven't heard before" ethos: A performance by The National of its classic 2007 album Boxer. Previewed with striking yellow lights and black-and-white documentary footage that evoked the album's cover, the Boxer concert clearly was a major draw, packing the park with more bodies than at any point during the weekend. The chance to hear the band's most beloved record in its entirety might have very well been a catalyst for many hard-core National fans from outside of Ohio to pony up for plane tickets and a hotel room.
The band's performance didn't disappoint. While it's fair to say that any National show already features a generous dose of Boxer tracks, hearing the songs in sequence testifies to the sheer density of great tracks on the record. While tunes like "Fake Empire" and "Squalor Victoria" remain set staples, it was particularly thrilling to hear songs that hardly ever get a live airing, like the luminous deep cut "Guest Room."
And yet, as enjoyable as it was to hear Boxer, it couldn't quite compare to Saturday's less polished show, which already feels like a National gig for the ages. (Somebody definitely needs to put together a Relaxation Of The A**hole–style compilation of Berninger's stage patter, and include almost everything he said Saturday.) Sunday's concert actually picked up a bit in the second half, when the band returned to the looser structure of the previous night, giving "The System Only Dreams In Total Darkness" a surprisingly rocked-up arrangement that evoked "Sympathy For The Devil," and stretching out the claustrophobic "Walk It Back" with extended soloing by Bryce Dessner. It was an appropriately freewheeling end to a weekend that felt blessedly guided by the hand of artists and music fans instead of algorithms.