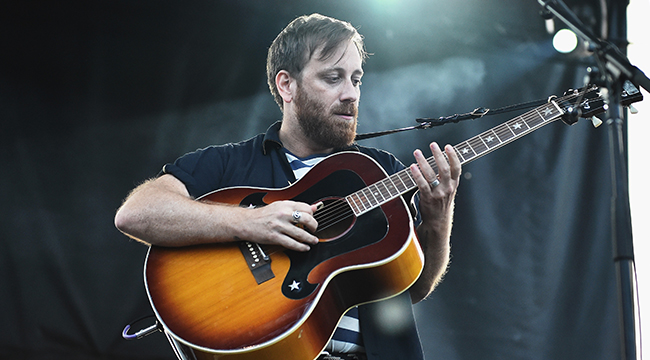 Nashville is a city unlike any other in the world. The sheer level of musical talent lingering in just about every corner is staggering. Without even knowing it, you could be sitting down, plowing through a plate of hot chicken at some local joint staring face-to-face with some anonymous session guy who played on records with Johnny Cash, Tammy Wynette, Elvis Presley, Willie Nelson, Dolly Parton, Townes Van Zandt, Bob Dylan, or damn near every other towering icon of American music that the mind can imagine. You'd have to be crazy not to harness that depth of experience and knowledge for your own purposes right?
That's certainly what Dan Auerbach believes. On his 2017 solo album, Waiting On A Song, The Black Keys' frontman brought together a collection of some truly esteemed musicians that practically nobody, except for the deepest of deep plants in the music industry, are aware of. We're talking guys like drummer Gene Chrisman and one of the finest Wurlitzer players in the world, Bobby Wood – collected together they're called the "Memphis Boys" – who played on Dusty Springfield's immortal "Son Of A Preacher Man." That's not to mention more well-known commodities like guitarists Duane Eddy and Mark Knopfler, or the legendary John Prine.
Even more interesting, Auerbach has taken these studio rats out on the road for a new live show called the Easy Eye Sound Revue. I caught the show in Chicago and while remaining aware of the caliber of the musicians onstage, I was still blown away by the tightness of the band as a whole and precision of the playing in particular. In a live setting, with a little more room to stretch their legs, songs like "Cherry Bomb" and Auerbach's paean to Rick Rubin, "Malibu Man," take on whole new dimensions of power and force.
The star of the show, however, isn't even the man at the center of it all. No, it's his most recent discovery, an older soul singer named Robert Finley, who due to his poor eyesight needed to be guided out onstage by a roadie. But once he found his place, the power of his voice and the size of his personality filled the 2,000 seat Riviera Theater. Shrieking, cajoling, and tipping his cap in a flame red shirt, Finley might as well have been the reincarnated spirit of rock's wildest wild man, Screamin' Jay Hawkins.
Clearly, Auerbach is enjoying his time away from the Black Keys, and the wealth of songs he has cooked up — allegedly in the hundreds — his current delight is a sure sign that he's in no rush to re-enter the studio with his bandmate, Patrick Carney, anytime soon. After the show, I had the chance to catch up with Auerbach and talk about the guys he's playing with these days, the concert that changed his life, and what he wants to do with the goldmine of musical material he's sitting on.

I really enjoyed the show! I know you worked with these guys in the studio, were you at all concerned about how that chemistry would translate to the stage?
Man, I just felt so blessed that I even got to hang out with them and that they even considered coming out just to begin with, you know what I mean? So yeah, I mean everything else was gravy.
How did you collect this group of people to work with you?
Word of mouth. Like most of the music I hear, I hear from friends. Someone'll tell be about some artist or something.
What is the dynamic like between all of you?
It's just like buzzing. When you're in the studio, it's incredible because that's all they've done their whole life is make records. And make interesting records. They made my favorite records. They're still just completely on fire, obsessed with it. I guess the first time I was ever around a musician that made my eyes bug out of my head was when I was in the studio with Dr. John the first time. I've never seen somebody make an instrument…like he made a little electronic keyboard sound like it was alive.
I can only imagine.
When I'm in the studio with all these guys, it's like every single one of them is on the same level as Dr. John was. So it's just like a dream come true.

It's crazy you brought up Dr. John. I've been on kind of a kick of his music lately and love that album that you worked on with him.
He was a little skeptical when we started. He was on guard, I think. I think he'd been screwed by just about every record label that ever was. So, he was skeptical. But as soon as we got rolling after that first day, I think he realized everybody was there for the right reasons. And then I assembled this great, great studio band for him. And he was just feeding off that. And that's why that record's so good. It's because the energy in the studio was so good.
You know, I was talking to Sturgill Simpson a few years ago when he put out his record High Top Mountain and he did a similar sort of thing as you, bringing in older session guys like Hargus "Pig" Robbins to play with him. I've always wondered why more artists in Nashville don't tap into the wealth of talent hanging around more often.
Yeah, but what they're doing for the most part is not that good. So it's like, you don't need Pig Robbins if you're just making stadium rock.
Yeah, I see what you mean.
These guys are legends, but it takes a village. You can't just like hire one person and get the sound, you know what I mean? From top to bottom, it has to be right. And yeah, I mean, you know, luckily somebody like Sturgill is the kind of guy who could like get Pig Robbins in the studio and make something beautiful with him.

Who is the guy who plays guitar with you?
Russ Pahl.
That guy is crazy good!
Like I said, every single person in the band is like the best person at what they do. And then Robert Finley comes out and he's like the best soul singer. It's like the best of everything.
No kidding. It's like the room exploded when he started singing.
Yeah, it is awesome. I love when he wears that outfit, too. He looks so good. He sort of like dresses like Sly Stone or something.
My colleague Steven Hyden recently had a chance to talk to John Prine about his latest album The Tree Of Forgiveness, which I know you helped out on. What was that experience like working and writing with him?
We got to get with him a few times. We learned about six or seven songs and you write a lot of songs when you're in Nashville, but they don't always get cut. But we wrote six songs and cut all of them. It was really cool. Two of the songs Prine used on his record. I used one on mine and I recorded a couple more, but I didn't put them on a record yet. And then one of them went to Robert's record. Once again, there's someone who's the best at what he does, you know?
You've probably heard it by now. Do you have any thoughts on his new album?
I love it, especially the ones that I wrote [Laughs].
I can imagine!
I do love it. I knew all those songs because I had done some touring with him and the record is him and his live band. It's his touring band. So it was great having those on record. Cause I would stand by the side of the stage and listen to them and they were so good. And I guess I didn't realize that some of them weren't recorded. They weren't on an album. I just always assumed they were. That's the thing about Prine. Sometimes his greatest songs are ones that, like, from the second you hear it, it feels like you're heard it your whole life.
With your Easy Eye Label, you've had the chance to release some interesting things. Personally, I was fascinated by the Link Wray single "Son Of Rumble" that you put out.
Link Wray was the original rock and roll guitar player. He was like one of my biggest inspirations ever. I saw him play when I was 18.
Really?
It changed my life. They were doing this documentary called Rumble, about Link Wray and the Native American influence in rock and roll. I did the interview for the documentary and the Wray family, they were touched by what I said and reached out to me when they saw that I was starting my own label and they said, "We have our father's unreleased songs from the '50s and '60s, real old treasures that have never been released and photographs that had never been released." And they offered them to us. And so that's how it happened
That's amazing.
So now we have this incredible, Grade-A, Link Wray single that had never been transferred. We had to have the white glove tuxedo guy go fly to Florida to pick up the master, fly with it to New York City, hand deliver it to get it transferred. It was fuckin' like a mission!
I never got to see Link Wray. Can you talk about the experience of seeing him? I heard he's loud as hell.
It was the loudest thing I'd ever seen. It was also so great. He never said a word to the audience. The audience was going ape shit. They were going so crazy. He played for like, thirty-five minutes and then he left and never came back.
That's what you want though, right?
That's exactly what you want. I learned that that night. So every time I see a band play for three hours, I roll my eyes so hard.

Did you actually ever hear back from Rick Rubin about what he thought of the song "Malibu Man?"
No, I haven't been out there yet. I've only been in the studio with him one afternoon and I wasn't around him that much. But I've hung out with him a few times and he's a real nice guy, just a sweet guy.
There were a couple of new songs stuck in the setlist. Are you working on another solo record with these guys?
Man, I've just got like a couple hundred songs sitting in my studio in Nashville. Every once in a while, we pluck one or two out and play 'em. I don't know. I can only put out like one record a year at the most, because you can't put out more than that, I guess. Even though I make like twenty times that much music, I end up sitting on a bunch of it. I don't know what's gonna happen with it, to be honest.
I'm just putting it out there, CCR put out like three records in 1969 alone. There's precedent.
Well, you know, I just started my label, so, I think that could be something I do
How was it like playing with Patrick Carney again at the Ryman show the other night?
It was a lot of fun. I had a good time. I think he did, too. It was fun, especially backing up Robert [Finley]. It was cool that we were both backing up someone else.
Just have some fun with it.
Yeah, like playing one of the coolest places in the world, The Ryman Auditorium, back up somebody like Robert Finley. It's just sort of a no-brainer. That's just fun
Do you and Patrick have any plans? Are you guys working together on anything?
We're just doin' our own thing, keeping in touch. We don't have any plans.