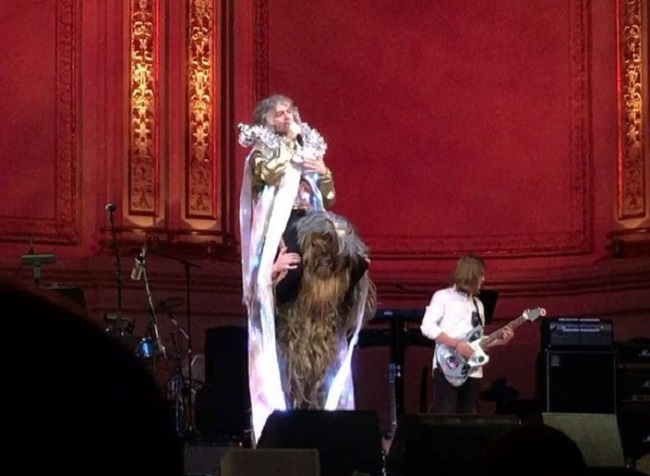 Instagram
The late David Bowie has been the recipient of an abundance of tributes to the legacy he left behind in the world of music. The culmination of this, one could argue, is the series of tribute concerts that Carnegie Hall is currently putting on. This is due both to the prestige of the venue in question, but also to the tremendous collection of artists they have accrued for these events. The first evening of tribute performances took place on Thursday. Even without The Roots, who pulled out of their performance, it was a crazy evening.
There is no point in burying the lede, so we'll let you know up top that Wayne Coyne of The Flaming Lips performed "Life on Mars?" while sitting atop the shoulders of Chewbacca. Cyndi Lauper performed "Suffragette City." Michael Stipe, who did "The Man Who Sold the World" on The Tonight Show recently, performed "Ashes to Ashes."
That's just the tip of this David Bowie loving iceberg. There were also appearances from the likes of Blondie's Debbie Harry, J Mascis from Dinosaur Jr., Sean Ono Lennon, Pixies, The Mountain Goats, Cat Power, and many more. The skies were dark, because all the stars were at Carnegie Hall, paying tribute to one of the most important music artists of all-time.
https://www.instagram.com/p/BDo4UEsLyuk/
https://www.instagram.com/p/BDo-NGRORRK/
https://www.instagram.com/p/BDpAyk8gO8v/
(Via Spin)