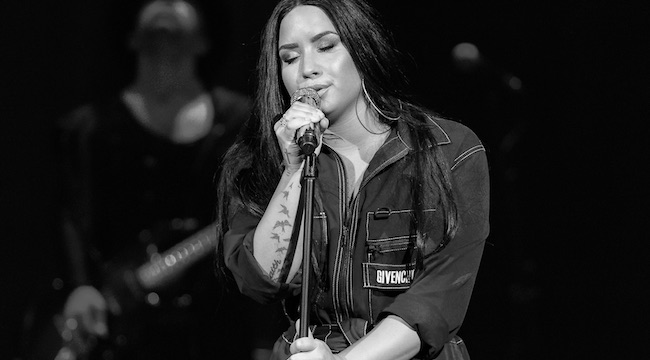 According to a report from TMZ, pop superstar Demi Lovato was rushed to the emergency room in L.A. today after reportedly overdosing on a narcotic. TMZ is reporting that it is a heroin overdose, while People says that a source is refuting that it was indeed heroin. In a follow-up report issued by People the singer, who was found unresponsive, was transported from a home in Hollywood around 11:40 PST, to a medical facility where she was revived with Narcan, an emergency medication that is used to reverse the effects of a narcotic overdose. She is currently said to be in stable condition.
Lovato has been very open in about her struggles with addiction. In 2011 she entered a facility and was treated for bipolar disorder, bulimia and as self-harm. Just last month, however, she dropped a new song titled "Sober" where she revealed that she'd fallen off the wagon after abstaining from drugs and alcohol for something around six years. It's an intensely candid and tender song where she apologies to her parents, to her fans, and to herself for the slip, but promises to fight on: "Mama, I'm so sorry I'm not sober anymore / And daddy please forgive me for the drinks spilled on the floor," she sings through the track. "And I'm sorry for the fans I lost who watched me fall again / I wanna be a role model, but I'm only human."
UPDATE: According to a rep for Lovato, the singer is stable, awake, and communicating with her family in the hospital.