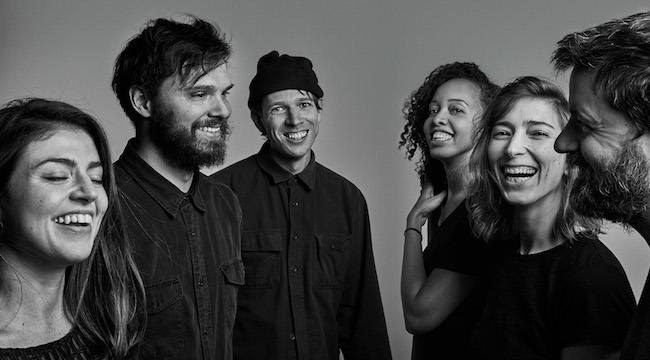 It's only two seconds into Dirty Projectors' new album, Lamp Lit Prose, when it becomes unmistakable who is performing. Sure, there is a moment when bandleader Dave Longstreth takes a deep breath where he could be literally anyone, but once he lets out his first vocal note, and the pluck of his acoustic guitar can be heard, the sound of formerly Brooklyn-based and current LA residents can't be confused for anyone else. It's a signature sound that was developed over several barely-heard aughts releases, and then unexpectedly thrust to larger audiences thanks to the incredibly well-received 2009 effort Bitte Orca and its indie-pop anthem "Stillness Is The Move." And in 2018, it still sounds like an unparalleled original.
As the aughts indie rock boom disappears in the rearview mirror, it's hard to argue for the influence of the cultural phenomenon as music's eye turns more toward pop and hip-hop, even as indie rock shifts its focused to a more diverse range of voices. Sure, some of those artists — Arcade Fire, The National, Bon Iver — continue to operate on the biggest stages and make music that seeks to work on both commercial and critical levels, but many of the other success stories from the time are finding their audience shrinking.
A group like Grizzly Bear can publicly mourn the difficulty of being a mid-level band, and how that is affecting their ability to tour globally. Artists like TV On The Radio can get stuck in third gear and never quite get the huge breakthrough that many expected. And someone like Dirty Projectors can follow-up a nearly five-year-absence with the realization that a portion of their audience has moved on, and that the once indie darlings have become the old guard in the span of one album cycle.
It's easy to think that Dirty Projectors recession in popularity comes from the simple ebb-and-flow of musical trends, but the 2017 release of the band's self-titled album was also plagued with turmoil. It was the first album without vocalist Amber Coffman, whose relationship with Longstreth was a matter of public knowledge, and whose breakup was mostly dealt with outside the public eye. This informed the content of the self-titled album, which delved into the inner-workings of the pair's romance with no real attempt made to conceal identities, retain privacy, or even offer up ambiguous interpretation.
Following Coffman's previous public revelation of sexual harassment from publicist Heathcliff Berru, the album felt like a cruel piling on, something no woman deserved, even if they are a public figure. It was a move that came from a position of power from Longstreth, and the public and critical response to the record that took this to task mirrored the political environment that it was being released. Men in the workplace had long been treating women unfairly, and 2017 was just the beginning of a noticeable push back against it.
And while the content of Dirty Projectors was ill-advised and deservedly criticized, it all felt like a particular shame because the record sounded so good. The most glaring example of this disparity was on the hyper-specific "Up On Hudson," which combined HudMo-inspired horns, sprawling storytelling, and adventurous sonics on a song that should have been a masterpiece, but instead wound up reading like a petty ex over-sharing on social media. Some of the album's most successful moments — the voice-altering "Keep Your Name," the mournful "Little Bubble," and the Solange-cowritten pop gem "Cool Your Heart" — worked because they maintained a shred of mystery. When also considering the fact that some Dirty Projectors fans just checked out when Coffman left the band, disinterested in a group that removed their favorite part, it's not surprising that the record disappointed commercially. But with their previous album, 2012's brilliant Swing Lo Magellan, debuting at 22 on the Billboard 200, no one anticipated its follow-up completely failing to chart.
So with their second album in as many years, Lamp Lit Prose arrives with considerably less hype than its predecessor, and considerably less emotional baggage. Instead, Longstreth revives the collaborative spirit that the best Dirty Projectors records sported. Syd from The Internet appears for some gentle backing vocals on the horn-punctuated "Right Now," while guest-vocalist-of-the-moment Empress Of shows up to harmonize and provide a loose hook behind the pummeling guitars of "Zombie Conquerer." Even more noteworthy is the group singalong that finds Longstreth joined by Fleet Foxes' Robin Pecknold and Rostam on "You're The One," a song that is definitively pleasant without being particularly memorable. All of the guests inject the Dirty Projectors with much-needed disparity, but never really argue for why these particular vocalists are the ones present, as the vision never really shifts from Longstreth's singular aesthetic.
The record is at its best when Longstreth is most free and adventurous. Both of their advance singles for the album — "Break-Thru" and the Haim-backed, politically-charged "That's A Lifestyle" — find an instant place among the band's pantheon, relishing their glitchy core and embracing rock riffage, reggae melodies, and unpredictable rhythms. At its best, Dirty Projectors has always felt like a melting pot for the various influences and interests of its leader, and now in its second decade of existence, those seemingly unrelated sounds have formed an identity. Regardless of the fact that this seems like a more minor work than their previous few outings, regardless of the shrinking venue sizes and festival fonts, its the singularity of Longstreth's artistic voice that keeps Dirty Projectors feeling important.
It separates them, along with the Grizzly Bears and TV On The Radios of the world, from ever feeling like a minor footnote of indie rock's quick brush with the mainstream. These artists were probably never meant for widespread fame, a little too idiosyncratic and experimental to ever become radio staples or maintain casual fans. But it's their singularity that ensures them attention as they continue their career as a mid-tier band. And though it might not be what Longstreth envisioned at the band's height, there are a lot worse fates in the world than being a true original.
Lamp Lit Prose is out on 7/13 via Domino. Buy it here.