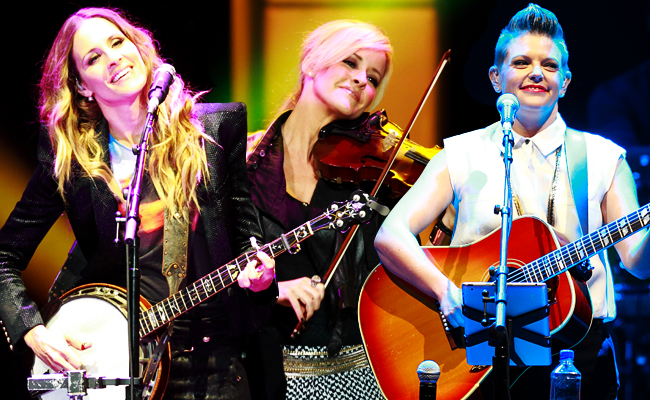 The country-pop trio made genre history in 2003 by vocalizing a, uh, rather potent disdain for the then-president George W. Bush. Dixie Chicks' decry alienated them hoards of honky tonk fans who before evangelized their blend of barn-stomping banjos with pop sensibilities; later this incident catalyzed the 2006 documentary Shut Up And Sing which cataloged the band's fall-out of popular country favor.
Last year, frontwoman Natalie Maines turned to Twitter to blast Trump. Still, in 2018, the Chicks are far from ready to make nice–with small-handed conservative politicians, men who routinely shatter hearts, stuffy familial expectations for how matrimonial functions happen, and so on. Their white-knuckled emotional bangers and pastoral party joints thrive on all the more relevant today backdropped by this hellfire administration as we're forced to pick one side of the binary: Be mad or push pause and dance. For most of this playlist, at least, we're gonna opt for the latter.
"Let 'Er Rip"
Wide Open Spaces, 1998
Hailing from the threesome's seminal album, "Let 'Er Rip" beckons a cowardly bro to pull the plug on a relationship that's run its course. "Come on baby, say it. Do you think I'm gonna cry?/ I ain't about to bawl, and I ain't gonna die," Maines' vocals twist into a crooked smile, challenging said man to not "take all day and night" to call it quits. It's an ebullient call out that doubles as an anthem for any one-half of a couple who's tired of sitting in indecision while the other half twiddles their thumbs. Spiked with twirling steel guitar, it's the song iteration of a high kick that simultaneously kicks off the necessitated breakup prep.
"Some Days You Gotta Dance"
Fly 1999
Truly, despite all mindfulness and planning and optimism in the world, life has a recurring tendency to thwap you in the face. Forget that "the world doesn't make no sense" and lean into the fierce fiddle and Chicks' command. You'll feel better after.
"White Trash Wedding"
Home, 2002
Can any brides legitimately wear white these days? No shade, just curious. At just under two and a half minutes, this cut borders on manic—not unlike how planning a shotgun wedding may go down. Though the subject matter is downright dark after a quick ponder—"the baby's on the way," "you can't afford no ring"—the chipper undertones resound the glimmering gold of a shellacked gum ball machine band. Frankly, is that even so bad? Plus, holy moly is that banjo made of LAVA?
"Ready To Run"
Fly, 1999
First gaining steam in the 1999 rom-com (IMHO) cinematic gem Runaway Bride, starring Julia Roberts and Richard Gere. It's a very clear example of pandering but, you know what? I'm psyched for the Chicks. They got that money and churned out a legitimately fun song about planning to ditch your husband-to-be at the altar. Brutal. I love it.
"Hello Mr. Heartache"
Fly, 1999
Sixteen years before Tinder debuted, it already had a theme song and this was it.
"Wide Open Spaces"
Wide Open Spaces, 1998
Likely to decorate recent grads' playlists for decades to come, this charming narrative concurrently honors the ubiquitous itch to ditch ones' hometown as well as the unique calling each small-town kid experiences when said itch dawns on them. A nod to find "room to make big mistakes" is something that should happen more in pop culture in general. Every one of us will falter at some point—and in some messy, complex way, that's kinda beautiful.
"There's Your Trouble"
Wide Open Spaces, 1998
Here we have the country music version of John Cusack hopelessly aching after his best girl friend (never girlfriend)—who is totally oblivious. Truly, we find the brightest romantic prospects only after carefully reconfiguring our own tastes.
"Daddy Lessons"
Daddy Lessons, 2016
A single shared with Queen Bey is just what we needed in 2016. Okay, and right now, too. See what I mean? Dixie Chicks is forever.
"Truth No. 2"
Home, 2002
Hey Siri, give me abstract existential pearls of dread shaken and chilled with the spirit of patio happy hours and girlfriends always good to immediately text back authentic words of reassurance.
"The Long Way Around"
Taking The Long Way, 2006
Similar to "Wide Open Spaces," this jam find the ironic hindsight of never quite fitting into your hometown crew and feeling neither distraught nor smug about that fact. Instead, it presents an occasionally irritating truth: every single human takes a different life path. And no single one is explicitly right or wrong. Instead, "Long Way" finds solace in the uncertainty—and downright welcomes the potentially endless nature of that ambiguity. With steel guitar!
"If I Fall You're Going Down with Me"
Fly, 1999
An intricate tapestry of twang and hope acts as picnic blanket for this young romance. The basket's contents? Feeling high and an iron-clad contract between two lovers.
"I Can Love You Better"
Wide Open Spaces, 1998
Seriously, does anyone know why John Cusack and Dixie Chicks have yet to collaborate? I'm not entirely sure which medium would be best, I just know it needs to happen.
"Landslide"
Home, 2002
Sure, yes. Stevie Nicks originally penned this during a major crossroads in her life during which she was deciding whether or not to keep on keeping on with Lindsey Buckingham (lucky for us Fleetwood Mac freaks, she did). But the sentiment is universal: aging happens—hopefully—to each person you will ever know and not. We slow down. This is both bad and good. Change is rightfully scary—it's the literal definition of the unknown. But then again, with age comes constant cardigans and 11 a.m. lunches. The Chicks respect this seachange, too, and honored it accordingly with this almighty cover. Goddess bless.
[protected-iframe id="03bea401e0b8c62502e0c4404af2ca80-60970621-76566046″ info="https://open.spotify.com/embed/user/uproxxmusic/playlist/0IpjCuJn9UnLouxp9YIWjA" width="650″ height="680″ frameborder="0″]