Doechii has always been a phenomenal performer. After experiencing her pop out at Isaiah Rashad's The House Is Burning listening in 2021 where I had to ask multiple people "Who is that?," she dazzled at her own listening where she put on what can only be described as a performance art show for an eye-captivating performance of her song "Crazy," complete with sticks and electrifying choreography.
Three years later, Doechii is impressing at Coachella and this time around I, along with the audience who for some may have been their first introduction to the TDE talent, got to know the rising star a little better. As the sun began to set, she opened up to thousands with not only her music but also some things about herself. Like, she's from Tampa, Florida and that's why she's the Swamp Princess.
I got the blessing to speak to Doechii after her performance to learn even more about her and all the ingredients that came together for her Coachella debut.
"I went to a performing arts high school, so a lot of my background came from just my experience and my training there," Doechii told Uproxx backstage. "So a lot of that kind of prepared me for Coachella right now. I had a dope high school experience. It was like High School Musical."
And it makes sense. Everything Doechii does is with precision.
"I was in chorus, and I also did the jazz musical tech," she added. "I learned how to write music and music theory."
We also learn that "Crazy" is a song inspired by a few women in the music industry who people labeled as crazy when they were on the rise and a super meaningful.
"It was Missy Elliott, myself, and Nicki Minaj. I think just those women and how they came up in their careers, a lot of people didn't really believe in them at first. That resonates with me because I feel like that was me in the beginning of my career. I just felt like it was nice to pay homage to them."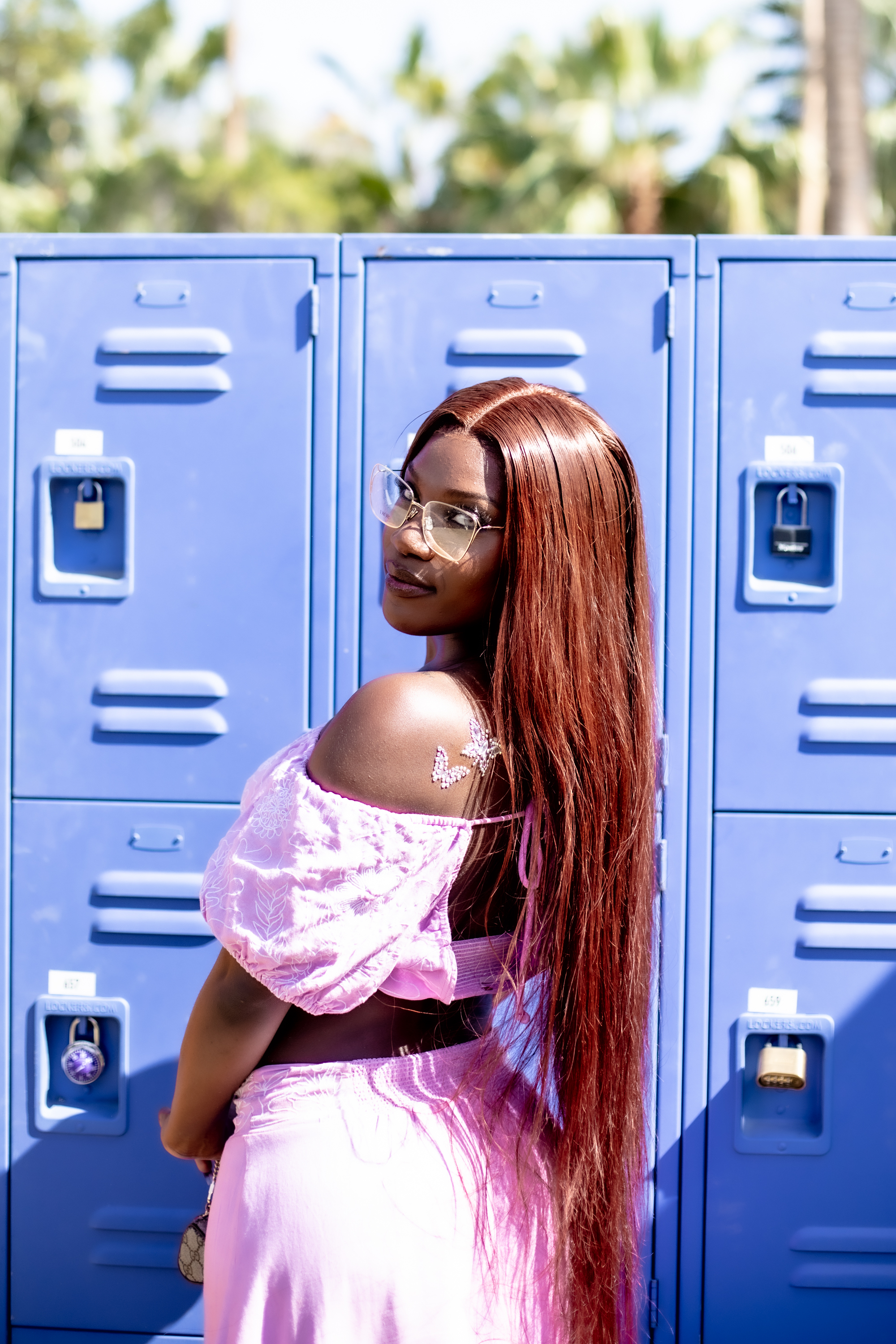 To prep for Coachella, Doechii and her team developed the concept months ahead and rehearsed for two weeks straight.
"My band and I, and my background dancers, we rehearsed every day for two weeks," she said. "And we just prepared, worked hard, and that's how we got the show."
From her blazing energy to her coordinated outfit with the matching contacts, everything was immaculate about her show. The energy she shared with the audience was majestic and divined with the rhythms of her unreleased track "Pacer" (#droppacer) and a slower song titled "Stress," to which she offered a short 3-breath meditation session after.
"Sometimes you just feel it in the moment, and you just need to take a breath," she said. "That's it. I feel like I do that all the time. Just take a breath. So why not do it on stage?"
As far as "Pacer," apparently it's coming but she wouldn't tell me when (I tried ya'll).
"I can't tell you," she asserted. "We haven't announced the date yet."
Of course, I probed about the album, and yet —
"Album? Can't tell you."
But, there's a tour and 2023 is looking like that year.
"It's going to come out this year for sure. It's almost done. So it's definitely going to come out this year. I'm just not going to release the date," she reiterated to me. "Look forward to the album, look forward to a tour this year, and I'll actually be on Pharrell's festival (Something In The Water)."
On "Stress," we get to experience Doechii's vocal abilities, and on her latest single "What It Is (Block Boy)," which is quite different from what we're used to getting from her and serves as a digestible tidbit for those who have yet to catch on yet. The crowd went up for this one and so did I.
"I just thought it would be a really nice summer anthem to put out," she said. "It's something universally known. A lot of people know it. So that's really how the song came about. It was just fun and upbeat, and I thought it would be a great song to perform."
But, that was just for fun. Doechii is a rapper, period. Expect her to do what she wants musically, but always expect her to rap.
"I don't know if we're going to get more of that particular sound," she told me of "What It Is." "I just wanted to try it, vibe out. But after that, we're back to rapping."
As someone who admittedly didn't get it at first, but am naturally intrigued by anything outside the box, I do know Doechii will never leave me (or the audience) empty-handed when she hits the stage. For Coachella, her intentions were clear.
"My intention for myself is to just release," she told me. "But ultimately, I believe that when people come to events like this, they're coming because they need something. They're looking for something. You don't know who's in the crowd or what they're going through. So whatever they're looking for, that feeling of love and connection is what I want to leave them with."