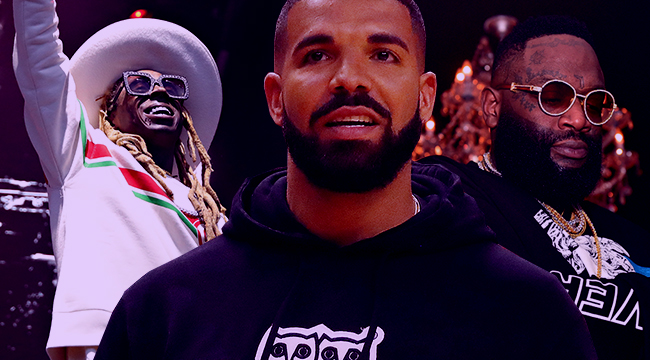 Over the years, Drake has granted his golden touch to countless artists by way of features, turning regional hits into national radio mainstays, transforming emerging talents into bonafide stars, and racking up accusations of cultural appropriation along the way. However, he's also opened his musical catalog to a number of peers, resulting in standout collaborations with some of the hottest stars over the course of his decade of cultural ubiquity.
From collecting guest verses from his earliest inspirations like Kardinal Offishall, Little Brother, Nickelus F, and yes, even the members of Clipse, Malice and Pusha T, to building a rock-solid run of megahits alongside sometime-rival Meek Mill to his Young Money posse cuts with Lil Wayne and Nicki Minaj, Drake's record of collaborations is nearly unmatched in the rap game today.
Over the past weekend, Drake released his latest tag-team single, "Money In The Grave," with Rick Ross, one of his favorite partners-in-rhyme over the past several years. It was their first collaboration since Drake's tiff with Ross' Maybach Music lieutenant Meek Mill and as such, generated plenty of excitement among fans, including one question that stood out among the buzz: Which of Drake's collaborators does he have the best record with? Let's take a look and see if we can't determine just which of Drake's favored tag-team partners he has the best music with. By no means is this a comprehensive list — that would be just about novella length and who has the time? — but these are some of his most prolific team-ups over the past 10 years.
Note: Chris Brown is automatically disqualified for reasons that should be obvious. Come on, Drake, do better.
Future
Not only has Future been part of one of Drake's most productive creative partnerships, but he also holds the distinction of being the only Drake collaborator to have released a whole tape alongside the Canadian superstar (although tapes with both Lil Wayne and Rick Ross have been rumored for years). What A Time To Be Alive was less than well-received, however, with a common criticism that it sounded more like a Future project featuring Drake than a proper partnership. Their previous collaborations have been — ahem — monster jams though, with "Sh*t," "Tony Montana," and "Where Ya At" all becoming hugely popular when they were initially released.
Lil Wayne
Taking away Drake's full album with Future, his working relationship with Young Money mentor Lil Wayne has been one of the most fruitful of his career. In fact, it was technically a "collaboration" with Wayne that prompted the New Orleans Hot Boy to sign Drake to his then-recording-breaking deal. Drake's Comeback Season freestyle over Wayne's "Man Of The Year" showcased what the chemistry between the two might look like long before they ever met and their work since has lived up to the promise. Whether they're trading bars on Drake's So Far Gone standout "Ignant Sh*t," or bouncing off each other on a raucous posse cut like French Montana's "Don't Stop," these two always seem to bring the best out of each other.
Meek Mill
Even interrupted as it was by their 2016 sparring match, Drake and Meek Mill are batting about as close to 1.000 as any two rap giants ever have — let alone rap giants who turned a full summer into an all-out war of words, where battery emojis transformed into insults and diss records became club hits. When they aren't trading shots, however, Drake and Meek are crafting undeniable hits like "Amen," "Going Bad," and "RICO." The only thing keeping their collaborations from being higher on the list is the relative scarcity of material from them. Now that they're back on speaking (and rapping) terms, that's probably not a state that should last long.
Nicki Minaj
There are no two ways about it; when Drake and Nicki get together, they make magic happen. Although Nicki is low-key one of the most complex and dynamic rappers around, her vocal tics and cotton candy presentation can often mask her technical mastery. That isn't the case when Drake is around — on songs like "Make Me Proud," "Moment 4 Life," and "Up All Night," Nicki leaves the alter egos in her bag, instead rapping like she has something to prove as Drake seemingly pushes her to greater efforts on their collaborations. Even their more overt commercial reaches — "No Frauds," "Only," "Truffle Butter" — find Nicki in higher gear and delivering more balanced performances than usual. Unfortunately, ever since the friction between the two over Nicki's relationship to Meek Mill, collabs between the two have come fewer and further between.
Rick Ross
When it comes to rappers with whom Drake has supernova chemistry, Rick Ross is the supergiant star that generates the most heat. From "Aston Martin Music" to "Omerta," just about every Drake/Ross collaboration is an explosion of opulent money talk, thinly veiled threats, and near-classic pop culture quotables. From Ross' "I'm On One" boasts that he gets his Marc Jacobs kicks directly from the source to Drake's "you wasn't with me shooting in the gym" snipe on "Stay Schemin'," their tough talk knows no bounds. Perhaps the most interesting thing about their pairing is just how versatile it is. They've waxed nostalgic on "Aston Martin Music" and gotten romantic with "Diced Pineapples," also featuring Wale. But the culmination of their union came early in the run, on the thundering "Lord Knows" from Drake's sophomore album Take Care. Over a booming Just Blaze production, both rappers go for broke, establishing from their first collaboration that their two-man game is unmatched — a rap version of the 2013 Miami Heat. In a crowded field, Rick Ross takes the crown as Drake's best rap collaborator.
Some artists covered here are Warner Music artists. Uproxx is an independent subsidiary of Warner Music Group.