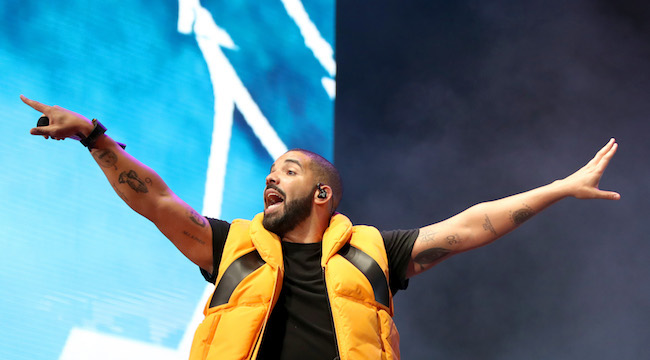 Update: In addition to breaking Spotify records, Drake's single "God's Plan" has also made history with Apple Music. According to a tweet from Zane Lowe, the song was streamed 14 million times, breaking the worldwide Apple Music first day streaming record. All in a day's work for the rap superstar.
Drake is no stranger to breaking records and the Toronto rapper has done it again with his new single, "God's Plan." Released off his latest EP Scary Hours, the track garnered a whopping 4,326,679 listens in just 24 hours. The news shouldn't shock you that much; in March 2017 Drake became the first artist to reach 10 billion streams on Spotify and his LP More Life snagged the most streamed album slot on Apple Music.
Drizzy wrote "God's Plan" to commemorate close friend and noted inspiration Cleveland Cavaliers small forward LeBron James' latest career achievement of scoring his 30,000th point for the NBA and being the youngest player to ever do so.
"LeBron, I'm honored to be a part of yet another historic night," said Drake in a video teasing the single's creation. "Every time you do something like this, I always try to get in the studio and make the song that would go with the moment." Drake further celebrated his and LeBron's simultaneous career triumphs with an Instagram post with the caption, "Congrats King. Samesies." Friendship!
No word yet on when Drake will follow up with "God's Plan" and Scary Hours' second track "Diplomatic Immunity," but based off his track record, the rapper can't sit still for long.