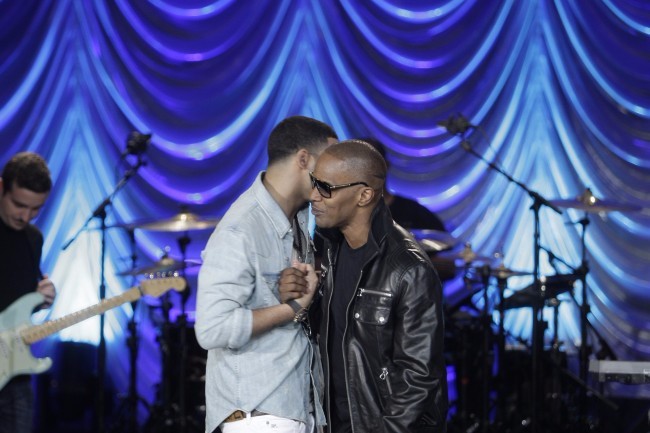 Turns out, even if you're one of the world's most famous rappers, a Grammy Award winner and even the arm candy of the most recent Vanguard recipient, that doesn't mean you're immune to fangirl moments just like the rest of us. Taking to Instagram early Thursday morning, Drake took time out of his jet-setting, hip hop A-lister lifestyle to "pay homage" to Jamie Foxx.
Posting a throwback (sans a TBT hashtag), Champagne Papi penned a heartfelt, tender message expressing his sentiments toward the iconic 48-year-old artist. In conjunction with a photo dating back to 2002, Drake writes Foxx taught him "how to perform on stage" and admires the way in which Foxx was able to make "people feel connected and engaged."
This seemingly random spurt of praise and idolization from the "Controlla" superstar was sparked by a reprisal viewing of Foxx's I Might Need Security performance. The early 2000s show was an amalgam of comedy and music that originally appeared on HBO. This was Foxx's second stand-up special following his 1993 performance entitled, Straight from the Foxxhole. The "Blame It" legend would also go on to produce a third comedy special, Unleashed, that would round out the trifecta that is Jamie's Foxx Box Collection.
Jamie Foxx and Drake have collaborated in the past on the 2010 track, "Fall for Your Type," but despite the 29-year-old rapper's former acting chops, the two have yet to join forces on anything cinematic.
Perhaps Drake's recent accolades towards Foxx means comedy is a genre he'd maybe like to explore, or at least a sign that he'd be interested in rediscovering acting with a Jimmy Brooks revival.
Now that's something worth fangirling over.