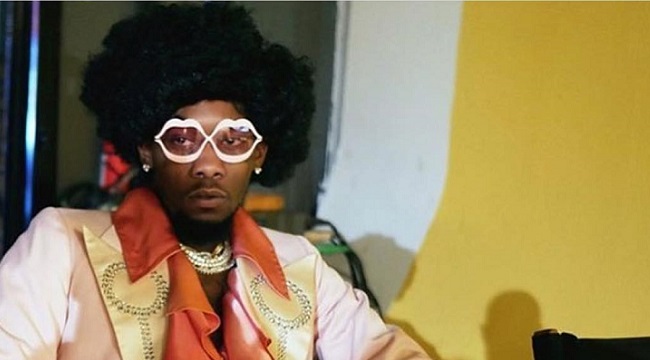 Drake's charitable "God's Plan" video was by far the biggest hip-hop video of the year so far – and it's pretty cool that he's in the closest runner up: The "Walk It Talk It" collab with Migos. Though the energetic track is very of the times, the Daps-directed music video takes the four stars back to the seventies in a Soul Train-themed visual. Daps spoke with Billboard today and dished on the video. "Walk It Talk It" follows up Migos' cheeky "Stir Fry" video, which showed the trio as heroes in a Kung Fu flick. The Culture II rappers pulled off their roles well in "Stir Fry" — and Daps said that dedication was continued on the latest video.
"We were the ones — the background cast, the extras, the production team — we were the ones that were laughing," Daps said. "Migos and Drake? They were getting it. They were really in character." Daps also says that Drake and his team came up with the idea for his jheri curl getup, but wanted to make sure everyone else had similar decor. "Me and him did speak on the phone prior to the shoot, and he let me know, 'Hey, look, I'm wearing a Jheri curl, so I hope everyone is wearing afros too.' I was like, yeah, we're going in."
Perhaps no one went in like Offset, who showed off dance moves that were a far cry from his trap-a-minute musical persona. Daps says he know he had it in him, though:
"I'm not going to lie, one time I saw a YouTube video where he was doing.. not the Macarena, but some kind of salsa dancing," he remembered. "And I was like — 'Wait, this isn't wack. It looks good.' So I knew he could move, but when he started popping and locking I was like, 'Oh, shit!' This is the first time I've seen him dance like this. Apparently Offset is the fucking best dancer in the whole world and no one knew about it."
Revisit the video below.