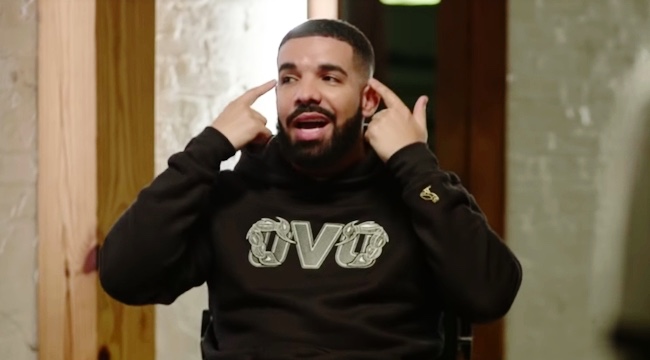 Drake had a rough summer. Though he had his double album, Scorpion, drop to huge sales numbers and multiple no. 1 singles, the one thing many fans will remember is "The Story Of Adidon," the Pusha T track that revealed Drake's son to the world. The story seems to end with Drake humbly backing down, which many fans feel signaled a loss for the Toronto rapper. However, there are two sides to every story, and Drake finally found the forum to tell his: LeBron James' HBO talk show, The Shop.
In an insightful and penetrating discussion with LeBron James and business partner Maverick Carter, Drake finally explained why he fell back after "The Story Of Adidon" released, broke down the events leading up to the epic battle of wits, and acknowledged the fallout, admitting he's okay with hardcore hip-hop heads feeling that he was soft for disengaging. He also told LeBron and Mav how the battle affected Scorpion, confessing that songs like "Mob Ties," "Nonstop," and "In My Feelings" weren't even on the original cut of the album, which he restructured after the kerfuffle between him and GOOD Music.
He also delved into the ways in which he says Kanye West manipulated him, claiming that his participation in the Wyoming sessions was not divulged to him as part of an album process. He reiterated that he played "March 14" for Kanye, showed him pictures of Adonis, and told him the target date for Scorpion's release, all under good terms, before Kanye reeled off his mid-May announcements for his own spate of projects. He says that Kanye initially promised him "Lift Yourself" before releasing it himself, complete with gibberish lyrics that seemed to Drake to be not just a troll to critics of Kanye's new conservatism, but of Drake himself.
As for "The Story Of Adidon," Drake opined that the "song was trash, but the chess move was genius." He and LeBron also revealed that Drake sought the NBA star's counsel about shelving the supposedly vicious diss track that he had prepared in response. While Drake says he had no real issues with Pusha's snipes at his parents' relationship, he says "there is a line" that Pusha crossed when he mocked Drake's producer 40's multiple sclerosis, which he says deserved a punch in the mouth, at minimum: "Wishing death on my friend who has MS…I just believed then and believe now there a price you have to pay for that." It doesn't appear there's any love lost in the aftermath of the surgical summer, but Drake's refocused on bigger and better things, while GOOD Music languishes under the weight of its leader's Trump-sized ego.
The Shop airs again tonight at 12:30 AM EST on HBO.