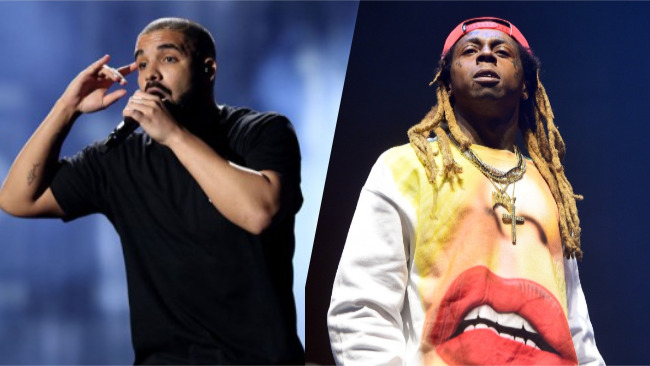 Drake is now tied with his Young Money boss Lil Wayne for the most songs on the Billboard 100, creating an exception to the old adage about the student never being able to be as good as his teacher. Once Gucci and Drake's Return of the East Atlanta collab song "Both" made it to the charts, it gave Drizzy his staggering 132nd song and placing him beside Weezy for the most Hot 100 appearances among soloists, according to Billboard.
His latest feat is just one of many records for Drake this year as he's shattered streaming records on Spotify and saw his Views album and its singles dominant the Billboard 100 and Billboard 200 charts. Although, it's hard to imagine Lil Wayne being upset at the 6 God's success on the charts since he profits off Drake as an artist under the Young Money umbrella. And it goes to show just how dominate YMCMB has been over the past 10-plus years since Wayne launched his label imprint.
The success doesn't end with Drake and Wayne either because Nicki Minaj is sitting pretty tied for second with Taylor Swift for the most singles on the Hot 100 by a female solo act after "Black Beatles" stormed the charts. She's now got 70 total, meaning there's a strong chance she'll end up in the top slot at some point once she bests Aretha Franklin's current total of 73.
Check out the full list of entries below.
Most Hot 100 Entries All-Time
207, Glee Cast
132, Drake
132, Lil Wayne
108, Elvis Presley
91, James Brown
86, Jay Z
82, Chris Brown
80, Kanye West
75, Ray Charles
73, Aretha Franklin
71, The Beatles
70, Nicki Minaj
70, Taylor Swift