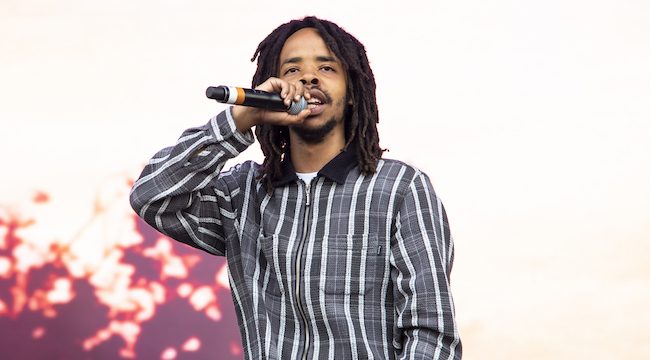 Over the weekend, an Earl Sweatshirt fan spotted the rapper in New Orleans, so he tried to take a selfie video with him as he approached. That did not go well: As soon as Sweatshirt noticed the phone, he swatted it out of the fan's hand, which sent it to the ground as he walked away. Somebody off-camera commented, "That's f*cked up, yo. Get the f*ck out of here. F*ck that motherf*cker." Additionally, one of the fans posted the video on Twitter and wrote, "When you want a pic with one of your favorite rappers since day 1 and he's a dick."
So far, the only response to the incident Sweatshirt has provided is a retweet of a fan who turned a blurry frame from the video into a parody of the Some Rap Songs album art.
Vince Staples had something to say about it, though: He reposted the original video and wrote, "If you feel disrespected I can get you a fade from the homie just let me know."
It would seem that Sweatshirt's main issue with the incident is not that he was filmed, but that he was filmed without his consent. Other fans posted videos and photos they took with Sweatshirt that same night, presumably after asking for permission first. Sure enough, Earl appears to be in good spirits and happy to spend a bit of time with his fans.
Revisit our review of Some Rap Songs here.