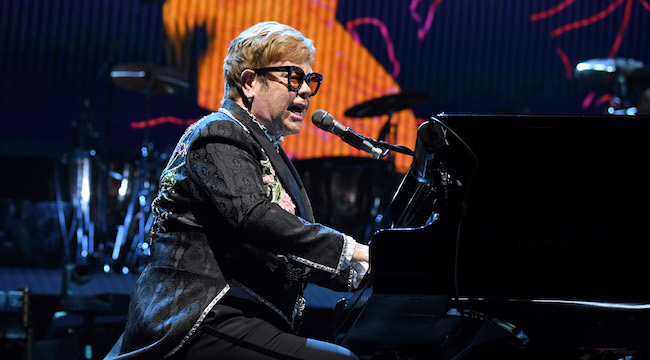 Elton John has released a pair of tracks for Spotify Singles, including a surprising cover — Khalid's "Young Dumb & Broke." The song, which was a major radio breakout for Khalid last year, is an unexpected pick for Sir Elton. He may a master of musical storytelling, but John is also none of these things: "young," "dumb," "broke," or a "high school kid."
John takes on the song with a bit of humor and panache, making it sound a little like "Bennie And The Jets" (which he also performed for Spotify Singles). Khalid's voice always sounds a bit contemplative and melancholy, but John coaxes out the joy that was already built into the lyrics and melody. The chorus is just "Yadadadadadadada / Young dumb broke high school kids." It was a fun song all along!
The legendary singer also brings Khalid in for the last minute of the song. It has to be absolutely wild for Khalid — who has only hit more career milestones since "Young Dumb & Broke," and had three massive radio hits this year — to have an icon like Sir Elton cover his song, and to get to sing with him. As any 20-year-old would, Khalid tweeted his gratitude.
Listen to Elton John's cover of "Young Dumb & Broke" below.
[protected-iframe id="33265bae65a2b987e17536e8c9b03966-60970621-76566046″ info="https://open.spotify.com/embed/track/28rT3OwXdw4VF1MPYIk1P6″ width="650″ height="360″ frameborder="0″]